IRVINE, CALIF. – (RealEstateRama) — International award-winning firm KTGY Architecture + Planning today unveiled the design for Vintage Real Estate's retailer expansion at SouthBay Pavilion, a 1.2 million-square-foot enclosed shopping center in Carson, California.

KTGY adapted Forever 21's F21 RED brand for the new SouthBay Pavilion store, which includes large floor-to-ceiling display window boxes, textured wall treatments and red metal panels. F21 RED is a new concept store for Forever 21 which launched its first F21 RED location in 2014. The concept is intended to create an easy shopping experience for the entire family with an assortment of fashion staples from each of Forever 21's lines, including: Forever 21, Forever 21 Men, Forever 21 Plus, and Forever 21 Kids.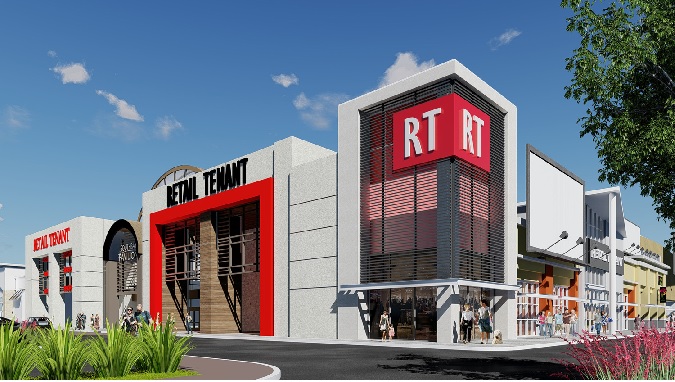 "The opportunity to introduce Forever 21's F21 RED concept store to SouthBay Pavilion inspired a modern and contemporary look for the entire renovation," said Simon Perkowitz, AIA, PE, principal of KTGY's Retail Studio.
"The names Forever 21 and F21 RED are both part of the design. Large contemporary letters and clean lines add to the visibility of the store, both from the curb and inside the enclosed retail center," added Perkowitz. "The exterior entry design incorporates stone veneers, metal louvers and wood siding, resulting in a fresh and enduring feeling that resonates with this Southern California destination."
"While reimagining this space, we used textured walls, uplighting and clean, open storefronts to create a contemporary space that feels happy and is easy to navigate due to generous areas for branded signs," said Perkowitz.
The expansion also includes food concepts: Wing Stop, Jamba Juice, Chile Verde Mexican Food and health retailer Vitamin World. "We worked with KTGY to provide brand adaptation services for our new retailers," said Jerry Garner, senior vice president of development for Vintage Real Estate. "We found that KTGY's experience with retailers and large shopping centers made the process time-efficient and resulted in very high-quality branding."
KTGY also worked with Vintage Real Estate to redesign the mall's over-all lease plan to make way for the new 17,000-square-foot F21 RED, new retail and food tenants, as well as new flooring, a comfortable and accommodating public restrooms and other upgrades to the property. The anticipated completion date for the redevelopment is early 2017.
About Forever 21
Forever 21, Inc., headquartered in Los Angeles, California, is a fashion retailer of women's, men's and kids clothing and accessories and is known for offering the hottest, most current fashion trends at a great value to consumers. This model operates by keeping the store exciting with new merchandise brought in daily. Founded in 1984, Forever 21 operates more than 730 stores in 48 countries with retailers in the United States, Australia, Brazil, Canada, China, France, Germany, Hong Kong, India, Israel, Japan, Korea, Latin America, Mexico, Philippines and United Kingdom. For more information, please visit: www.newsroom.forever21.com
About SouthBay Pavilion
SouthBay Pavilion, an award-winning shopping center, is located at 20700 Avalon Boulevard in Carson, 16 miles south of downtown Los Angeles. Currently 98 percent leased, SouthBay Pavilion is anchored by IKEA, JCPenney, Sears and Target. The SouthBay Pavilion serves the community of the South Bay, which boasts a population of 589,907 in the surrounding five-mile radius with an average household income of $69,523. The shopping center enjoys direct visibility from the 405 Freeway where the traffic count is 300,000 cars per day and is conveniently positioned between four freeways: 405, 110, 710, and 91.
About Vintage Real Estate
Vintage Real Estate, LLC (VRE) acquires and redevelops underperforming malls and large shopping centers throughout the United States. The firm is managed by a highly experienced retail team, whose members come from some of the most significant mall and shopping center investors and operators in the industry. These successful and experience executives bring an institutional discipline coupled with the entrepreneurial flexibility and responsiveness to provide innovative solutions for a wide variety of real estate investment opportunities. Learn more about Vintage Real Estate and Vintage Capital Group at www.vintagecapitalgroup.com.

About KTGY Architecture + Planning
Celebrating 25 years, KTGY Architecture + Planning is an international award-winning full-service architecture and planning firm delivering innovation, artistry and attention to detail across multiple offices and studios, ensuring that clients and communities get the best the firm has to offer no matter the building type or location. KTGY's architects and planners combine big picture opportunities, leading-edge sustainable practices and impeccable design standards to help create developments of enduring value. KTGY serves clients worldwide from offices located in Chicago, Denver, Irvine, Los Angeles, Oakland, Pune and Tysons. Call 888.456.KTGY or visit www.ktgy.com, Facebook, Twitter, LinkedIn, Instagram, Vimeo, YouTube