TYSONS, Va. – (RealEstateRama) — International award-winning firm KTGY Architecture + Planning announced today that Anthem House in Baltimore, Maryland, was honored by Delta Associates at the firm's 21st Annual Washington/Baltimore Multifamily Market Overview & Awards for Excellence program. Anthem House won "Best Baltimore Mid-Rise Apartment Community." The event was held on October 25, 2017, at the National Association of Home Builders Conference Center in Washington, D.C.
Anthem House is a 292-unit mixed-use multifamily rental community in Baltimore developed by War Horse Cities, The Bozzuto Group and Solstice Partners, and designed by KTGY Architecture + Planning. The Delta Associates Award of Excellence comes on the heels of Anthem House winning top honors in the 2017 Great American Living Awards (GALA) program, presented by the Northern Virginia Building Industry Association, the Washington Metropolitan Sales and Marketing Council, and the Maryland Building Industry Association. As part of the October 5th ceremony, Anthem House received the "Design & Architecture, Multi-Family (Mixed-Use)" award as well as the "Home of the Year" award, which has historically been awarded to attached or detached single-family home projects. Separately, Anthem House received a WaveMaker Award from the Urban Land Institute (ULI)'s Baltimore chapter, which bestows the annual honor on Maryland's most successful real estate developments.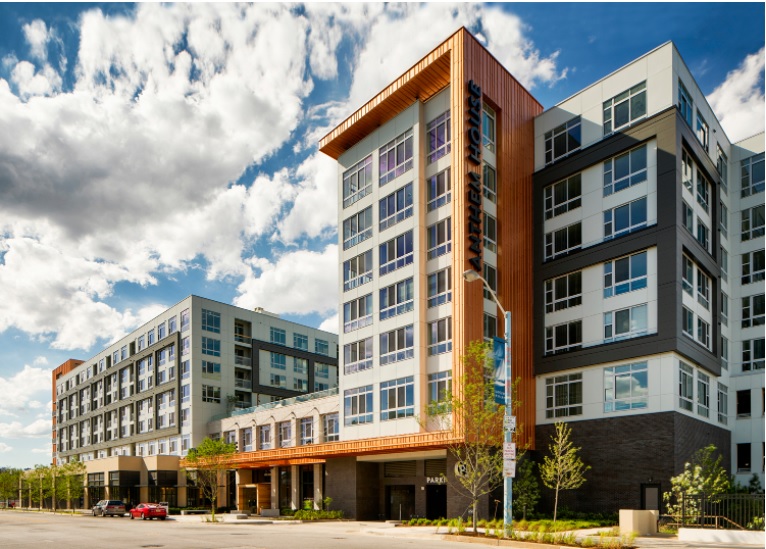 "The vision of Scott Plank and War Horse inspired us to push boundaries and create a project like no other," said Toby Bozzuto, CEO and President, The Bozzuto Group. "By bringing us in as a partner on this project, along with Solstice Partners, we were able to create an extraordinary experience in a meaningful space that allows our residents to manifest their very best selves."
Located on a former industrial site at 900 E. Fort Avenue, facing the Baltimore Harbor in the historic Locust Point-Fort McHenry neighborhood, the building massing displays a Z-shaped plan maximizing the unit vistas and creating two distinct courtyards facing the city and the harbor. The base, middle and top articulate the massing, while two urban setbacks, corner and entrance court, engage with the streetscape. The two main building highlights, a 3,500-square-foot sky lounge and a residential tower entry, work as main urban markers facing the neighborhood and the harbor. The residents can enjoy a robust suite of amenities with a fitness-based lifestyle focus. The metal tile steel/zinc alloy utilized in the building's façade reflect the light and activate the urban skyline.
For the past 21 years, Delta Associates has given awards for excellence to recognize outstanding accomplishments in the multifamily industry. For more information, visit deltaassociates.com.
About War Horse Cities
We are committed to supporting and participating in vibrant urban communities—which we do by building exciting urban environments that are economically and environmentally sustainable. Hand in hand with the communities we serve, we invest our time, skills and resources into programming spaces, developing real estate and creating philanthropic initiatives for long-term positive impact. See warhorsecities.com
About Bozzuto
The Bozzuto Group is an experience-focused real estate company that is continually celebrated for its developments, customer service and workplace culture. With an expertise in homebuilding, multifamily development, construction and management for itself and its clients, Bozzuto is devoted to crafting extraordinary experiences.
Founded in 1988, Bozzuto has developed, acquired and built more than 42,000 homes and apartments. Currently, it manages more than 65,000 apartments and 2.2 million square feet of retail space along the East Coast between Miami and Boston, in the Northeast and Chicago. With an annual volume of $500M, Bozzuto Construction is one of the largest general contractors in the Mid-Atlantic region. www.bozzuto.com
About KTGY Architecture + Planning
Celebrating 25 years, KTGY Architecture + Planning is an international award-winning full-service architecture and planning firm delivering innovation, artistry and attention to detail across multiple offices and studios, ensuring that clients and communities get the best the firm has to offer no matter the building type or location. KTGY's architects and planners combine big picture opportunities, leading-edge sustainable practices and impeccable design standards to help create developments of enduring value. KTGY serves clients worldwide from offices located in Chicago, Denver, Irvine, Los Angeles, Oakland, Pune and Tysons. Visit www.ktgy.com
# # #