Meridian Closes 2015 with Sale of Three Dialysis Clinic Properties for $17.5 Million
SAN RAMON, CALIF. – December 02, 2015 – (RealEstateRama) — Meridian, a full service real estate developer and owner of medical real estate, is pleased to announce that it has closed escrow on the sale of its 8,700-square-foot dialysis clinic in Fairfield, Calif. The purchase price was $5.15 million, representing a cap rate of 5.5%. This is Meridian's third dialysis clinic that the company has sold in 2015, having also closed on properties located in Pomona and Modesto, Calif. earlier this year.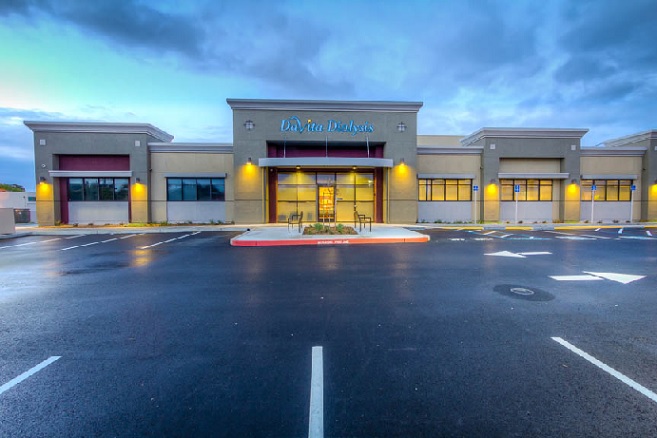 The Fairfield clinic is located at 1800 North Texas Street in Solano County, midway between the cities of San Francisco and Sacramento. Meridian's other two clinics that sold were an 11,550-square-foot dialysis clinic located at 2703 South Towne Avenue in Pomona, which sold for $6.3 million, representing a cap rate of 5.54%; and an 11,550-square-foot dialysis clinic located at 3001 Healthcare Way in Modesto, which sold for $6 million, representing a cap rate of 5.65%. All three clinics are occupied by DaVita Healthcare Partners Inc. (NYSE: DVA), a leading provider of kidney care services. The dialysis clinics were purchased by private investors who were in 1031 exchanges.
According to Meridian COO John Pollock, "Kidney failure, also known as end stage renal disease (ESRD), is a fatal condition unless a kidney transplant is available or a patient undergoes dialysis, in which a machine filters toxins and fluids from the blood outside the body. In-center dialysis patients are treated four hours a day, three times a week. There is a tremendous need to bring these types of services to where patients live."
All three of the properties are located in a retail setting, says Pollock. "This provides easy access and convenience for patients and staff as they don't have to navigate large and often confusing hospital entrances and parking garages," Pollock explains. "This type of location also provides the clinics with a highly visible building and signage which contributes to an increased market share. Meridian expects this trend to continue in the coming years given the cost advantage and convenience factor of providing basic services in retail settings as opposed to higher acuity hospitals."
This transaction comes on the heels of Meridian's sale of its 69,000-square-foot medical office building located in Sonoma County at 5900 State Farm Drive in Rohnert Park, Calif. The purchase price was $21.5 million, representing a cap rate of 5.8%. The Rohnert Park property, which was sold in early November 2015, is occupied by Kaiser Permanente and Petaluma Health Center's Rohnert Park Health Center.
In early October 2015, Meridian purchased a 19,202-square-foot medical office building located in Alameda County at 380 W. MacArthur Boulevard in Oakland, California. Meridian bought the property for $6 million in an off-market transaction.
"Meridian will be closing out the year with more than 1.3 million square feet in development and acquisition. The properties are located in both northern and southern California," Pollock says. "Meridian will continue to seek well-located suburban medical and general office value-add opportunities throughout California."
About Meridian
A division of Marcus & Millichap Company, San Ramon, Calif. based Meridian Property Company is a full-service real estate developer having completed over one million square feet of innovative and integrated commercial office, primarily medical, since its inception in 2000. Meridian's services are broad in scope but meticulous in detail — from site evaluation and land acquisition to entitlement and planning to construction and management. For more information, see mpcca.com.