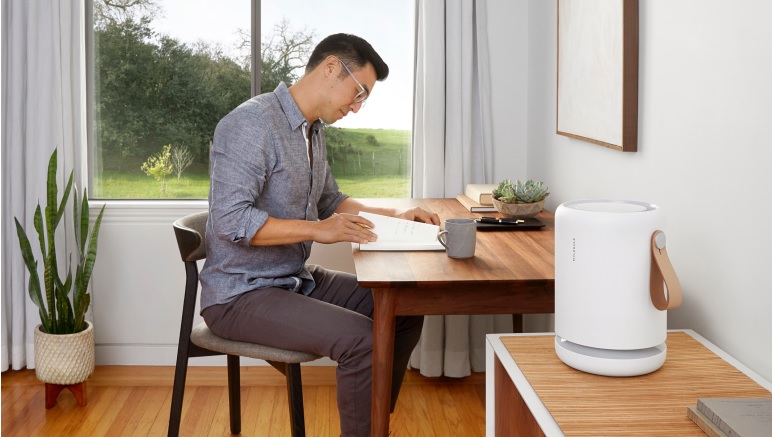 This review is sponsored by Molekule
We live in extraordinary times, as social and physical distancing orders have confined the majority of our lives to our houses or apartments. We are advised to stay at home and limit our trips outside to only essential travel, such as visits to the pharmacy and grocery store. When kids are being homeschooled, and many of us work from home, it's safe to say that most people have never spent so much time confined to our residences. Additionally, many of us have been cooking more or have pets that are lounging at home, making the air in our homes more prone to dust and impurities. Because our homes have now become classrooms, daycares, offices, restaurants, coffee shops, movie theaters, and gyms, the quality of the air we breathe while at home has never been a bigger priority.
It's also spring, the season when the temperature is either too hot or too cold to keep the windows open to keep fresh air circulating in your home. Additionally, it's allergy season, which means that those of us who are allergy sufferers might be more hesitant to open a window in the first place for fear of worsening our symptoms.
Indoor Air Quality
The Environmental Protection Agency has found that the air inside our homes can be more polluted than outdoor air. While this may seem counterintuitive, it should come as no surprise, considering that our homes and apartments are confined areas prone to various sources of pollutants. Now that we are spending so much more time indoors, our exposure to indoor pollutants is increasing and potentially affecting our health. Low-quality air in the home can have several undesirable health effects and cause sneezing, wheezing, coughing, nausea, respiratory issues, and allergic reactions. However, not all hope is lost. While we cannot control the outdoor air quality, there are a few things that we can do, like investing in an air purifier, to make sure that the air in our homes stays as clean as possible.
Post-Winter Pet Shedding
This time of year marks the end of a long winter indoors and the beginning of spring, which means that it's time for our pets to shed their winter coats. This makes it particularly challenging to maintain clean air in a home with cats or dogs. Pets have likely spent the majority of winter inside the house, increasing indoor air pollution with hair and dander. Add to that the fact that pets are now shedding their thick winter coats, which means that pet dander is accumulating much faster.
Since we are indoors most of the time these days, pet dander can present a significant obstacle to purifying the air in your home and is a particular challenge for those who are allergic to pet dander and hair. To minimize pet hair and dander buildup, you can wipe down surfaces, brush your pets frequently, vacuum regularly, and consider setting up an air purifier.
 Kitchen Air Quality
Now that our new normal has us all confined to our homes most of the time, our kitchens have become the place for all of our eating needs. The kitchen is the restaurant, café, bakery, and late-night diner that we all use throughout the day. However, did you know that the kitchen is a significant source of pollutants? Depending on the heating process used, the air can be polluted with various airborne emissions, like gases and particulate matter (PM), which can have a negative impact on your health. This is true even if you cook meals just once a week.
The primary sources of air impurities in kitchens are stoves and ovens. Natural gas and propane stoves produce a wide range of pollutants, including carbon dioxide, carbon monoxide, nitrogen dioxide, formaldehyde, and PM. A report by the Rocky Mountain Institute shows that gas stoves can emit elevated indoor nitrogen dioxide (NO2) levels that often exceed indoor guidelines and outdoor standards. And while they are not as severe as their gas-powered counterparts, electric stoves are sources of air pollutants.
Ovens, the other poor air quality culprits in the kitchen, produce pollutants such as PM and formaldehyde during regular use. Among them, self-cleaning ovens are the worst because they release potentially harmful concentrations of PM, nitrogen dioxide, carbon monoxide, and formaldehyde as they burn away food waste.
Allergy Season
Life with allergies or asthma is never easy. Allergy sufferers should remember to consider the air quality around them to keep their symptoms in check. This is especially important right now, as we are sharing our homes with family and pets all day for days at a time. Even if you don't suffer from allergies, it's important to consider the needs of the other people living in your home. For example, you can cancel big house projects or avoid harsh irritants during this time to ease allergy symptoms. However, although air quality problems can be managed and reduced, they often cannot be destroyed without a high-quality air purifier.
Given the various sources of pollutants in our homes, using an air purifier to ensure that the air in your home is clean is a possibility that's worth looking into, whether you suffer from seasonal allergies, have pets in your home, are a regular cook, or simply wish to breathe in clean air.
Molekule air purifiers use a breakthrough, patented technology called Photo Electrochemical Oxidation (PECO). The technology is different from traditional air filter technology, which is only capable of capturing particles and is often not particularly effective at eliminating unpleasant smells. According to Molekule's website, the PECO technology "works at the molecular level to destroy pollutants." This comes as no surprise, considering that the line of Molekule air purifiers was developed by scientists who have created an innovative air purifying method that utilizes PECO-Filters to destroy pollutants such as bacteria, mold, viruses, and allergens at the molecular level. The purifiers feature a sleek design and come in two sizes. The larger model can purify the air in rooms as large as 600 square feet, while the smaller models are suitable for rooms of about 250 square feet. To help determine which Molekule product would work best in your home consider referring to Forbes' Molekule review on the Molekule Air.
Regardless of which Molekule model you choose, our new normal means that it's more important than ever to ensure the air in your home is as clean as possible.