Power Buyers, Listing Concierge presale renovations see rapid growth 
BOULDER, Colo. – Feb. 2, 2023 – RealEstateRama – Even while the overall US housing market faced uphill challenges in 2022, more Americans are seeking alternative ways to buy and sell real estate as innovative solutions increase nationwide availability. That's what a new report from PropTech software marketplace provider zavvie found.
Power Buyers, offering "Cash Offers" and "Buy Before You Sell" bridge solutions for home buyers, grew 33 percent during an overall US market decline of 38 percent. In addition, Listing Concierge presale renovation companies, which help sellers maximize the value of their home, rose by nearly 5x — 490 percent.
And while iBuyers began the year strong, purchasing 53 percent more homes in Q1 than in the record-setting previous year, the pace of growth slowed dramatically throughout the year. By Q4, iBuyer purchases had tapered to a near standstill. Nevertheless, despite the slowdown in this sector, zavvie's new Modern Marketplace Index, an indicator of the overall market share of these new solutions, increased modestly over the past two years, from 2.59 percent in 2022 to 2.67 percent by the beginning of 2023.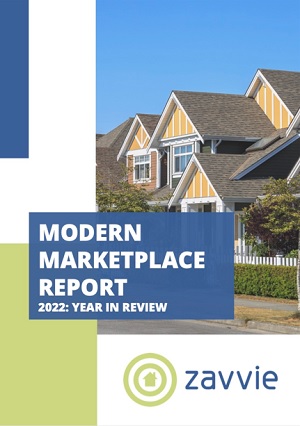 The first-of-its-kind report that closely tracks a range of innovative buying and selling solutions, the new zavvie "Modern Marketplace Report: 2022 Year in Review" details the explosive growth of these businesses. The latest report examines the changes in these new solutions and the impact on the US real estate landscape last year, focusing on the consumer experience, from offer strength and acceptance rates to costs and customer satisfaction.
"It's clear that the popularity of these new solutions for home sellers and buyers continues to grow," noted Stefan Peterson, zavvie Chief Data Officer and Co-Founder. "Real estate brokers and agents know that in today's market, to win over the customer, they must have these vital tools in their kit — or they will lose out to a competitor who does."
"With these new buyer and seller solutions, agents can help customers get unstuck, creating new inventory by having conversations about how these innovations work and the benefits they offer," he added.
Among the new study's additional findings for 2022:
Power Buyers'strong growth of 33 percent is attributable to higher demand for the "buy before you sell" and "sale-leaseback" products used by consumers who are buying and selling.
Power Buyer purchase pricespeaked in Q1 2022 at $683K, far higher than the national average home price of $348K. Then, Power Buyer prices came back to earth at around $500K at year-end.
Consumers are willing to pay Power Buyer fees, ranging from between 0% and 3% of the home's list price, for the advantages of buying before selling and making an offer without a loan contingency.
Power Buyeroffer acceptances remained in the 35% to 40% range for the first two quarters, declining with the overall market for the rest of 2022.
Listing Concierge — presale renovation and repair services— has spread like wildfire across the country in the past three years, as with these new solutions, sellers won't pay for the renovations until after their house sells.
The average project investment by Listing Conciergefirms was $47,000.
Listing Concierge firmsoverall provided an average return on investment (ROI) of 100 percent.
Institutional buyers,including Amherst, Invitation Homes, Tricon and First Key (among many others), who are focused on wholesale purchases of single-family homes for rentals, bought about 3x as many homes as iBuyers.
Like retail iBuyers, institutional buyers also sharply curtailed their acquisitions in the second half of 2022.
A silver lining for iBuyers: offer acceptance rates continued downward in the first half of the year, bottoming at 3.1%. Then, in contrast to all the other trendlines in the zavvie report, offer acceptance took off through the 8% range. Apparently, for an increasing percentage of sellers, iBuyer offers were more attractive, given the market conditions.
As an indicator of consumer demand, throughout 2022, zavvie continued to process more requests for Instant Sale solutionsthan any other Modern Marketplace solution: 40% of all requests were for instant cash offers.
Rent-to-own or Homeownership Accelerator solutions, which help consumers choose a house they want to live in, then rent it with an option to buy in the future, are now available in 36 states.
Homeownership AcceleratorDivvy Homes, for example, reports that 50 percent of their customers have exercised the option to purchase their homes.
Home Partners of America, the well-established category leader among Homeowners Accelerator firms with its "lease with the right to purchase" program, was acquired by Blackstone Group in June 2021 for $6 billion, placing it among the largest residential real estate firms of any
One of the most significant trends emerging from the zavvie report is the continued expansion of the Modern Marketplace, particularly among Power Buyers and Listing Concierge companies.
EasyKnockgrew its revenues 89% compared with 2021 while completing Power Buyer transactions in 47 different states.
UpEquityquadrupled its Buy Before You Sell business.
The Listing Concierge service Curbioraised $90M in funding and completed more than 1,700 projects, an increase of 125% over 2021.
Revive, which offers pre-sale renovations as well as an innovative instant sale product, experienced 75% growth each quarter.
Peterson notes that the common thread among all the Modern Marketplace choices is high customer satisfaction.
"Ultimately, the consumer will determine if a business is delivering good value," he said. "The vast majority of consumers who have used one of the Modern Marketplace solutions are glad they did and would do it again."
About the report
The zavvie Modern Marketplace Report is the first review of its kind, covering every selling and buying solution, including iBuyer, Power Buyers, Listing Concierge, and Homeowner Accelerators. The report examines offer strength, offer acceptance rates, service fees, market availability, average concessions, and more. This is the second Modern Marketplace Report from zavvie, the first one was released in June 2022. The complete zavvie Modern Marketplace Report is available for free at zavvie.com/modern-marketplace-report. 
About zavvie
zavvie is a software technology company that provides real estate brokerages with a marketplace for buying and selling solutions via their own white-labeled platform that keeps agents at the center of the transaction. Over 65,000 real estate agents in 47 states leverage zavvie's software technology to serve their clients better. Discover more at zavvie.com.
# # #
Media Contact:
Kevin Hawkins | zavvie
206-866-1220 |