Will Force Anti-Home-Rule Members to Justify D.C. Interference to Their Constituents
WASHINGTON, D.C. – (RealEstateRama) — Congresswoman Eleanor Holmes Norton (D-DC) today filed amendments to strike all five anti-home-rule riders from the House's fiscal year 2019 District of Columbia Appropriations bill, which is expected to be considered on the floor next week. Norton's amendments would strike the riders that repeal the Local Budget Autonomy Act of 2012, prohibit D.C. from spending its local funds on recreational marijuana commercialization, prohibit D.C. from spending its local funds on abortions for low-income women, repeal the Death with Dignity Act (DWDA), and prohibit D.C. from spending its local funds to carry out the Reproductive Health Non-Discrimination Act (RHNDA). The deadline to file amendments with the Rules Committee to the fiscal year 2019 Financial Services and General Government Appropriations bill, which contains D.C.'s appropriations bill, is Wednesday, July 11, 2018, at 10:00 a.m. Norton said Members may file anti-home-rule riders and is prepared to fight them on the House floor.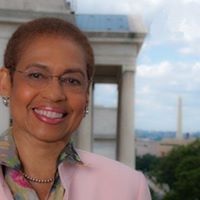 "I will expose any Member who interferes in D.C.'s local affairs so their constituents see them focusing on our business instead of theirs by trying to force a vote on the House floor on each and every anti-home-rule rider," Norton said.
Several of Norton's amendments have already received support. Her marijuana amendment has bipartisan support with Representative Dana Rohrabacher (R-CA) as a cosponsor, along with Representatives Earl Blumenauer (D-OR) and Barbara Lee (D-CA). Representatives Lee and Tim Ryan (D-OH) are cosponsors of her RHNDA amendment. Lee also is a cosponsor of Norton's abortion amendment. Representatives Blumenauer and Mark DeSaulnier (D-CA) are cosponsors of her DWDA amendment.
###