MOUNTAIN VIEW, Calif. –- (RealEstateRama) — On June 12, 2017, City of Mountain View Mayor Ken Rosenberg, Santa Clara County Board Supervisor Joseph Simitian, State Housing and Community Development Director Ben Metcalf, California Department of Veterans Affairs and other local leaders will celebrate the groundbreaking of Eagle Park Apartments, an affordable residential rental community being developed by Palo Alto Housing (PAH) in the center of Silicon Valley.
Eagle Park Apartments will be an architecturally innovative building comprised of 67 rental apartments which will house low-income veterans and households earning up to 60 percent of the Santa Clara County Area Median Income (AMI). The unit mix consists of 62 studios at approximately 400 square feet and five one-bedroom apartment homes at nearly 600 square feet.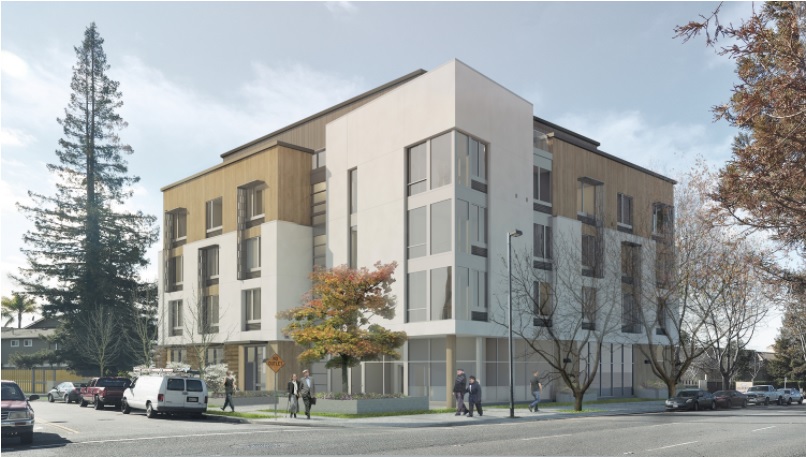 Expected to be completed in the fall of 2018, this approximately half-acre property is centrally located in Mountain View at 1701 W. El Camino Real, within walking distance of groceries, pharmacies, restaurants and public transit. The residential apartment community building will be GreenPoint Rated through the inclusion of the following green design features: solar thermal system, energy-efficient HVAC, energy-efficient lighting and water-conserving fixtures. Onsite amenities will include roof decks for socializing, a community room with a computer lab, community kitchen and elevator access on every floor. Van Meter Williams Pollack is the Architect. Branagh Inc. is the General Contractor.
"Palo Alto Housing commends the City of Mountain View for making affordable housing a strategic priority," said Candice Gonzalez, CEO of Palo Alto Housing. "We truly appreciate the collaboration between our public and private partners. In the middle of Silicon Valley, in one of the most expensive real estate markets in the country, we are proud to honor our veterans and workforce with high-quality, affordable housing in an amenities-rich neighborhood."
Financing for the $33 million development is provided by the City of Mountain View, County of Santa Clara, U.S. Bancorp, State Department of Housing and Community Development, Veterans Housing and Homelessness Prevention Program, California Housing Finance Agency, California Department of Veterans Affairs and Google. "Google is honored to help support the amazing work that Palo Alto Housing is doing," said Adrian Schurr, Bay Area Program Manager for Google.org. "PAH is an amazing leader in the community and we're excited to see the success of their initiatives."
"It was in June last year where we, as a city, stepped up and invested $8 million in development funds for this Palo Alto Housing Corporation project because it is bringing 67 new affordable homes with easy access to mass transit," said Mountain View Mayor, Ken Rosenberg. "This project is a great example of how both cooperation and smart development can make our city more accessible by increasing our overall supply of affordable housing and making a great place for our veterans to come home to."
Palo Alto Housing's property management division will provide professional, onsite property management. PAH's resident services division will partner with a network of service providers including the VA Palo Alto and Abode Services to provide robust supportive services to residents. Services will be designed to ensure housing stability, promote health and wellness, and encourage social integration. Palo Alto Housing's mission is to create stronger, more diverse communities by providing and maintaining high-quality, affordable housing where individuals and families thrive.
Those interested in housing at Eagle Park Apartments may call Palo Alto Housing at (650) 321-9709 and request to be added to the interest list.
About Palo Alto Housing
In its more than 47 years of service, non-profit Palo Alto Housing (PAH) builds, develops, acquires, and manages low- and moderate-income housing in the San Francisco Bay Area. With over 700 units located on the Peninsula, PAH provides high-quality, award-winning housing with subsidized rents, to the greatest degree possible, and supports its residents in reaching their goals through its Resident Services program. Palo Alto Housing continues to expand its portfolio and focuses its future housing efforts along transit corridors on the Peninsula. For more information, visit www.pah.community.
# # #
Anne Monaghan
MONAGHAN COMMUNICATIONS, INC.


830.997.0963