Parc Derian will serve working families and others with special needs.
The recently completed Parc Derian brings 80 units of housing for working families, veterans, and special-needs residents in Irvine, Calif.
The development is a public/private partnership between C&C Development, Innovative Housing Opportunities (IHO), Lennar Corp., the city of Irvine, and the Irvine Community Land Trust.
Located in the heart of the Irvine Business Complex, a major economic and job hub for the city, Parc Derian had 2,000 households on its interest list, from which 80 households were selected by lottery and all moved in within 30 days. Twenty percent of the units are designated for veterans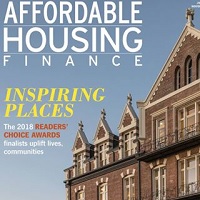 More info at Affordable Housing Finance:
Parc Derian – Development to Help Fill Housing Need in Irvine, Calif.