CHICAGO – RealEstateRama – Hanley Investment Group Real Estate Advisors, a nationally recognized real estate brokerage and advisory firm specializing in retail property sales, announced today that the firm has arranged the sale of a single-tenant Amazon Hub Locker+ location strategically situated directly across the street from DePaul University in Chicago, the largest Catholic higher education institution in the country (with 24,000 students).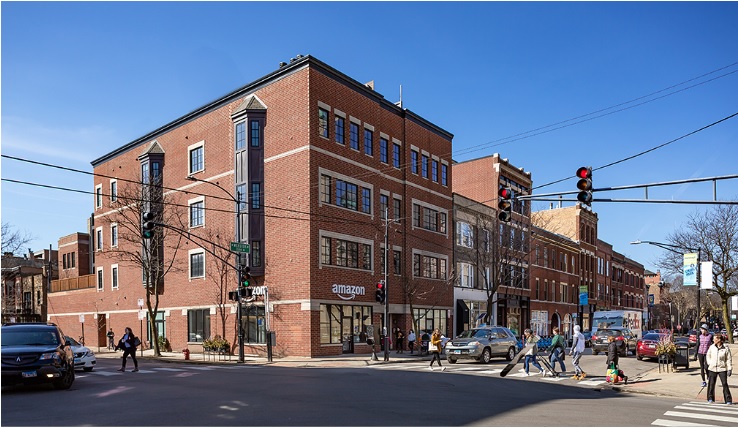 Hanley Investment Group Executive Vice Presidents Kevin Fryman, Bill Asher and Jeff Lefko represented the seller, Westwood Financial of Los Angeles, California. The buyer was a private investor from Mexico, City, Mexico, and was represented by John Oks of Banco Santander International in Miami, Florida.
The 2,800-square-foot Amazon-occupied property is located on the ground floor of a four-story, six-unit residential condominium building built in 2010 at the signalized intersection of Webster Avenue and Sheffield Avenue, 1001 W. Webster Avenue. Amazon Hub Locker+ offers a secure, staffed pickup and return location for Amazon packages.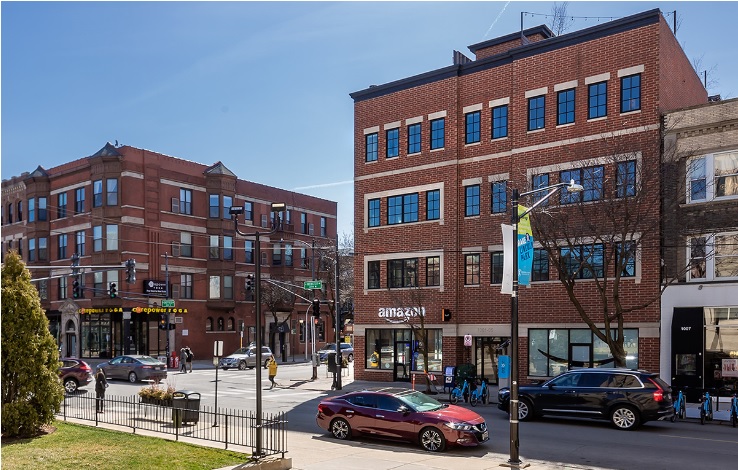 "This is a critical Amazon Hub Locker+ location with a 4.7 Google rating (131 Google reviews) with customer feedback focused on the convenience of the location, great customer service, well maintained, and easy returns," said Fryman. "Amazon Hub Locker+ locations provide customers ease of use without any concern about traditional doorstep package theft."
Amazon started to grow its locker plan strategy in 2011 and now has locker locations in over 900 cities and towns including convenience stores, local groceries, apartment buildings and Whole Foods Market. Amazon is said to be planning significant growth of its locker program in the future.
During the height of the COVID-19 pandemic, consumers spent $200.72 billion online with U.S. retailers, up 44.4% from $138.96 billion for the same quarter the prior year, according to retail figures recently published by the Commerce Department. That means more than $1 in every $5 spent came from orders placed on the web during the April-June period. Amazon-owned sales alone accounted for nearly a quarter of all U.S. ecommerce in Q2 and is responsible for just over a quarter of ecommerce growth from April through June.
In August, Amazon announced that it will invest more than $1.4 billion in new offices in Detroit, Dallas, Denver, New York, Phoenix and San Diego. The move is expected to create 3,500 jobs in total. It was also reported that the e-commerce giant is in talks with mall owner Simon Property Group to turn anchor stores into distribution hubs, the Wall Street Journal reported.
Amazon has been reported to be pursuing a multi-format growth strategy in both urban and suburban locations including taking over approximately 38,000 square feet of the 88,000-square-foot space owned by Kohl's in La Verne, California. This is not the first partnership between Kohl's and Amazon. Kohl's sells Amazon smart home products in its U.S. stores, and last year began accepting Amazon returns at its stores, a move which helped boost foot traffic at Kohl's.
Amazon.com, Inc. (NASDAQ: AMZN) net sales increased 40% to $88.9 billion in the second quarter, compared with $63.4 billion in the second quarter of 2019. The tech giant's net income increased to $5.2 billion in the second quarter, compared with net income of $2.6 billion, in the second quarter of 2019. The company also created over 175,000 new jobs since March 2020 and is in the process of bringing 125,000 of these employees into regular, full-time positions. 
Amazon has received a host of awards and top rankings including #1 American Customer Satisfaction Index Internet Retail Category, 2020, ranked in the top 10, eleven years running; #2 Fortune World's Most Admired Companies, 2017-2020; and #4 Forbes World's Most Valuable Brands, 2019-2020.
Asher adds, "This is a high-profile site in a Lincoln Park/Chicago location. Lincoln Park is one of the densest and most affluent neighborhoods in the country. There are 1,000,000 residents within a five-mile radius and a $163,000 average household income within a one-mile radius." 
"In addition to its proximity to DePaul University, it is only two miles from Wrigley Field along Sheffield Avenue," Fryman notes. 
The city of Chicago (located in Cook County) is the most populous city in the Midwest and the third most populous city in the U.S. with 2.7 million residents. Cook County is the second-largest county in the U.S.
Chicago leads the nation in residential tower construction and corporate investment with numerous projects underway. There are more than 30 major high-rises under construction in the greater downtown area alone.
"Properties that are considered an essential business with long-term leases located in dense, affluent neighborhoods are commanding top dollar in today's market," said Fryman. "We expect this trend of 'flight to quality' single-tenant investing to continue."
About Westwood Financial
Westwood Financial is a premier, fully-integrated real estate investment platform with a portfolio of 72 shopping centers primarily concentrated in California, Arizona, Texas, Colorado, North Carolina, and Georgia.
Westwood has owned and operated neighborhood and community shopping centers for nearly 50 years, beginning with a collection of small, West-Los Angeles strip centers and growing into a portfolio of over 150 primarily grocery-anchored and service-oriented shopping centers. Steven Fogel and Howard Banchik who serve as Co-Chairs on the Board of Directors along with three independent Directors, founded the company in 1970 out of a desire to provide investors and partners with stable, income-producing real estate investments. That focus continues today. See www.westfin.com
About Hanley Investment Group
Hanley Investment Group Real Estate Advisors is a boutique real estate brokerage and advisory services company with a $6+ billion transaction track record that specializes in the sale of retail properties nationwide. Our expertise, proven track record, and unwavering dedication to putting clients' needs first, sets us apart in the industry. Hanley Investment Group creates value by delivering exceptional results through the use of property-specific marketing strategies, cutting-edge technology, and local market knowledge. Our nationwide relationships with investors, developers, institutions, franchisees, brokers, and 1031 exchange buyers are unparalleled in the industry, translating into maximum exposure and pricing for each property. With unmatched service, Hanley Investment Group has redefined the experience of selling retail investment properties. For more information, visit www.hanleyinvestment.com.
#  #  #
Anne Monaghan
MONAGHAN COMMUNICATIONS, INC.
830.997.0963