SANTA BARBARA, CALIF. – December 03, 2015 – (RealEstateRama) — A Spanish-inspired live/work space has officially arrived with the announcement of "El Jardin," a new building located in the historic Presidio neighborhood in downtown Santa Barbara. The four-story development at 819 Garden Street, which is co-listed by Sotheby's International Realty and Hayes Commercial Group, is designed for the business owner or CEO seeking a professional office space and a private home all in one place. Surrounded by some of the finest local eateries, shops, and coffee houses in the area, the prime location of El Jardin also provides ample amenities all within walking distance.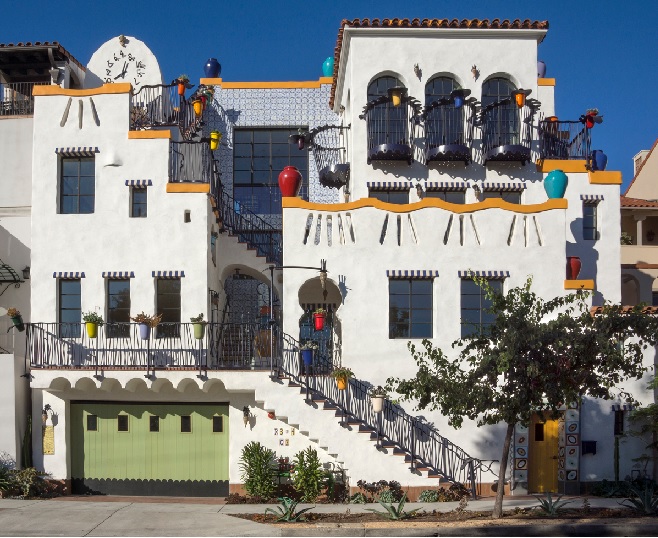 "The heart-of-downtown location and luxurious size and quality of the building, combined with local architect Jeff Shelton's immersive design make this property unparalleled to other products. Shelton's innovative architecture is located in an ideal environment for one to enjoy the inspirational live/work design right in the historic Presidio neighborhood that provides impressive amenities for the most discerning buyer," said listing agent Melissa Birch of Sotheby's International Realty – Santa Barbara Brokerage.
Selected for the Architectural Feature for the 2015 Santa Barbara Beautiful Award, El Jardin includes a 2,010-square-foot commercial space along with a 1,200-square-foot garage on the first floor, with metal work throughout the space by David Shelton. The third and fourth floors encompass a 2,386-square-foot residence equipped with two bedrooms and two and a half baths, an elevator, countless custom finishes and inviting decks and balconies. The residence leads up to a rooftop patio equipped with an outdoor kitchen, shower, hot tub, fire pit and views of the Riviera and Santa Ynez Mountains.
"This property is a standout example of the current trend of redevelopment in downtown Santa Barbara, including The Mill on Laguna and Haley and a plethora of projects in the Funk Zone," said Christos Celmayster of Hayes Commercial Group. The owner of El Jardin has worked with Shelton on other redevelopment projects, including the Vera Cruz residence on Santa Barbara Street.
El Jardin is co-listed for sale at $4,149,000 by Melissa Birch and Rich van Seenus of Sotheby's International Realty and Christos Celmayster and Kristopher Roth of Hayes Commercial Group. Construction was handled by Dan Upton Construction.
About El Jardin:
El Jardin is the latest downtown Santa Barbara project designed by Architect Jeff Shelton and carefully constructed by Dan Upton Construction. The building is a four-story, mixed-use project at 819 Garden Street that has commanding unobstructed views of the Riviera, the Santa Ynez Mountains and Santa Barbara's red tiled neighborhoods. This four story cascading residence and office is somehow tucked into the Presidio Neighborhood as if the surrounding buildings were built around it. Escher-like stairs with brightly colored decorative ceramic tile risers wind their way up from Garden Street, sliding past the offices, sinuously making their way to the fourth floor and the front door that sits under a giant clock that is in its own time zone.
Learn more at www.819gardenstreet.com, take an interactive 3D tour of El Jardin or watch a quick video on the new space in Downtown Santa Barbara.
About Sotheby's International Realty, Inc.:
Sotheby's International Realty was founded in 1976 as a real estate service for discerning clients of Sotheby's auction house and represents fine properties at a range of price points. Today, Sotheby's International Realty, Inc. operates brokerage offices in key metropolitan and resort markets, including Manhattan, NY; the Hamptons, NY; Greenwich, CT; Cape Cod, MA; Palm Beach, FL; Houston, TX; Los Angeles, CA; Beverly Hills, CA; Brentwood, CA; Pasadena, CA; Santa Barbara, CA; San Francisco, CA; Sonoma, CA; Monterey Peninsula, CA; and Santa Fe, NM.??
Sotheby's International Realty, Inc. (www.sothebyshomes.com) is part of NRT LLC, the nation's largest residential real estate brokerage company, and a member of the Sotheby's International Realty® network, which currently has more than 17,000 independent sales associates located in approximately 800 offices in 61 countries and territories worldwide. NRT, a subsidiary of Realogy Holdings Corp. (NYSE: RLGY), operates Realogy's company-owned real estate brokerage offices.
About Hayes Commercial Group:
Hayes Commercial Group is a full-service commercial real estate brokerage offering leasing, investment sales, and consulting services for all commercial property types. Hayes Commercial Group brokers average more than 20 years of commercial real estate experience in Santa Barbara County and the surrounding areas. Combining a broad range of expertise with a team focus, we can tailor the best approach for your needs, no matter your interest in commercial real estate. Learn more at www.hayescommercial.com.