NEW YORK, NY – November 11, 2015 – (RealEstateRama) — TIAA-CREF, a leading U.S. financial services organization and the nation's largest manager of U.S. institutional tax-exempt real estate assets*, is selling a 49% interest in six office properties and two land parcels in Miami, forming a joint venture with Allianz Real Estate of America. TIAA-CREF will retain a 51% interest in the properties, located at the Waterford at Blue Lagoon corporate park near Miami International Airport, and serve as the operating partner.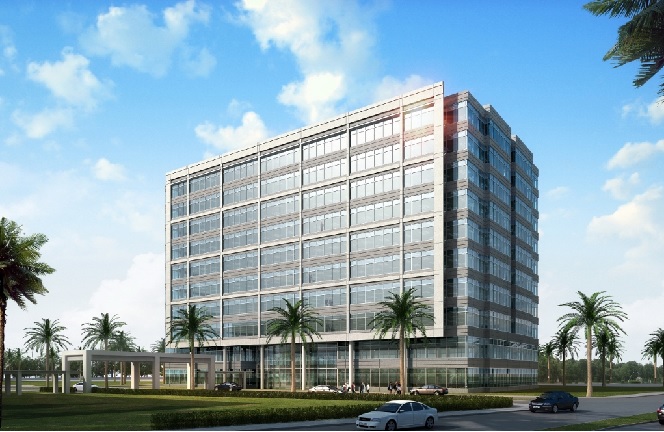 Six class-A office buildings totaling over 1.4 million square feet (1000 Waterford, 5200 Waterford, 5201 Waterford, 5301 Waterford, 701 Waterford and 703 Waterford) and two parcels of land totaling over 26 acres are included in the transaction. A new office development is currently in the planning stage on the parcel at 800 Waterford. The 10-story, 250,000 square foot building is expected to be completed in 2017 and will be the latest addition to the Waterford complex since 1000 Waterford Way was constructed in 2009.
TIAA-CREF and Allianz Real Estate of America are also partners in Four Oaks Place, a 1.7 million square foot, class-A office complex located in the Galleria submarket of Houston.
"We are very pleased to expand our co-investment partnership with Allianz," said Suzan Amato, Head of Managed Accounts and Joint Ventures, TIAA-CREF Global Real Estate. "Waterford at Blue Lagoon is a stabilized, high-performing asset noted for its numerous lakes, lush landscaping and convenient location. The property being built will enhance the complex and meet the growing demand for additional office space in the Airport West commercial real estate market."
The JV is on behalf of TIAA's general account and the Allianz German and French insurance companies' general accounts.
"We are excited to continue our partnership with TIAA," said Christoph Donner, CEO of Allianz Real Estate of America. "Allianz has a strong relationship with TIAA and the Waterford assets are excellent additions to our growing portfolio."
About TIAA-CREF
TIAA-CREF (www.tiaa-cref.org) is a national financial services organization with $834 billion in assets under management (as of 9/30/2015) and is the leading provider of retirement services in the academic, research, medical and cultural fields.
About TIAA-CREF Global Real Estate
TIAA-CREF Global Real Estate is the real estate investment and management business of TIAA-CREF. As the nation's largest manager of U.S. institutional tax-exempt real estate assets* with approximately $59 billion in assets under management, investment vehicles include directly owned properties, joint ventures, mortgages and funds. The platform has a global presence via London-based real estate asset management firm TH Real Estate, which has $30 billion in assets under management across 50 funds and mandates, bringing the combined worldwide assets under management for TIAA-CREF Global Real Estate and TH Real Estate to over $89 billion (as of 9/30/2015).
TIAA-CREF Individual & Institutional Services, LLC, Teachers Personal Investors Services, Inc., and Nuveen Securities, LLC, Members FINRA and SIPC, distribute securities products. C27318 © 2015 Teachers Insurance and Annuity Association of America-College Retirement Equities Fund (TIAA-CREF), 730 Third Avenue, New York, NY 10017 *According to Pensions & Investments, Real Estate Managers ranking, October 19, 2015
About Allianz Real Estate
Allianz Real Estate is the strategic center of expertise in real estate within the Allianz Group and a leading international real estate investment and asset manager. Allianz Real Estate develops and executes worldwide tailored portfolio and investment strategies on behalf of the Allianz companies, considering direct as well as indirect investments and real estate loans. The operational management of investments and assets is currently performed in six international subsidiaries and hubs in Germany, France, Switzerland, Italy, USA and Asia/Pacific. The headquarters of Allianz Real Estate are located in Munich and Paris. As of 31th August 2015, Allianz Real Estate has approximately EUR 37.4bn assets under management.
Daisy Okas
Director, Asset-Management Public Relations
TIAA-CREF| Financial Services
730 Third Avenue, 10th floor
New York, NY 10017


(Office) 212-916-4102
(Mobile) 917-359-3543