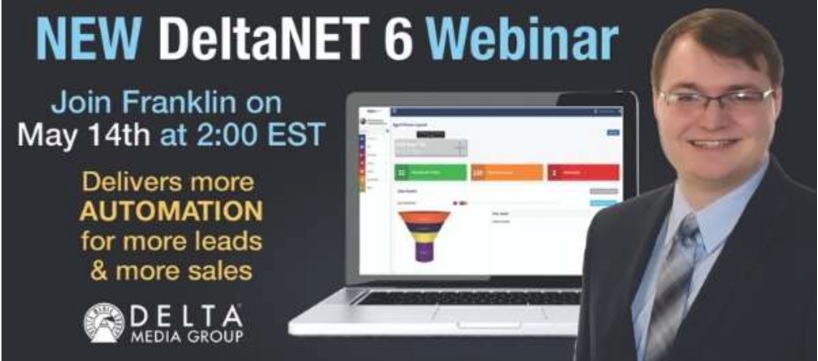 Delta Media ushers in a "New Era" with its All-in-One
Digital Marketing Platform with Back-Office Integration
Canton, Ohio – May 7, 2020 – RealEstateRama – Helping real estate professionals accelerate efforts to power their brokerage digitally, Delta Media Group is hosting a free webinar on Thursday, May 14, 2020, at 2:00 pm Eastern. The webinar explores the virtual capabilities and automation built into its newly released DeltaNET 6 all-in-One Digital Marketing Platform.
With back-office integration, next-generation lead capture capabilities, and an industry-leading SEO system that drives website traffic and fuels agent business growth, "DeltaNET 6 is ushering in a new era in real estate technology," said Franklin Stoffer, Delta Media Senior Key Accounts Consultant and Sales Manager who is presenting the webinar. Registration for the webinar is here (https://bit.ly/DeltaNET6-webinar).
Highlights of the DeltaNET 6 webinar include:
Delta Media Group today and Delta's vision
Stunning customizable websites with focused lead capture tools
Industry-leading SEO strategies to drive business
DeltaNET 6 platform debuts patent-pending Quick Action tools that streamline the CRM
Built-in suite of digital and virtual products: SSO, Email Campaigns, AI-driven Newsletters, e-
card and flyer creation, Open House Apps, AdWizard, Facebook Connector, Testimonials, Seller Reports, and more
DeltaNET 6 admin-level highlights, showcasing how a brokerage can truly leverage digital tools to run their company
What's Next? Look into the future developments planned for DeltaNET 6
Pricing/Promos/Rollout for existing clients
Q&A
Delta Media, one of America's most established and largest broker technology solutions providers, recently deployed new support for virtual Open Houses to its DeltaNET Open House platform, free to its customers. The company accelerated its development cycle to assist agents during COVID-19's unprecedented impact on the real estate market.
Franklin notes that Delta Media has refocused its efforts "on automation and seamless integrations to empower agents to focus less on the tech and more on their business."
He adds, "If you have not looked at Delta Media Group lately, and need digital and virtual solutions for your agents, now is the time."
About Delta Media Group
Delta Media Group, located in Canton, Ohio, is a leading and trusted technology partner for many of real estate's top brands. Creator of the DeltaNET 6, real estate's most advanced all-in-one digital marketing, back office, and website platform, Delta Media Group is the largest family-owned and operated technology innovator with no outside investors or VC funding. Delta Media Group is renowned for saving clients money while reducing the frustration of managing multiple online technologies. Established in 1994, Delta Media Group remains a top real estate technology innovator. Discover more at deltamediagroup.com.
#  #  #
Media contacts:
Victor Lund (805) 709-6696


Kevin Hawkins (206) 866-1220