In 20 years from today, the job market is going to look completely different than it does now. Industries come and go while others rise to the top. Then there are some main-stay businesses out there who keep continuing to grow.
Medicine/healthcare is one of those sectors, with higher than average job growth over the next decade. Technology has become a mainstay now and it's considered one of the best sectors to start a business.
Another industry that is a mainstay and growing rapidly is the real estate business. With so much growth in the sector, it's becoming difficult to stand out from the rest. That's why you need to have an effective marketing strategy
Make Your Presence Online
One of the most surprising statistics about small businesses in the 21st century is that around 40% do not have a website. How can you expect to accomplish anything in this day and age without a solid website?
Having a website for your real estate business is key to connecting with plenty of consumers. This will give you the chance to attract people wandering throughout the web or provide information to current clients.
Use the website to keep your listings up to date, provide high-quality photos, and even have those nifty 360 video tours. You can also publish content about mortgage options, FAQs, and more. All that's left is to choose a domain name.
Time to Get Social
While having your website is a great idea, it's also necessary to have a social media page. Your social media page can mirror the activity on your website by posting listings and showing off homes that you have sold.
Being on social media will also give you a chance to post in various groups and interact with consumers much, much easier. You can post a home listing in a local Facebook group and be able to receive messages quickly and easily.
Plus, with the amount of people on social media today, you want to make sure your business is in front of their eyeballs at any given moment.
Embrace Referrals and Reviews
No one is ever going to doubt that one of the most powerful marketing methods out there is word of mouth. After all, you're more likely to believe a friend or family member's suggestion over that of an ad.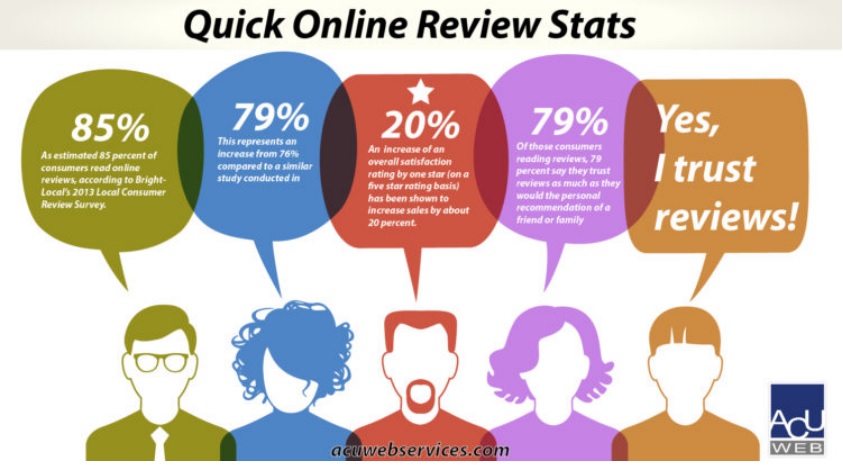 Photo source:http://www.lbswebsoft.com/blog/5-ways-to-get-more-good-online-reviews-on-your-website/
Buying and selling a home isn't like going to a restaurant where you could swing by once every few weeks. It's likely to be a once every few years kind of ordeal.
That's why you should encourage referrals amongst your past clients. For example, follow up with those who have moved into their new houses after a few months. See how everything is going and check up.
With this, you can also ask if they know anyone who's looking to buy or sell a house and send them a referral link.
When it comes to reviews, be sure to ask for them from past clients to put on your website or social media page. A short and sweet review is going to hold a surprising amount of weight amongst other potential clients.
Build an Email and Mailing List
Not only are emails an easy way to keep in touch with people, but it can be a wonderful tool for your business. By building up an email list, you'll be able to send out newsletters, welcome emails, follow-up emails, referral requests, and much more.
Emails are a way to re-engage with potential clients. If someone visits your website to look at a few houses, you can send them an email follow-up with more information and offering to show them the house. It can be a way to track potential leads.
While email is fantastic, don't discount snail mail either. Send out your information and local listings via direct mail services in order to connect with clients as well. In some cases, direct mail has had more success than email.
Email and direct mail don't always have to be about your business, they can be things like real estate tips, a book of new listings, links to new content or video tours, or whatever else you can think of. Feel free to get creative!