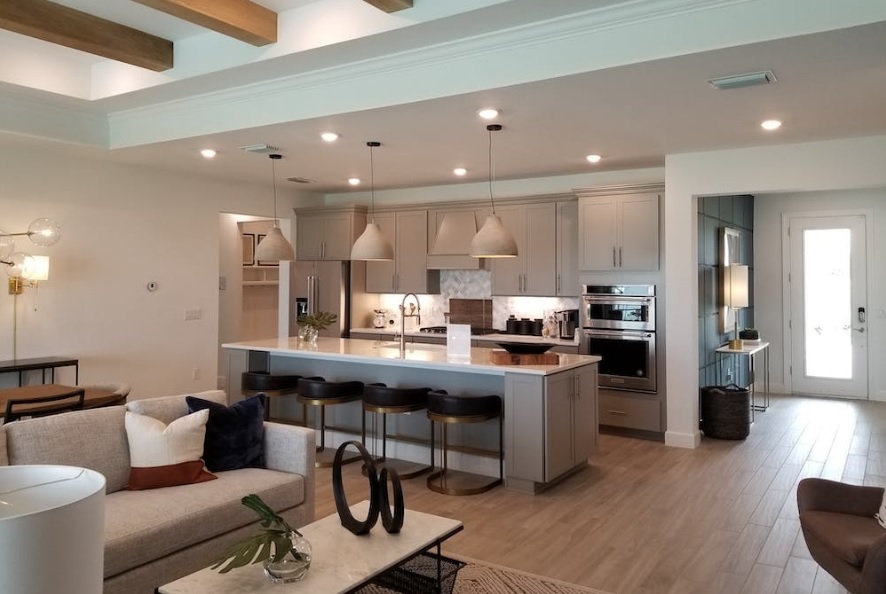 Staging your house is the art of presenting it in the best possible light to attract potential buyers and make a lasting impression. Staging can lead to quicker sales and potentially higher offers when done right. To help you succeed, we've compiled the 9 best tips on staging your house for a faster sale.
1. Get Rid of the Clutter
Decluttering is the first crucial step in preparing your home for sale. It involves removing unnecessary items and organizing your space to make it visually appealing and spacious for potential buyers. Say goodbye to that bulky jacket that thinks it owns the wardrobe and bid farewell to the canned tuna that's been in the cabinets for ages. The more storage space you have to show, the better.
Also, consider replacing any old-fashioned or bulky furniture that may impact the visual appeal of your home or take up too much floor space. Replace these with sleek, modern alternatives that create an open and inviting atmosphere. The goal is to make the area look as spacious as possible to impress potential buyers.
Now we understand decluttering and parting with valuable furnishings can be difficult, and investing in new furniture or renting storage units can be excessively expensive. But don't worry; there's a way to quickly sell your home without the hassle of decluttering and staging. Say hello to House Buyers Cash, where a cash offer for your home materializes within 24 hours — no real estate agents, market listings, tiresome showings, or open houses. Sell your home quickly and effortlessly with House Buyers Cash.
2. Place Mirrors in Smaller Rooms
If you're still going to go with staging, then incorporating a large mirror is an easy and effective trick to add phantom square footage to your smaller rooms. Mirrors reflect light and give the impression of more space. By strategically placing large mirrors on walls or opposite windows, you can bounce natural light around the room, making it feel brighter and more open.
3. Create a Blank Slate
To make your home more appealing to potential buyers, you need to depersonalize and create a blank slate that allows them to envision how they can utilize the space as their own. Think of it as creating a hotel room — inviting and neutral.
Start by taking down refrigerator magnets and removing clothes from the wardrobes. Keep family photo frames away and hang abstract art on the walls instead. Also, clear out any personal items from the bathrooms, such as toothbrushes and razors.
The key is to remove anything that signals someone is already living there while retaining the house's warmth and character. Remember, depersonalizing doesn't mean sucking the personality out of your home; it's about setting the stage for potential buyers to see themselves living happily in the space.
4. Use Plants
After decluttering and depersonalizing, you may find plenty of empty space in your home. Now is the perfect opportunity to utilize this space to create a captivating and inviting atmosphere.
In 2021, Utah-based estate agent Malissa Kelsch had an unforgettable experience with a listing that received a staggering 45 offers, all thanks to the strategic use of plants in the home. With the right indoor garden ideas, a modest 1,389 square-foot home sold for the highest price per square foot she had witnessed throughout the year.
If your living room feels bare, add a big plant next to the couch to fill the void and add a touch of nature's charm. For a monochromatic living room, liven it up with lush green plants strategically staged around the room to inject a burst of color and vibrancy.
5. Pull Furniture Away From the Walls
Contrary to common belief, keeping furniture stacked against walls does not necessarily make a space look more spacious. In fact, doing so can create a cramped and cavernous feel in the middle of the room, leaving items with no breathing room.
Instead, try repositioning sofas and chairs into cozy conversational groups, allowing the furniture to create inviting spaces that encourage interaction and flow. Don't just take our word for it. Go ahead and see for yourself how this simple rearrangement can transform your living spaces into inviting and functional areas that both you and potential buyers will love.
6. Curb Appeal
Repainting your front door can breathe new life into your home's facade, adding a welcoming touch. It is also a good idea to upgrade your mailbox. It may seem insignificant, but it can make a massive difference in buyers' perceptions. Even if you have a beautiful home but a dented-up old mailbox, when the buyers pull up to the house, they'll instantly think about what the inside looks like if you can't even replace a mailbox. Another valuable addition is installing exterior lighting. Not only does it elevate the aesthetics of your home, but it also enhances safety, especially during evening showings.
7. Let in Natural Light
Maximizing the flow of sunlight into your home can significantly enhance its appeal. Natural light creates a sense of spaciousness and positively impacts people's moods. Exposure to sunlight releases serotonin, the body's feel-good chemical, which will naturally put potential buyers in a better mood during their visit.
So open the curtains and blinds to allow as much light as possible. And clean the windows to ensure they're crystal clear and smudge-free.
8. Appeal to All Senses
This is a powerful technique that goes beyond just visual aesthetics. Consider incorporating pleasant scents to create a welcoming atmosphere. Fresh flowers or subtle air fresheners can instantly uplift the ambiance and leave a positive impression on potential buyers.
But don't stop there! Soft background music can help set the right mood and create a soothing environment for visitors. Consider putting up a piano or guitar instrumental playlist on Spotify, and let the music work its magic.
9. Stage Each Room With a Purpose
Each room should have a clear and unique purpose. Even if buyers may eventually use certain rooms differently after moving in, stage each room with a distinct purpose. Failing to do so risks breaking the illusion of the perfect home, leaving buyers disoriented and detached from the space. If they can't easily grasp a room's purpose, they will quickly wander in and out and assume they don't need that space. This may lead them to pass on your house and move on to the next opportunity.
To avoid such scenarios, create a distinct master bedroom and a playful kids' room, and utilize any extra space imaginatively. If you have a spare room, turn it into a home office or guest bedroom. A finished basement can become a home gym or entertainment room.
Conclusion
In conclusion, staging your house before selling is a strategic investment that can significantly impact the selling process. By following these 9 pro tips, you can create an attractive and inviting home that will captivate potential buyers and increase your chances of a successful sale.