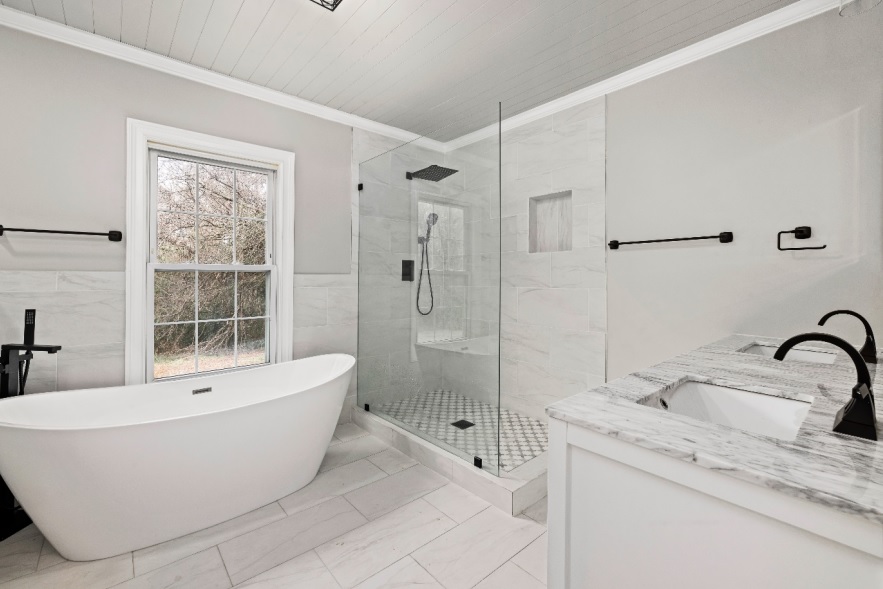 There are so many reasons to upgrade your bathroom, from increasing comfort and functionality to personalizing a space you use every day. But bathroom remodeling can seem daunting, especially if your budget is limited. Fortunately, there are many inexpensive ways to refresh and renew your bathroom without spending a fortune. Here are nine affordable bathroom upgrades you can make to transform your space.
Make it Unique
One of the easiest and most impactful upgrades is adding your own personal style through paint, wall decor, and accessories. Even a simple change of paint color can dramatically alter the mood and vibe of your bathroom. Start by choosing a color that suits your tastes — maybe a soothing light blue or warm brown. Then add in unique tiles, artwork, rugs, and wallpaper to make the space truly your own. Small details, like a stack of books or candles, will give the bathroom personality.
Upgrade the Lighting
While faucets and fixtures receive most of the attention, a dated bathroom light above the sink can make the entire vanity appear outdated. Upgrading to a new light fixture is an easy and affordable way to refresh the aesthetic of your vanity space. LED under-cabinet lights provide useful illumination while conserving energy.
Fixtures ranging from traditional to modern are available in various styles, shapes, sizes, and finishes. Installation is generally simple and can be done yourself in just minutes. Combined with new hardware and flooring, swapping out your vanity light for a sleek new design will drastically elevate the look and function of this bathroom focal point.
Replace the Bathtub or Shower
For a truly transformative bathroom makeover, consider replacing your worn-out shower or tub. A shower replacement company can install a new model that improves functionality, comfort, and durability. A shower replacement can offer antimicrobial surfaces to resist mold and mildew growth, lower curb heights for easier access, adjustable shower heads, and more. Installing a new shower or tub is a worthwhile bathroom upgrade for increased luxury and enjoyment.
Replace the Faucets and Hardware
Outdated faucets and hardware can date an otherwise nice bathroom. Replace old handles and knobs with modern fixtures made of metal and finished in matte black, chrome, or brushed nickel. Opt for high-performing single- or dual-handle faucets with easy-to-clean finishes. Stylish hardware and fixtures can make a big visual impact for a relatively small cost.
Organize Your Essentials with Practical Storage Solutions
One of the simplest and most impactful ways to upgrade your bathroom is by adding functional storage for all of your toiletries, towels, and supplies. Even the nicest bathroom can quickly become cluttered and disorganized without enough cabinets, drawers, and shelving. Installing a new custom vanity with plenty of built-in storage is an ideal solution, but not feasible for all budgets.
Fortunately, there are affordable storage alternatives that will keep your essentials neatly tucked away. Add open shelves or racks mounted on the walls for towels, washcloths, and extra toilet paper. Opt for chrome, wood, or wire racks in a color that complements your design.
Install over-the-toilet storage cabinets with doors to conceal items while providing extra drawer space. Organizational accessories like basket bins, hangers, and trays will help corral similar items together, reducing visual clutter. Finally, under-sink storage with adjustable dividers allows quick access to toiletries while keeping them up off the floor.
With some creativity and the right storage solutions for your configuration and needs, you can achieve a spa-like sense of order that elevates your daily bathroom experience.
Update the Flooring
Outdated or worn flooring in your bathroom can instantly date the entire space, no matter how recently other elements were updated. Fortunately, replacing the flooring is one of the most budget-friendly ways to dramatically transform the look, feel, and function of your bathroom. Consider luxury vinyl floor tiles that mimic the appearance of ceramic, stone, or wood floors at a fraction of the cost. These waterproof floating floor options are simple to install yourself, seamlessly covering old tile or carpeting.
Choose a neutral color that will complement any design scheme for a timeless upgrade that lasts for years. Or bring texture and personality to your space with patterned vinyl planks or tiles. If your budget allows, install radiant heated flooring for warmth underfoot year-round. The system uses electromagnetic technology beneath the floor surface to heat the tiles, providing both comfort and energy savings.
Replace the Toilet
While often overlooked, upgrading an old toilet is a surprisingly impactful bathroom change. New models use 1.28 gallons of water or less per flush to conserve water and lower utility bills. Go for a compact, one-piece design in your preferred color for a seamless look. Toilets with integrated bidets provide a luxurious cleaning experience. Many new toilets offer hands-free flushing and lids for an automatically closed system that limits the spread of germs. Replacing an old toilet is an affordable way to improve the efficiency, hygiene, and aesthetics of your bathroom.
Include an Over-the-Toilet Cabinet
Adding an over-the-toilet storage cabinet is a unique way to maximize what is typically wasted space. Models are installed directly on the wall above the toilet, providing valuable open shelves or drawers. Choose a cabinet with doors for a more polished look that helps conceal contents. In addition to extra storage, over-the-toilet cabinets create a decorative element that can complement your bathroom's style. Many options are simple to install yourself at a fraction of the cost of a full vanity replacement.
Refresh Your Space with an Updated Mirror
From a design perspective, your bathroom mirror can have one of the biggest visual impacts on the overall space. An outdated or low-quality mirror will show its age over time, making even a newly remodeled bathroom appear dated. Fortunately, replacing your bathroom mirror is an easy and affordable upgrade that's guaranteed to refresh the look of the entire room. Choose a larger, frameless model that makes the most of your available wall space.
Conclusion
There many affordable bathrooms upgrade you can make without a full remodel. From personalized touches and smarter lighting to new fixtures and flooring, relatively inexpensive changes can refresh your space and enhance your daily bathroom routine for years to come. Get started today by making a list of your must-have upgrades, then tackle one project at a time until your unique and upgraded bathroom is complete.