Grand Opening at Laguna Commons, a model for the kind of communities that Measure A1 will help create
WASHINGTON – (RealEstateRama) — On November 3rd, Fremont Mayor Bill Harrison, Alameda County Supervisor Scott Haggerty, California State Senator Bob Wieckowski and U.S. Congressman Eric Swalwell joined other leaders to celebrate the Grand Opening of Laguna Commons, a transit-oriented, environmentally sustainable, and well-designed affordable rental apartment community that serves as a model for affordable housing development. The event highlights the value of Measure A1 which, if passed next week, will help create more communities like Laguna Commons for Alameda County's working families, children, veterans, seniors, and people with special needs.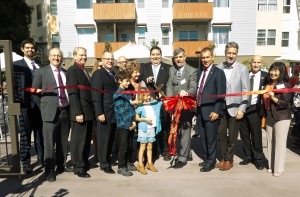 Laguna Commons is a response to the tremendous need for workforce housing in the nation's most expensive housing market and, as evidence to that need, received more than 4,700 applications for its 64 apartment homes. Beautifully designed and in close proximity to jobs and transportation, Laguna Commons also provides a model for the kind of communities that Measure A1, a $580 Million Bond for affordable housing, would help create if passed on November 8th.
"The need for affordable housing is clearly one of the most significant issues we face today," said Alameda County Supervisor Scott Haggerty. "Laguna Commons represents a great example of the kind of investment that Measure A1 funds will help provide – where valuable members of our community, including working families and veterans, will have quality housing that they can afford."
The result of a visionary collaboration between the City of Fremont, the County of Alameda, and co-developers Abode Services and MidPen Housing, Laguna Commons is a supportive housing community that provides homes for low and very low-income individuals and families in the heart of Fremont's Irvington District. More than half of the apartments will house those who have been homeless, including 25 homes set aside for U.S. veterans.
"The goal of this partnership has been about creating a sustainable, supportive housing community for our veterans and members of our community who might otherwise struggle to find a place to live," said Louis Chicoine, Executive Director of Abode Services. "And we believe everyone should have a home, especially here in the San Francisco Bay Area, one of the nation's most prosperous regions."
"The City of Fremont demonstrated great leadership in making affordable housing a priority," said Matthew O. Franklin, President of MidPen Housing. "Strategically located in the heart of Fremont, Laguna Commons provides the city's low-income workers with homes near to their jobs, public transportation, retail, and other important community resources. We're proud to have partnered on this community, MidPen's seventh in Fremont."
Laguna Commons provides 20 studios with full kitchens, as well as 21 one-bedroom, 12 two-bedroom, and 11 three-bedroom apartments to individuals and families earning up to 50% of Area Median Income (AMI), which is between $34,150 and $48,750 for up to a four-person household. The community also features many amenities, including a landscaped courtyard, children's play area, community room with a kitchen, computer lab, and offices for service delivery. It is a GreenPoint Rated Gold community that incorporates numerous green building features, including resource-efficient landscaping, photovoltaic panels, and energy-efficient electrical and plumbing fixtures.
Thanks to a generous donation from the Fremont Bank Foundation, the community room at Laguna Commons will be dedicated to the late Robert "Bob" Wasserman, Fremont's former mayor and police chief, as well as a Korean War veteran. Wasserman helped get the development off the ground before he died in late 2011.
"Bob Wasserman was committed to providing critically needed housing for our city's diverse workforce," said Bill Harrison, Mayor of Fremont. "I share this commitment and know that Bob would have been as thrilled as I am today as we celebrate the opening of Laguna Commons. As a U.S. veteran himself, I'm sure he'd be especially proud that some of our city's valued veterans have found a quality home here as well."
"Bob was a man of service who stood for the safety and protection of all people from all walks of life," said Hattie Hughes, of Fremont Bank. "His vision, hard work, and commitment to this community helped positively shape the Fremont of today. For these reasons, we are very proud to support naming the Robert Wasserman Community Room at Laguna Commons after him."
Robust supportive services will be provided onsite daily by Abode Services and supplemented by Alameda County Behavioral Health Care Services. These include case management, parenting classes, life skills training, financial planning, job counseling and placement, mental health services and academic support for youth residents. All residents have access to services; veterans and formerly homeless residents will receive additional supportive services designed to promote social integration and ensure housing stability.
"In a time when so many Californians are priced out of the rental market, Laguna Commons serves as a model for the type of comprehensive affordable housing services and collaboration needed to provide a new home for families, seniors, veterans and the homeless," said Senator Bob Wieckowski, a member of the California Senate's Transportation and Housing Committee. "With increased funding and the great leadership of housing professionals, we can create more supportive housing communities like Laguna Commons that deliver the housing and services people need.
"Laguna Commons is a great example of the positive results public and private collaboration can have on communities," said Ari Beliak, Senior Vice President for Community Development Banking at Bank of America Merrill Lynch. "The bank provided over $28M in equity for this new construction, working with the city, county, state and federal agencies, to create safe housing for families and homeless veterans. We are committed to supporting developments, like Laguna Commons, that will make a positive and lasting impact on the community."
Financing for the development was provided through both public and private sources including the City of Fremont, the Housing Authority of the County of Alameda, Alameda County Behavioral Health Care Services, the California Tax Credit Allocation Committee, the US Department of Housing and Urban Development, the US Department of Veterans Affairs, and Bank of America Merrill Lynch.