November 18, 2016 from American Institute of Steel Construction
Chicago, IL – (RealEstateRama) — The new Rutgers Business School in Piscataway, N.J., has earned national recognition in the 2016 Innovative Design in Engineering and Architecture with Structural Steel awards program (IDEAS2). In honor of this achievement, members of the project team will be presented with awards from the American Institute of Steel Construction (AISC) during a ceremony to take place at the building on Tuesday, November 22, at 4 p.m.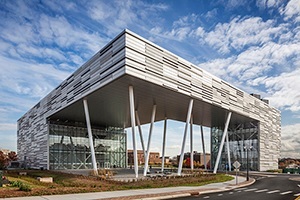 "A project that invites you in and begs you to touch and wonder at it," commented Jason Stone, PE, senior associate at Leslie E. Robertson Associates (LERA), and the structural engineer juror in the competition. "It's easy to forget that it's a functioning building and not just a wonderful piece of sculpture."
The 150,000-sq.-ft academic building is organized into three layers — classroom, office and public spaces. The building consists of two towers connected by a "floating" L-shaped portion that features a 92-ft, column-free span (made possible by 60-in.-deep built-up plate girders) This connector portion is supported 60 ft above ground level by 12 exposed 65-ft-long, 36-in.-diameter round sloping columns.

The project was entered in the competition by its structural engineer, WSP, New York. The other members of the project team include:
Owner: Rutgers University, Piscataway, N.J.

Owner's Representative: Structure Tone, New York

Design Architect: TEN Arquitectos, New York

Executive Architect: Richard Bienenfeld AIA, New Rochelle, N.Y.

General Contractor: Century 21 Construction, River Edge, N.J.
The 10 IDEAS2 winners for 2016 were chosen from nearly 100 submissions received from architectural and engineering and other project team member firms throughout the U.S. Each submission is reviewed and award winners are selected by a nationally recognized panel of design and construction industry professionals.
The IDEAS2 award dates back more than 50 years with AISC. And about this year's winning academic building, Roger E. Ferch, PE, president of AISC, said, "The entire Rutgers Business School project team has shown how structural steel can be used to create structures that combine beauty and practicality. The result is a structure that will serve its users extremely well, while providing an example of what can be achieved when designing and constructing projects with steel."
Members of the media may request high-resolution images of the project by contacting AISC's Tasha Weiss at 312.670.5439 or " target="_blank">
. For more information about the IDEAS2 awards and to view all of this year's winners, please visit www.aisc.org/ideas2.
contact:
Tasha Weiss
Communications Department
(312) 670-5439