SAN DIEGO, CALIF. – (RealEstateRama) — CBRE Executive Vice President Philip D. Voorhees announced today that he, Jimmy Slusher and their National Retail Investment Group – West (NRIG-West) team completed the sale of the Taco Bell and Shops, a 18,175-square-foot, strip center in the city of San Diego, Calif., leased to a synergistic mix of food and service tenants, including Taco Bell, El Pollo Loco, Pick Up Stix, AT&T and T-Mobile. The sale price was $14 million, representing a 5.0% cap rate.
CBRE's retail investment experts Voorhees, Slusher, Megan Wood, Matt Burson, Kirk Brummer, Preston Fetrow, John Read and CBRE's Senior Vice President Reg Kobzi represented the seller, MVR, LLC, a Los Angeles, Calif.-based private investor. David Lachoff of Newmark Grubb Knight Frank represented the buyer, a California-based private investor focused primarily on multi-tenant retail investments.
"This transaction was remarkable for its low cap rate and exceptional pricing on a per-square-foot basis considering the two-level nature of the project, all of which speak to its tremendous location," said Voorhees. "For the seller, a private real estate investor, pricing was at the top end of the anticipated range. For the buyer, also a private investor with a long-term investment horizon, the cash-on-cash yield resulting from new financing at historically low rates produced a compelling return in an irreplaceable asset."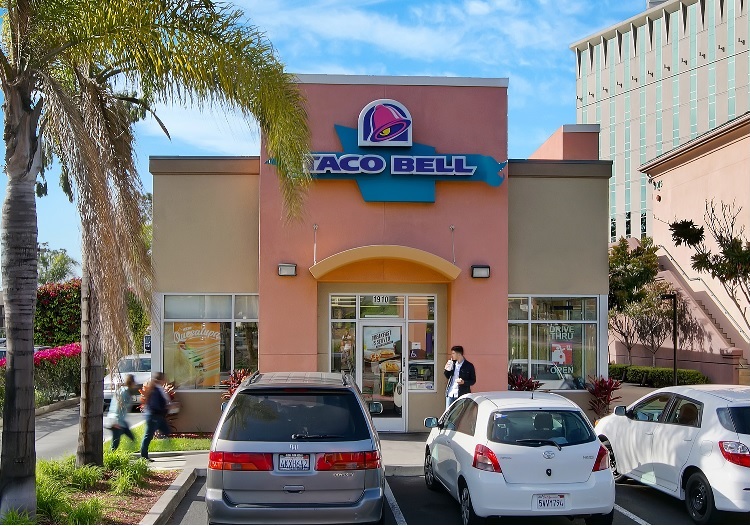 In addition to handling the investment sale, Vice Chairman Bruce Francis and Vice Presidents Shaun Moothart, Dana Summers and Bob Ybarra with CBRE's Debt & Structured Finance team, arranged the non-recourse 10-year, fixed-rate loan of $7.3 million.
According to Moothart, "Leveraging CBRE's extensive capital base, we identified and attracted significant interest from portfolio lenders consisting of life companies and banks. Ultimately, we were able to secure a non-recourse loan at a very competitive interest rate fixed for a 10-year term with a 30-year amortization, with an additional option to extend the loan for three years on a variable rate basis and maximum prepayment flexibility."
Taco Bell and shops, located at 2007-2025 Camino del Este, sits on a 1.21-acre at the entrance of the Westfield Mission Valley Mall, a 1.1 million super regional supping center and along the I-8 freeway (235,000 cars per day). The property was built in 1999 and was 100% leased at the time of sale.
"This transaction demonstrates the continued demand from investors for one-of-a-kind retail assets in Southern California consisting of restaurant/food, beverage and service tenancy," Voorhees added.
According to Voorhees and Slusher, the CBRE team's marketing system distributed more than 270 offering memoranda to investors and brokers, and through the team's "managed bid" offer process, generated more than five offers to purchase the property. The purchase price mirrored CBRE's pricing guidance to the ownership.
In 2015, the NRIG-West team was CBRE's #1 retail investment team nationally with a total transaction volume exceeding $940 million in 63 transactions, encompassing 88 properties, totaling more than four million square feet in size. With this closing, CBRE's NRIG-West team has closed 198 transactions since the start of 2012 for a total consideration of $3.5 billion. In total, the NRIG-West team has listed and sold more than $9.5 billion in retail transactions. Select NRIG-West Team California listings include Lassen Shopping Center in Susanville, Calif., listed for sale for $9,028,000; Page Plaza in Hemet, Calif., listed for sale for $12,432,000; and In-N-Out in San Diego, Calif., offered for sale for $7,875,000. More information available at www.cbre.com/nrigwest
NRIG-West team focuses exclusively on retail investment properties in the western states (including CA, OR, WA, ID, NV, MT, WY, UT, AZ, NM and HI). The team's ability to collaborate across CBRE's multi-discipline platform enhances the team's role as strategic advisors to Western U.S. clients in the disposition and acquisition of retail properties, and ensures the delivery of superior results in today's investment market. Long recognized as industry-leading investment experts, the NRIG-West team continues to specialize in portfolio, anchored centers, strip centers, single-tenant assets, specialty retail projects, REO and Receivership assets and parcelized disposition strategy opportunities. Based in Orange County, Calif., the team consists of specialists with institutional and private client relationships, and leverages institutional quality knowledge and service across unparalleled access to private capital investors and the brokers who represent them, domestically and around the world. View listings: listings.nrigwest.com
About CBRE Group, Inc.
CBRE Group, Inc. (NYSE:CBG), a Fortune 500 and S&P 500 company headquartered in Los Angeles, is the world's largest commercial real estate services and investment firm (based on 2015 revenue). The Company has more than 70,000 employees (excluding affiliates), and serves real estate investors and occupiers through more than 400 offices (excluding affiliates) worldwide. CBRE offers a broad range of integrated services, including facilities, transaction and project management; property management; investment management; appraisal and valuation; property leasing; strategic consulting; property sales; mortgage services and development services. Please visit our website at www.cbre.com.