ALAMEDA, Calif. – (RealEstateRama) – On Thursday, July 11, 2019, the City of Alameda, along with Eden Housing and Alameda Point Partners, will celebrate the groundbreaking of Alameda Point Senior Apartments, a 60-unit affordable rental community for seniors age 62 and older located at Alameda Point's Site A development project in Alameda, California. Site A is a $1 billion mixed-use, transit-oriented waterfront development on the site of the former Naval Air Station Alameda, which closed over 20 years ago.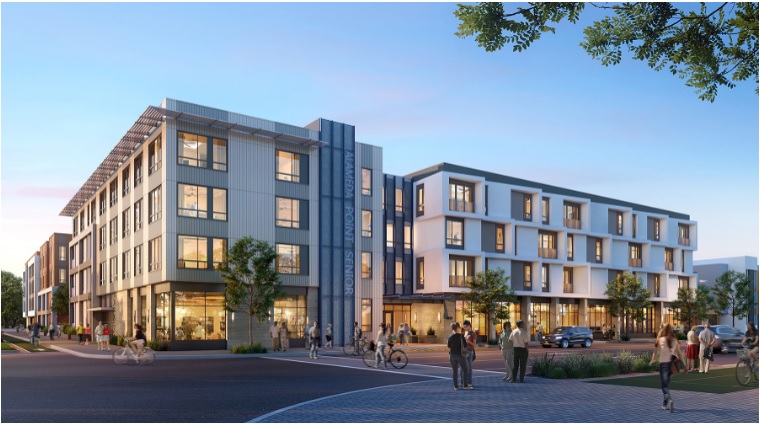 "We are pleased to be moving forward with an affordable development in the center of this vibrant community," said Linda Mandolini, President of Eden Housing. "We appreciate the community's and city's support, and value the strong partnership and assistance of Alameda Point Partners."
According to Stephanie Hill, a spokesperson for APP, the Alameda Point Senior Apartments will be among the first buildings constructed as part of the larger Alameda Point Site A development, led by master developer APP. "With commencement of construction of the 60-unit Senior Apartments, Eden Housing is on its way to delivering the first phase of Site A's low and very-low income housing requirement."
Alameda Point Senior Apartments includes 48 one-bedroom and 12 two-bedroom apartment homes that will be available to seniors with annual incomes from 20% to 60% of the Alameda County Area Median Income. Thirty units will serve seniors experiencing homelessness, of which 28 will serve veterans exiting homelessness.
"Alameda has stepped up to provide homes for those without housing, most importantly for homeless veterans who have served our County," said City of Alameda Mayor Marilyn Ezzy Ashcraft. "I can't think of a better place to do that than at the former Naval Air Station."
Supportive services will be delivered to residents through a collaboration among Operation Dignity, Eden Housing and the VA.
This $36 million residential community development is being built using the latest green building techniques and materials and incorporates a number of green features designed to ensure its long-term energy efficiency and sustainability, including a photovoltaic system that will help power common area electricity, a solar thermal system for domestic hot water heating, bioretention basins for stormwater, a bicycle storage room and electric vehicle charging stations. Alameda Point Senior Apartment amenities include a community room with kitchen, common courtyard, laundry facility, community garden space and office space for an on-site manager and supportive services.
Funding for the $36 million development is provided by Alameda County Measure A1 Bond funds, a State of California Veterans Housing and Homelessness Prevention Program loan, contributions by Alameda Point Partners and the City of Alameda, operating support from the Housing Authority of the City of Alameda, the Federal Home Loan Bank of San Francisco Affordable Housing Program, 9% Low Income Housing Tax Credits from the California Tax Credit Allocation Committee, and debt and equity financing from Union Bank. The project is expected to create over 73 construction jobs and 19 ongoing jobs.
"The Housing Authority of the City of Alameda is pleased to partner with Eden Housing to deliver this much-needed supportive housing and to expand the overall stock of affordable housing in Alameda," said Vanessa M. Cooper, Executive Director of the Alameda Housing Authority.
The project's designer and executive architect is the international award-winning firm KTGY Architecture + Planning. The general contractor is James E. Roberts-Obayashi Corp. Completion is slated for July 2020.
To be placed on an interest list for Alameda Point Senior Apartments, please visit www.edenhousing.org/contact-us or call (510) 582-1460.
About Eden Housing 
The mission of Eden Housing is building and maintaining high-quality, well-managed, service-enhanced affordable housing communities that meet the needs of lower-income families, seniors, and persons with disabilities. In its 50 years of service in California, non-profit Eden Housing has provided a home for more than 100,000 people. Eden Housing is the long-term owner-operator of its developments and is committed to preserving and maintaining its buildings as community assets and supporting residents with a range of services. Visit www.edenhousing.org.
About Alameda Point Partners
Alameda Point Partners is a joint venture between Managing Partner Trammell Crow Residential (TCR), a division of Dallas-based Crow Holdings, Los Angeles-based developerCypress Equity Investments (CEI), and San Francisco Bay Area-based commercial developer srmERNST Development Partners.
#  #  #