CREST HILL, Ill. — (RealEstateRama) — Hanley Investment Group Real Estate Advisors, a nationally recognized real estate brokerage and advisory firm specializing in retail property sales, announced today that the firm has completed the sale of South Weber Plaza, a 28,600-square-foot multi-tenant retail property in Crest Hill, a city in Will County, Ill., in the Chicagoland metro area.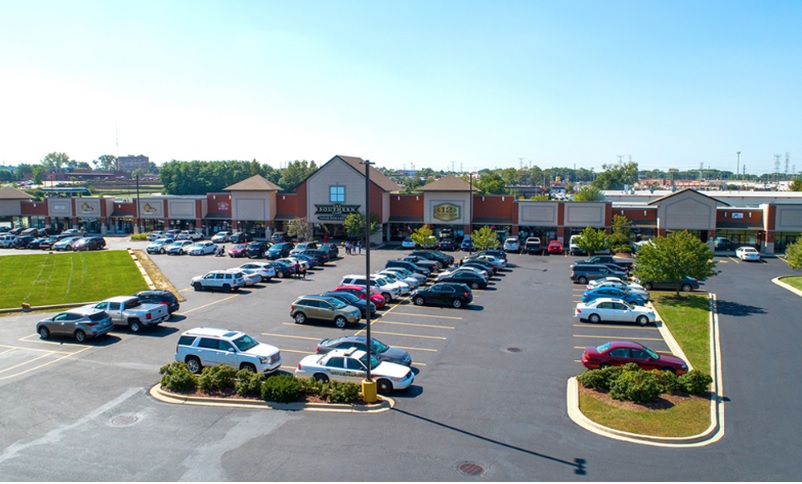 Hanley Investment Group's Vice President Jeff Lefko and Executive Vice President Bill Asher, along with Jonny Lefko, vice president at Greenstone Partners of Chicago, represented the seller, a private partnership based in Illinois and Missouri. Lefko, Asher and Greenstone Partners' Lefko also represented the buyer, an all-cash 1031 exchange buyer based in Southern California.
Located at 1801-1847 Knapp Road and N. Larkin Avenue on 6.18 acres in Crest Hill, the shopping center was 100-percent leased with primarily service-based internet resistant tenants that provide daily customer traffic. Tenants include The Southern Café, Fire Water BBQ, 12 Handles Ale House, Sammy's Gaming Parlor, Motivation Fitness, Serenity Wellness Center, Grandeur Salon & Spa, The Awesome A's Activities Club, Natasha's Clothing Boutique, and Cambium Realty.
In 2018, the shopping center underwent a major renovation, which included a new façade, storefronts, signage, parking lot, HVAC and landscaping. "As part of the 6.18-acre property acquisition, the sale also included a 2.13-acre pad in the front of the center as well as a 7,400-square-foot pad in the parking lot that could be used for future excess parking," noted Hanley Investment Group's Lefko.
"It was a great opportunity for me to partner with my brother, Jonny, who is based in the Midwest. By using Hanley Investment Group's proprietary database and working closely with Jonny, we were able to generate multiple offers to purchase the property and complete the sale," said Lefko. "California buyers, in search of higher yields, were attracted to the service-based, internet-resistant tenant line-up and the center's recent renovation."
Asher adds, "We negotiated a 14-day due diligence period and 30-day close, which speaks to the quality of the property and its service-based tenant mix."
The Southern Café was voted #1 Breakfast Restaurant in Will County, and Fire Water BBQ was named one of Chicago's Best BBQ Restaurants for Ribs. The Southern Café, Fire Water BBQ, and 12 Handles account for over 54 percent of the gross rent, Hanley Investment Group's Lefko noted.
Over 195,000 people are located within a five-mile radius of the property with an average household income of over $72,000, which is projected to grow 18 percent by 2022. There has also been an increase in the daytime population with 11.5+ million square feet of speculative industrial space constructed in 2017, representing an investment of $460+ million in the county. Amazon also opened a half a million square feet facility in the nearby Crest Hill Business Park.
Nearby notable anchor tenants along Larkin Avenue include Big Lots!, Burlington, Food 4 Less, Harbor Freight Tools, Hobby Lobby, HOBO, Jewel-Osco, Marshalls, Ross Dress for Less, and Walgreens. South Weber Plaza is also three miles from Louis Joliet Mall, a regional shopping and entertainment destination for Will County.
In another deal in the Midwest in the Cleveland metro area, Hanley Investment Group's Lefko and Asher and Greenstone Partners' Lefko procured a California buyer for Yorktown Plaza, a 64,530-square-foot Save-A-Lot-anchored shopping center located at 6333-6339 Olde York Road and 6215 Pearl Road in Parma Heights, Ohio. Lefko and Asher, along with Greenstone Partners' Lefko, represented the seller, Carnegie Properties, Inc. of Solon, Ohio. The buyer, an all-cash 1031 exchange buyer based in Los Angeles, was self-represented. The sale price was $2,545,000.
Yorktown Plaza, which was 87 percent occupied at the time of the sale, sits on 5.50 acres and was built in 1980. "We were able to attract an aggressive California buyer who was willing to pay a higher price than any local buyers and liked the opportunity that the property represented to add value by increasing occupancy and releasing the vacant outparcel building," said Hanley Investment Group's Lefko.
"These transactions represent Hanley Investment Group and Greenstone Partners' ability to partner together to deliver a unique brokerage experience to sellers," said Greenstone Partners' Lefko. "In both cases, we used our local Midwest expertise to help out-of-state investors get comfortable with foreign markets."
"California buyers, especially those completing 1031 exchanges, are still willing to look out of state for more opportunities, especially with the limited product that is available in California," Asher said. "Well-located Midwest retail properties – both single-tenant and multi-tenant properties — offer California buyers tremendous value. We are excited to offer our investors a selection of quality properties in the Midwest (as well as other regions inside and outside of California) that can fit their financial goals."
About Hanley Investment Group
Hanley Investment Group Real Estate Advisors is a retail investment advisory firm with a $6+ billion transaction track record nationwide, who works closely with individual investors, lending institutions, developers, and institutional property owners in every facet of the transaction to ensure that the highest value is achieved. For more information, visit www.hanleyinvestment.com.
# # #
Anne Monaghan
MONAGHAN COMMUNICATIONS, INC.


830.997.0963