CORONA DEL MAR, Calif. – (RealEstateRama) — Hanley Investment Group Real Estate Advisors, a nationally-recognized real estate brokerage and advisory firm specializing in retail property sales, announced today that the firm has completed the sale of two single-tenant corporate MedExpress urgent healthcare centers in an off-market transaction. The properties are located in Bentonville, Arkansas, and Jackson, Michigan. The purchase price for the two locations was $4,450,000, representing a blended cap rate of 6.33 percent.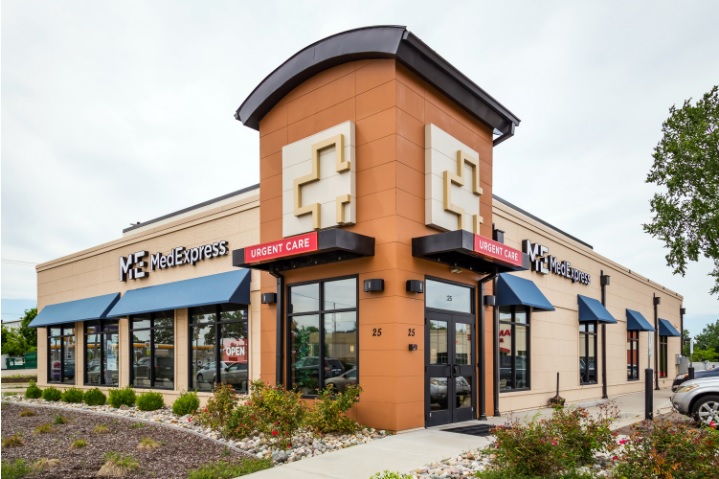 Hanley Investment Group Associate Austin Blodgett and Executive Vice President Eric Wohl represented the buyer, a private investor from Los Angeles and the seller, a national real estate investment trust. The single-tenant properties totaling 9,799 square feet were built in 2014 and had an absolute triple-net, corporate-backed leases with more than seven years remaining on the initial lease term with rent increases every five years.
"We moved the buyer's equity from a multi-family asset to a 'hands-off' single-tenant net lease property with no management responsibilities," said Blodgett. "The buyer was looking for an internet-resistant investment opportunity and MedExpress matched that need perfectly."
Blodgett also noted that Hanley Investment Group helped the mortgage broker secure financing to obtain the terms the buyer was looking for.
Late last year, Blodgett and Wohl arranged the sale of a 4,716-square-foot building single-tenant MedExpress located on 0.48 acres along one of Battle Creek's main retail corridors in Battle Creek, Michigan. The purchase price was $1,815,000.
"Investors are continuing to buy single-tenant urgent care centers like MedExpress because they are an attractive investment with all of the uncertainty within retail right now," said Blodgett. "Also, they are gaining popularity as we are seeing more people move from a primary care doctor to a local urgent care center because of convenience and time savings. They can also be a more affordable option for the consumer. As major hospital systems invest in outpatient locations as well, we will be seeing a lot more of these urgent care concepts coming into our local markets over the next few years."
MedExpress provides high-quality, convenient, affordable healthcare 12 hours per day, seven days a week. With a fully-staffed medical team onsite, MedExpress offers a range of services, including urgent care, basic wellness and prevention, and employer health services.
About Hanley Investment Group
Hanley Investment Group Real Estate Advisors is a retail investment advisory firm with a $6 billion transaction track record nationwide, who works closely with individual investors, lending institutions, developers, and institutional property owners in every facet of the transaction to ensure that the highest value is achieved. For more information, visit www.hanleyinvestment.com.
#  #  #
Contact:
Anne Monaghan
Monaghan Communications
830.997.0963
Austin Blodgett / Eric Wohl
Hanley Investment Group
949.585.7624 / 949.585.7673