ATGStores.com is increasing its annual Habitat for Humanity product donation amount to $1 million in 2016, which will boost inventory at 24 Habitat ReStore resale outlets.
KIRKLAND, Wash.) Oct. 6, 2016 – (RealEstateRama) — Online furnishings retailer ATGStores.com is renewing its commitment to Habitat for Humanity through a product donation with a retail value of $1 million, up from $500,000 last year, and products are already being shipped to Habitat for Humanity ReStores nationwide.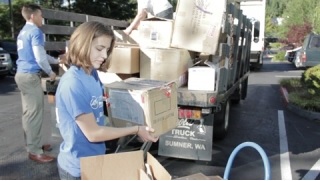 The new donation period runs from Sept. 1, 2016, to Aug. 31, 2017, and ATGStores.com has made 531 donations with a retail value of $119,721 to date.
"We're very selective about what we donate to Habitat for Humanity," said ATGStores.com purchasing and fulfillment director Donna Miller. "We process every donation individually to make sure ReStore locations receive items in good condition."
This is the third year ATGStores.com has donated goods to Habitat ReStores as part of its All That's Good Deeds philanthropy program, which the company began in 2014 with a focus in local volunteer and donation campaigns.
"We enjoy working with Habitat for Humanity here in our community, and we're excited about the opportunity to broaden the scope of our philanthropic mission," said ATGStores.com president Michelle Newbery. "We're always looking for new ways to give back, and this gives us a chance to bring all that's good to even more people."
ATGStores.com currently supplies nine Habitat ReStores with donated furniture, lighting, hardware and more, with plans to donate to an additional 15 stores before the new donation period ends.
"Habitat for Humanity is grateful to continue its partnership with ATGStores.com," said Mike Carscaddon, executive vice president of Administration and CFO, Habitat for Humanity International. "Because of this continued support, more families across the U.S. will have the opportunity to improve their lives and their communities."
Habitat ReStores are nonprofit home improvement stores and donation centers that sell building materials, appliances, new and gently used furniture, and home accessories at a fraction of the retail price. With nearly 900 Habitat ReStores across the U.S., proceeds allow Habitat to help more families build and improve their homes.
About Habitat for Humanity
Driven by the vision that everyone needs a decent place to live, Habitat for Humanity began in 1976 as a grassroots effort on a community farm in southern Georgia. The Christian housing organization has since grown to become a leading global nonprofit working in nearly 1,400 communities throughout the U.S. and in nearly 70 countries. Families and individuals in need of a hand up partner with Habitat for Humanity to build or improve a place they can call home. Habitat homeowners help build their own homes alongside volunteers and pay an affordable mortgage. Through financial support, volunteering or adding a voice to support affordable housing, everyone can help families achieve the strength, stability and self-reliance they need to build better lives for themselves. Through shelter, we empower. To learn more, visithabitat.org.
About ATGStores.com
ATGStores.com, a Lowe's company since 2011, takes projects from concept to completion by offering every customer high-touch customer care, a curated selection of high-quality home furnishings, interior design services and professional installation for a seamless shopping experience. The company features more than 1 million products in a host of different categories, from lighting and furniture to hardware and decor. To learn more, visit ATGStores.com or email questions to">

.