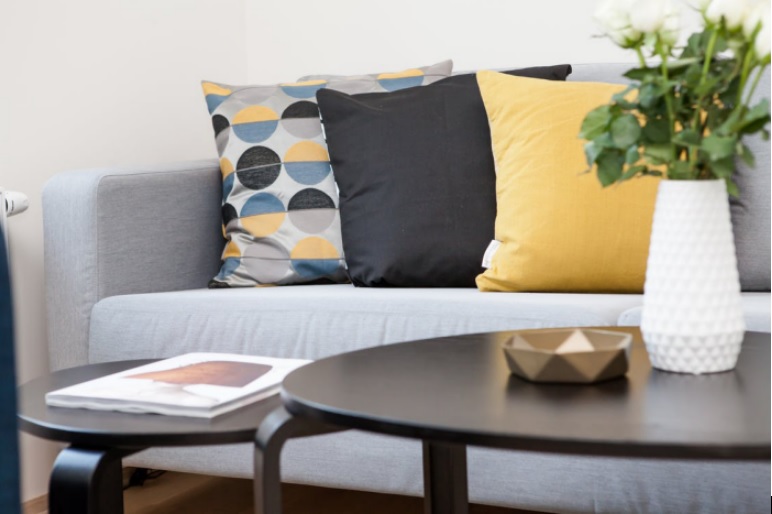 Prepping up your residence for sale can be a difficult chore to get done with. It needs proper home staging, so consumers get attracted to the living space. This whole process can become interesting with a refreshed mindset and a creative way of thinking. Setting up your house for the real estate is quite a big deal for a majority of people. For beginners, it is hard to pinpoint different ways to attract customers and engage them through their house.
To their delight, there are plenty of home staging trends circling around the real estate world. People are trying various types of home decoration trends, so their residence captivates more and more buyers. Obviously, to sell a tangible asset, it is important to make it look presentable. It is all about convincing buyers to seal the deal with you and not with somebody else. To make that happen, it is absolutely essential to look into some trendy home staging ideas in the year 2020.
From opting for different colours and themes to refurbishing the entire place, any kind of home improvement idea can typically work. Sometimes, sellers play wisely and choose those home staging ideas that have gone viral. Others, however, do the home staging according to their personal preference. Whether being creative and trying something new or going traditional, the main goal is to increase the chances of a sale. Staging a home for sale emphasizes upon transforming houses so they can be sold within a matter of seconds.
If you are struggling to find some trendy home staging ideas for 2020, then keep reading. We have prepared some home staging trends for you to follow in the year 2020. Let's check them out without further ado.
Well-balanced Shades of Earth
Nothing can ever go wrong with choosing subtle earth tones in your house. Using different combinations of the earth bring tranquillity in houses which appeals to potential customers. Here, neutral and warm tones are preferred over cool tones to upgrade the house for visitors. This is a more welcoming theme, catering to clients in a soothing way. You do not have to feel hesitant in experimenting a little with warm shades, creating a chic look. The best colours to play with will be olive green, chocolate brown, ochre, and mild wine.
Customers are instantly attracted to different pink tones in bedrooms and living spaces. This colour should not be confined to your child's room and should be used in whatever way possible. However, be careful not to overdo this colour and only use it in combination with pastel colours. Go for something a classy Barbie would go for, like muted pink tones and a hint of white or grey with it. You can also go bold with the colour combination and opt for dark and warm tones with a hint of pink in them. Home staging with the help of pink will be an exciting job for you, something that will spark joy in visitors as well.
Simplistic Standard of Living
If you think your residence will influence more customers by portraying a simplistic way of living, then go for it. This is the trendiest approach in interior designing where people usually go with the concept of "less is more". This popular home staging idea focuses on presenting the house with sleek furniture and some natural elements attached to it. People go with bamboo or ash with a touch of green and fibre rugs. This shows the simple way of living in a comfortable manner. With the help of some new and old accessories, you can easily accentuate the beauty of the house in a simple way.
2020 is All About Textures
People are leaving their comfort zones and trying to be more innovative in real life. This has led to following the trend of mixing different types of textures in a single room. From using printed cushion covers with plain linen sheets and green plants on the side, 2020 is all about textures. With the right picture in mind, textures can be the new big thing, giving creative freedom to people to decorate houses. This is a bold step, but one of the trends to follow to land some amazing offers on your house.
It is time to say goodbye to a monochrome way of living and welcome the two-tone colour theme idea. Here, it comes down to the personal preference of the owners and the types of tones they want to use. People usually go for a dark colour, merging it with a pastel tone to make the colours pop in rooms. Kitchen cabinets can be mixed and match with darker and lighter shades. This will add drama in the living spaces with a unique vibe going around. The aura of such a stylish place with a two-toned theme will undeniably help in sealing the deal.
You must have noticed the gradual shift to the retro age with people choosing warmers colours over the bold ones. Yes, the 70's theme is back in action with rusty tones, yellows, and pastel greens. Terrazzo, fringing, and mid-century vibes have captured multiple people's attention. With the help of 70's theme wallpapers and home staging in place, you will easily make others nostalgic. You can also choose boho-style furniture, which was quite a thing back in the '70s.
Conclusion
The possibilities are endless with home staging. From choosing a modern look to going all-natural or traditional, anything can work. However, one thing to note here is not to go over the top and make the place look more congested. If you have a small residence, then keep it light and airy instead of piling up big furniture here and there. The idea is to make others feel at home, not out of breath.
So think wisely before following a particular home staging idea. Come up with ways to manage the renovation within your budget and the space you have. Without proper homework, it will become a mess, and you do not want to do that, right? Why not go ahead and change one room at a time and see if everything pulls together neatly? One step at a time is all it takes to attain perfection in home staging!