Has your guest bathroom hit the point of looking tired and worn? Is it far from the modern bathroom that you'd love to have in your house? Do you want to move ahead with a makeover project but you aren't sure that's possible with a tight budget? Not to worry, as we've got some fabulous tips and advice you can use to help you plan a stylish guest bathroom makeover that won't break the bank.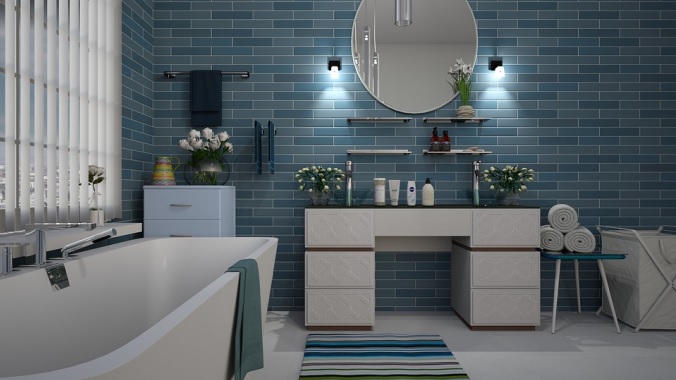 Paint Will Change Everything – Huge Impact with Little Work and Money Spent
In terms of the biggest impact you can make, it'd hard to rival what a new paint color can accomplish. This will change the entire space and take it from tired and worn, to fresh, bright, modern, and stylish. In fact, if the budget is really tight, you could stop right here. Paint may be all the room needs.
If you want to be sure you pick a stylish and trending color, some of the top choices for 2021 include deep bold greens, pale soft hues of blue, a neutral yellow, and neutrals that are warm in general such as off-white and soft pink.
Make the Most of Small Projects and Upgrades
If you were to ask experts what the 5 tips for remodeling a guest bathroom on a budget would be, many would suggest you focus on the small projects and small upgrades you can do. Often, people write these off figuring they won't have enough of impact, but the fact is that they will indeed change up the look and feel of the room. The bathroom isn't exactly a massive room, so therefore any update you make will be obvious.
So, what are the small projects and upgrades worth doing? These can include such things as a new modern towel rack, a stylish new faucet, and even replacing the hardware on the cupboards and drawers. Each of these projects will have a positive impact so they shouldn't be discounted.
Refresh All that Old and Chipped Grout
Over time, the grout between tiles can start to crack, chip, stain, and just look pretty nasty in general. This will affect how bright and modern the bathroom feels, even if the tile itself is in great shape still. A deep cleaning may be enough to make it appear fresh and new again, or you may find you need to replace it and re-caulk, which, again, is budget-friendly and can be done by you.
Replace the Lights and Brighten Up the Space
Be sure to also think about lighting in the bathroom. This often goes overlooked but it can have a huge impact for a relatively low cost. Also, a new light fixture is something you can install yourself which means you save money not having to hire a contractor to do the work.
Each of these tips will help you to completely transform your guest bathroom into a room that feels fresh, bright, modern, and welcoming, yet it won't cost a fortune to accomplish it.