(WASHINGTON, DC) – (RealEstateRama) — The DC Department of Housing and Community Development (DHCD) recently closed a loan agreement that will provide 12 units of permanent supportive housing (PSH) for chronically homeless families at the Partner Arms 2 Apartments, 4506 Georgia Avenue NW, in the Petworth neighborhood of Ward 4.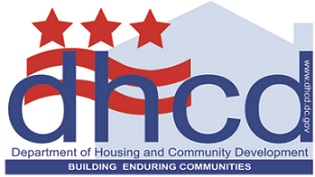 DHCD provided Housing Up (formally known as Transitional Housing Corp.) with $1,155,369 in financing from the Housing Production Trust Fund (HPTF) to rehabilitate Partner Arms 2. The PSH units will be supported through $504,000 in financing from the Department of Behavioral Health (DBH). Partner Arms 2 will provide 10 two-bedroom and two three-bedroom units dedicated to households earning no more than $33,090 (30 percent of the Median Family Income [MFI]). The units will remain affordable for 40 years.
Ending homelessness is a top priority of the Bowser Administration, and part of that commitment involves providing affordable housing for homeless individuals and families, said DHCD Director Polly Donaldson. "Thanks to the Housing Production Trust Fund, we are not only preserving existing affordable housing in the District, but are helping homeless families have a permanent place to call home that's close to schools, libraries, retail and other amenities."
Housing Up is a nonprofit developer that provides affordable housing and supportive services to more than 600 homeless and at-risk families.
"Housing Up is thrilled to close financing on the renovation of one of our oldest properties, Partner Arms 2, in Ward 4," said Housing Up Director of Philanthropy and Communications Christina Peay. "Too many families in our city struggle to find safe, affordable housing. Thanks to DHCD and our other District partners for helping us provide much needed housing stability to vulnerable families."
Since coming into office, the Bowser Administration has sparked the creation or preservation of more 10,400 affordable units, with another 2,950 in preconstruction. In Fiscal Year 2017, the District made historic investments in affordable housing, getting more than $138 million in Housing Production Trust Fund financing out the door to support 23 projects that will produce or preserve more than 1,900 affordable units.
Recently, Mayor Bowser announced new initiatives in housing preservation: the appointment of a preservation officer and the selection of two managers for a $10 million public-private preservation fund.
The District's multi-pronged approach to housing production and preservation, homeownership, and development of vacant properties is winning national recognition. On September 11, the District was selected for the Urban Land Institute's Larson Housing Policy Leadership Award. This annual award, provided by ULI's Terwilliger Center for Housing, recognizes innovative ways the public sector is addressing the nation's affordable housing crisis.
During her State of the District address, Mayor Bowser announced Roots to Roofs DC, an initiative that highlights the programs, tools, and resources her Administration is using to make Washington, DC more affordable for residents in all eight wards.