Avenida Lakewood will be a premier apartment community for active adults in the Denver area
DENVER, Colo. – (RealEstateRama) — International award-winning KTGY Architecture + Planning announced today that Avenida Partners, LLC has begun construction of a new 230-unit service-enriched rental community for active adults age 55 and better in the metro Denver. Avenida Lakewood is located just six miles from downtown Denver and in the heart of Lakewood at the corner of Colfax Avenue and Owens Street.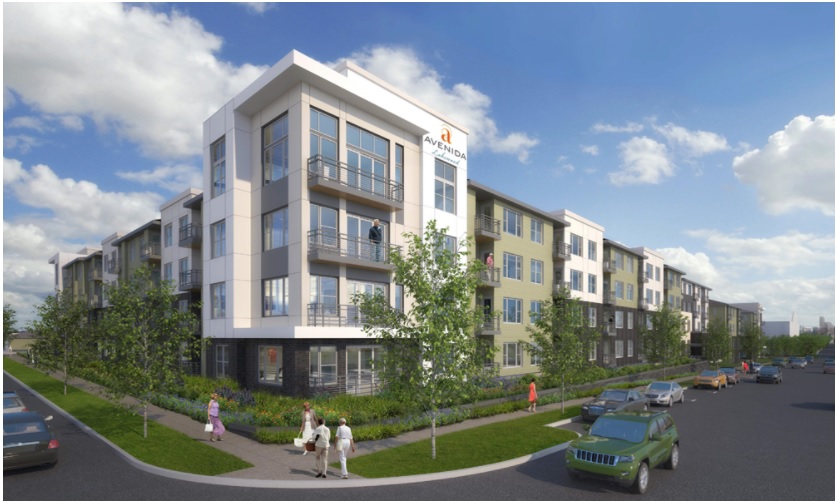 Avenida Lakewood is the centerpiece of the Oak Station Marketplace mixed-use development serving the newly-constructed W Light Rail Oak Station; and is within walking distance to King Soopers, a supermarket brand of Kroger, and many other shops and restaurants. Notable locations such as Colorado Mills Mall, Westland Town Center, St. Anthony Medical Center and the Denver Federal Center are all nearby.
Designed by KTGY, Avenida Lakewood apartment community provides four-stories of exquisite 55+ experiential living on 6.09 acres. According to KTGY Principal Terry A. Willis, AIA, LEED AP, "This handsome 55+ community embraces both Rocky Mountain and Denver skyline views, while giving residents vibrant living options through upscale amenities on site and connections to what the entire metropolitan region offers by nearby access to the Oak light rail station on the W Line."
Avenida Lakewood features three creative garden courtyards, a wide variety of interior amenities and activities happening all day, every day. "What makes Avenida Lakewood unique is its 'S'-shaped configuration organized around three distinct and lushly landscaped courtyards, for active, passive, pool and poolside activities topped-off with the rooftop 'sky lounge' with private indoor/outdoor entertainment areas with views of the Rocky Mountain foothills and the downtown skyline, an exceptional feature in this area," stated Willis.
Robert D. May, managing partner with Newport Beach-based Avenida Partners, LLC, said, "Residents of Avenida Lakewood will enjoy resort-style amenities and beautiful, modern apartment homes without the responsibility of ownership. The goal is to make the residents' lifestyle as luxurious and effortless as possible, so they can enjoy every day to the fullest."
Willis notes that Avenida Lakewood's design accommodates the slope of the site by creating a lower level at the bottommost end of the site and increasing the ceiling height in the amenity space at the center of the site. "The amenity space wraps the central courtyard boasting a heated saltwater pool, spa and outdoor dining; while the interior offers residents access to yoga and fitness rooms, beauty salon, lounge, TV room and movie theater, arts and crafts room; bistro/dining hall, living room, business center and conference area," Willis said.
Other community amenities include an elegant great room, pub and game room, dog park, outdoor patio and barbecue grills, garden plots, shuffleboard area and walking trails. Enclosed single-car garages and storage are also available for a small additional fee.
The apartment homes at Avenida Lakewood range in size from 793 sq. ft. to 1,238 sq. ft. and include a mix of 92 one-bedroom apartments and 138 two-bedroom apartments. Some of the apartment features include a private balcony, granite countertops, wood cabinetry with designer hardware, stainless steel appliances, and washer and dryer in all homes.
"There is a tremendous demand for more senior housing as our population ages," said May. "And, by allowing Avenida Lakewood residents to choose which amenities and services they pay for rather than paying for what they don't use, seniors can make their money go much further. We hope to set a new higher standard for active-adult living in the Denver metro area with the debut of Avenida Lakewood."
The presale office is slated for opening in May 2018. The community grand opening is planned for spring 2019. For more information about Avenida Lakewood, visit AvenidaLakewood.com.
About Avenida Partners, LLC
Founded in 1991, Avenida Partners, LLC is a diversified real estate development, investment and property management firm focused solely on building a new generation of Active Adult market rate rental communities that are intelligently designed for the current and future needs of today's 55 and over population. Headquartered in Newport Beach, California, Avenida Partners has current developments in Oklahoma City, Oklahoma, Franklin, Tennessee; Lakewood, Colorado; Naperville, Illinois, and Memphis, Tennessee.
Avenida Partners is poised for continued expansion in additional high demand middle market infill locations. With an established senior housing development platform and a dynamic team of highly experienced professionals, Avenida brings expertise and commitment to its mission to provide a new and fresh living option for today's seniors to right size their lives within a familiar location. With Avenida, seniors can enjoy a lifestyle that is physically invigorating, emotionally engaging, socially stimulating and financially attainable. For more information about Avenida Partners LLC, visit www.AvenidaPartners.com or email
.
About KTGY Architecture + Planning
Celebrating 25 years, KTGY Architecture + Planning is an international award-winning full-service architecture and planning firm delivering innovation, artistry and attention to detail across multiple offices and studios, ensuring that clients and communities get the best the firm has to offer no matter the building type or location. KTGY's architects and planners combine big picture opportunities, leading-edge sustainable practices and impeccable design standards to help create developments of enduring value. KTGY serves clients worldwide from offices located in Chicago, Denver, Irvine, Los Angeles, Oakland, Pune and Tysons. Visit www.ktgy.com.
# # #