WASHINGTON, D.C. – (RealEstateRama) — One of Congresswoman Eleanor Holmes Norton's (D-DC) top construction priorities, the Memorial Bridge, which is owned and maintained by the National Park Service (NPS), now has the total funds necessary to complete repairs, Norton said today. Norton, the Ranking Member of the Subcommittee on Highways and Transit, worked to secure $90 million for phase one funding from the Fostering Advancements in Shipping and Transportation for the Long-term Achievement of National Efficiencies (FASTLANE) program in fiscal year 2016. However, the full funding announcement will allow the project to be completed in one phase, and will save the federal government $35 million and 1.5 years in construction time. NPS said today that it had awarded the contract for $227 million, one of the largest infrastructure projects in NPS history, and that substantial work would begin in fall 2018. The project is expected to be complete in 2021.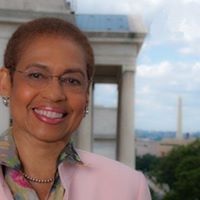 "This is a great day for D.C. and the national capital region," Norton said. "The Memorial Bridge, which has fallen into an unacceptable state of disrepair, has been one of my top priorities for years, because of its unique role as the gateway from the South, to Arlington National Cemetery, and to popular monumental tourist sites in the nation's capital. The Memorial Bridge is an icon that unites this region, as our work together shows, especially Senator Mark Warner of Virginia and District of Columbia Mayor Muriel Bowser."
Norton also said she was hopeful that the new funding would free up resources for NPS to finally address its deferred maintenance backlog, which includes NPS-maintained roads in the District, such as Ft. Dupont road, which have suffered through patch jobs and emergency repairs instead of needed comprehensive repairs.
The Memorial Bridge rehabilitation will be funded in part by a $90 million FASTLANE grant, as well as a $30 million contribution from the District of Columbia and Virginia. The remaining $107 million will come from NPS transportation and construction budgets.