WASHINGTON, D.C. – (RealEstateRama) — Although the fiscal year 2019 District of Columbia Appropriations bill passed by the House today contains a record seven anti-home-rule riders, Congresswoman Eleanor Holmes Norton (D-DC) said she believes she will be able to keep most of these Republican riders out of the final spending bill. The House last night passed two new anti-home-rule amendments targeting D.C.'s health insurance individual mandate bill (the Health Insurance Requirement Amendment Act of 2018 (HIRA)). Three states (Massachusetts, New Jersey and Vermont) have passed individual mandate laws similar to the District's.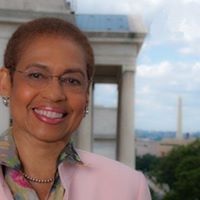 "Republican hypocrisy was on full display on the House floor when Members repeatedly cited limited government and personal freedom, while using the big boot of the federal government to interfere with the business of a local jurisdiction," Norton said. "I believe that the two anti-home-rule amendments that were made in order for the House floor, both trying to gut D.C.'s health insurance bill, show that Republicans have not gotten over their repeated failed attempts to repeal the Affordable Care Act (ACA), despite controlling the House, Senate and White House. I do not intend to allow D.C. to become Republicans' scapegoat as they fume about the ACA's continued popularity. We are all too accustomed to these undemocratic Republican assaults on our district, but I have kept most of these House riders from being included in final spending bills. Here we go again working closely with our allies in the Senate to ensure the District's self-government rights are respected."
The HIRA amendments were offered by Representative Gary Palmer (R-AL) and Representative Keith Rothfus (R-PA). Palmer's amendment would prohibit D.C. from using its local funds to carry out HIRA, which requires D.C. residents to have health insurance and is modeled on the ACA's individual mandate. Rothfus' amendment would prohibit D.C. from using its local funds to seize assets as part of enforcing the HIRA tax penalty. Norton was able to get four Republicans to vote with her against the Palmer amendment.
The Rules Committee blocked Norton from offering on the floor her amendments to strike the five anti-home-rule included in the bill, even though Norton's amendments complied with House rules. Norton's amendments would have struck the riders that repeal the Local Budget Autonomy Act of 2012, prohibit D.C. from spending its local funds on recreational marijuana commercialization, prohibit D.C. from spending its local funds on abortions for low-income women, repeal the Death with Dignity Act and prohibit D.C. from spending its local funds to carry out the Reproductive Health Non-Discrimination Act.
###