WASHINGTON, D.C. – (RealEstateRama) — With aircraft noise rising here in the District of Columbia and around the country, Congresswoman Eleanor Holmes Norton (D-DC), co-chair of the Quiet Skies Caucus and a senior Member of the House Transportation and Infrastructure Committee's Aviation Subcommittee, today announced she has gotten several of her provisions to help address airplane noise and other priorities included in the final House-Senate negotiated Federal Aviation Administration (FAA) reauthorization bill. The bill would reauthorize the FAA for five years and will be considered on the House floor this week.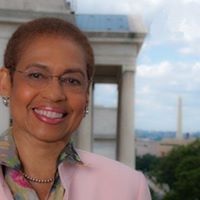 "I am pressing the House and Senate to pass our bipartisan, long-term FAA reauthorization bill, which includes a number of my top priorities, particularly important, measures to combat airplane noise in D.C. neighborhoods," Norton said. "The bill also includes the much-needed provision to create a task force aimed at addressing the scourge of sexual assault on airplanes. My provision to ban the use of e-cigarettes and vaping devices on airplanes, a step we must take before these devices get out of control, is also in the bill. I look forward to passage so we can finally have a long-term FAA authorization in place without the threat of privatization."
The noise provisions Norton got in the bill include adding D.C. to a list of areas for a study on potential health and economic impacts of airplane noise; requiring the FAA to conduct Noise Mitigation and Safety Study and deliver a report to Congress within two years; and requiring the FAA to deliver a report within one year to Congress evaluating alternative metrics to the current average day night level standard, which is used to measure a person's cumulative exposure to sound over a 24-hour period, such as the use of actual noise sampling.
The bill also includes a provision to establish the "National In-Flight Sexual Misconduct Task Force," which will review current practices, protocols and requirements of air carriers in responding to allegations of sexual misconduct by passengers onboard aircraft and provide recommendations on training, reporting and data collection. Norton and Representative Rick Crawford (R-AR) introduced a bill to require the Federal Bureau of Investigation to collect statistics related to sexual assaults on any mode of transportation under federal jurisdiction, including airplanes and ships.
The bill includes Norton's provision to prohibit the use of electronic cigarettes and vaping devices on airplanes. Norton first introduced this provision as a standalone bill after the U.S. Department of Transportation (DOT) issued a rule prohibiting passengers and crewmembers from carrying battery-powered portable electronic smoking devices in checked baggage, but did not ban the use of these vaping devices on airplanes.
###