Washington, D.C. –- (RealEstateRama) — The office Congresswoman Eleanor Holmes Norton (D-DC) today said Norton succeeded in securing $30 million for her top priority the D.C. Tuition Assistance Grant Program (DCTAG), in the House's fiscal year 2017 District of Columbia Appropriations bill, released today, a $10 million increase from the House's fiscal year 2016 D.C. Appropriations bill. She also succeeded in preventing any new anti-home-rule riders from being included in the bill, despite public threats to repeal D.C.'s new medical aid-in-dying law, the Death with Dignity Act (DWDA), and its new law regulating the labeling of personal hygiene products, particularly wet wipes, as safe to flush. Norton said she still has a challenge to prevent the Appropriations Committee from adding the DWDA and wet wipes riders to the bill during the upcoming subcommittee and full committee markups. The Appropriations Subcommittee on Financial Services and General Government will mark up the bill tomorrow, Thursday, June 28, 2017, at 3:00 p.m. in 2358-A Rayburn.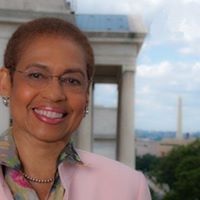 Norton expressed her disappointment that the bill contained the usual anti-home-rule riders to prohibit the District from spending its local funds on abortion services for low-income women and marijuana commercialization, as well as repealed D.C.'s budget autonomy referendum.
"While no anti-home-rule riders are acceptable, the absence of several threatened riders, including on medical aid-in-dying and wet wipes, in the base bill is helpful as we prepare for markup," Norton said. "Members who want to try to block additional local D.C. laws will now have to do so in the light of day and sign their name to the amendment."
The bill provides $30 million for DCTAG, which has doubled college attendance by D.C. students, the same level requested by President Trump and $10 million below the enacted fiscal year 2017 level. Norton will fight to get $40 million for the program again. The bill includes Norton's annual provision exempting D.C. from a shutdown (in fiscal year 2019). The bill provides $5 million to combat HIV/AIDS in D.C., the same level requested by President Trump and enacted in fiscal year 2017, which Norton has gotten every year to help make up for the 10 years when a rider kept D.C. from spending its local funds on a needle exchange program.
The bill provides $435,000 for the Major General David F. Wherley, Jr. District of Columbia National Guard Retention and College Access Program for tuition for D.C. National Guard soldiers, the same level requested by President Trump and a small decrease from the fiscal year 2017 enacted level. The program helps boost enlistment and retention in the D.C. National Guard by providing financial assistance to D.C. guardsmen to attend undergraduate, vocational, or technical courses. Norton said he was very disappointed that the bill does not provide any funding to the D.C. Water and Sewer Authority (DC Water) for ongoing work to control flooding in the city and clean up the Anacostia and Potomac rivers and Rock Creek. President Trump requested $8.5 million and the project received $14 million in fiscal year 2017. The bill does not provide funding for the Department of Homeland Security (DHS) headquarters consolidation at the St. Elizabeths campus in Ward 8. President Trump requested $135.440 million in General Services Administration funding and $69.988 million in DHS funding for the project, compared to the $13.25 million the project received in fiscal year 2017. Particularly after a U.S. Government Accountability Office report released in 2014, Norton said Congress has no alternative but to continue funding the project because it is so close to completion.