WASHINGTON, D.C. — (RealEstateRama) — The office of Congresswoman Eleanor Holmes Norton (D-DC) today announced that Norton will host a press conference with District of Columbia Mayor Muriel Bowser and a coalition of national and local organizations to protect D.C.'s local laws during the upcoming fiscal year 2020 appropriations process this Friday, April 26th at 11:00 a.m. in 1539 Longworth House Office Building.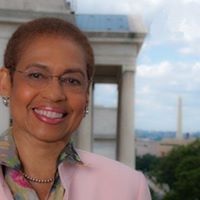 With Democrats controlling the House, Norton is confident she can secure a House bill without any anti-home-rule riders, a major step forward. This would place her in a strong position when negotiating with the Senate on the final version of the bill. Last Congress, even with Democrats in the minority in both the House and Senate, Norton successfully fought off the largest number of riders in years. Seven riders were included in the House-passed fiscal year 2019 D.C. Appropriations bill: prohibiting D.C. from using its local funds on abortions for low-income women, on commercializing recreational marijuana, on carrying out the Reproductive Health Non-Discrimination Act, on carrying out D.C.'s health insurance mandate law, and on seizing assets to enforce the insurance mandate tax penalty, as well as repealing the Death with Dignity Act, and repealing the Local Budget Autonomy Act. Norton kept all but the abortion and marijuana riders out of the enacted fiscal year 2019 D.C. Appropriations bill.
"We are doing well in moving toward statehood in the House, but, fortunately, we are also entitled under the Home Rule Act to local control of our local budget," Norton said. "We will be pressing for our full rights on every front available to us."
Media interested in attending can RSVP to
.
WHAT: Congresswoman Norton hosts Mayor Muriel Bowser and national organizations to defend D.C. home rule
WHEN: Friday, April 26th at 11:00 AM
WHERE: Longworth House Office Building, Room 1539, 15 Independence Avenue SE, Washington, DC
###