Norton to Speak at National Cannabis Festival, Saturday
WASHINGTON, D.C. – (RealEstateRama) — Congresswoman Eleanor Holmes Norton (D-DC) today announced that she will both introduce a bill and file an amendment to the House fiscal year 2019 Transportation, Housing and Urban Development appropriations bill to permit the use of medical marijuana in states where it is legal in federally-assisted housing, including public housing and the Section 8 housing program. Norton also will speak at the third annual National Cannabis Festival tomorrow, Saturday, April 21, 2018, at RFK Stadium Festival Grounds (2400 East Capitol Street SE).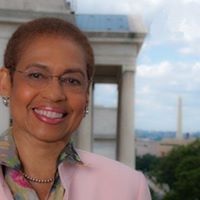 The Congresswoman said that while she strongly supports nationwide legalization of marijuana, she is focusing on medical marijuana as a first step in light of growing bipartisan congressional support for local medical marijuana policies. For the last several years, Congress has prohibited the Department of Justice from using federal funds to prevent jurisdictions from implementing their medical marijuana laws, but has never agreed to a similar provision for recreational marijuana. The use of marijuana for medical purposes is currently legal in 29 states and the District of Columbia. Norton thanked advocates from DCMJ for bringing to her the idea for the legislation.
"Individuals living in federally funded public housing who are prescribed legal, medical marijuana should not fear eviction for simply treating their medical conditions," Norton said. "Our legislation should attract bipartisan support because it also protects states' rights. Over 90 percent of Americans support legalized medical marijuana. Congress needs to catch up with its own constituents and protect individuals who live where medical marijuana is legal, but who still have no way to use it because they live in federally funded housing."
Under current law, the users of drugs illegal under federal law, including medical marijuana, are prohibited from being admitted to federally assisted housing. Federal law allows landlords to evict current residents based on drug use. Under Norton's stand-alone bill, a person may not be denied federally assisted housing, for the use of medical marijuana in jurisdictions where medical marijuana has been legalized. Under the amendment, no fiscal year 2019 federal funds may be used to carry out any law, rule or regulation that denies federally assisted housing to a person for the use of medical marijuana in jurisdictions where medical marijuana has been legalized.
###