Over 200 units will be produced for nearly 470 residents making at or below $70,000 a year
(Washington, DC) — (RealEstateRama) — The DC Department of Housing and Community Development (DHCD) recently closed on two loan agreements from the Housing Production Trust Fund (HPTF) that will produce and preserve over 200 units of affordable housing in Wards 4 and 8—capable of housing nearly 470 residents making at or below $70,000 a year.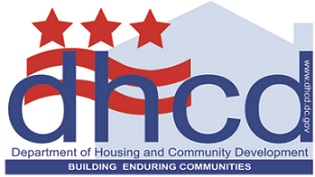 "These recent projects are great examples of how by working with residents, the community-at-large, and the development community, we can be strategic in providing more affordable housing on behalf of District residents," said DHCD Director Polly Donaldson. "Thanks to financing from the Housing Production Trust Fund, families, long term residents, and new residents will have safe, stable and affordable housing in Wards 4 and 8."
DHCD provided $17,688,687 in HPTF financing to Horning Brothers to produce the new Stanton Square Apartments at 2395 Pomeroy Road SE in the Fort Stanton neighborhood of Ward 8. Half of the 121 units will be family sized, with 59 two-bedroom/two-bath units and two three-bedroom units. The remaining 60 units will be one bedrooms.
The affordability mix at Stanton Square Apartments will be as follows: 108 units designated for households making no more than $58,600 (50 percent of the 2018 Median Family Income [MFI], based on a family of four); and 13 units as permanent supportive housing (PSH) for households making no more than $35,160 (30 percent MFI).
Stanton Square Apartments is one of three projects that compose the Stanton Square campus on eight acres of land owned by developers and philanthropists Joe and Lynne Horning. The land-use plan for the site resulted from a community engagement process. The other two projects are The Commons at Stanton Square (a community services facility anchored by Martha's Table and Community of Hope that was privately funded and delivered in Summer 2018) and the upcoming Townhomes at Stanton Square, which will include 37 market rate and five affordable units.
"We thank all the partners who came together to provide the financing necessary to build the apartments and are thrilled to break ground on these critically needed affordable homes," said Horning Brothers Vice President of Development Andrew M. Vincent. Other government partners included the DC Housing Finance Agency (DCHFA), which underwrote $17 million in 4 percent low income housing tax credits (LIHTC).
DHCD provided $7,972,536 in HPTF financing to WC Smith to preserve and produce affordable housing at Petworth Station, 930 Randolph Street NW, in the Petworth neighborhood of Ward 4. DCHFA issued $12.5 million in bond financing as a part of its HUD Level I Risk Share Program and underwrote $7.9 million in equity generated by 4 percent LIHTC.
Petworth Station is a project under the Tenant Opportunity to Purchase Act (TOPA); 78 units will be preserved for existing residents, and 10 new units will be added—five of which will be Uniform Federal Accessibility Standards (UFAS) compliant. The goal is for all units to be affordable for households making more than $70,320 (60 percent MFI).
The renovation of the existing building will include updates to: common areas; HVAC; kitchens; bathrooms; flooring; and plumbing, electric, and lighting. The developer will pay to relocate tenants during renovation and for the return to their homes. When renovations are complete, the 88-unit building will include 54 one-bedrooms, eight two-bedrooms, and 26 efficiencies.
"We thank the DC Department of Housing and Community Development for its collaboration and support in securing the funding we need to make Petworth Station a source of pride for its residents," said WC Smith CEO Chris Smith. "Through this partnership, we will ensure that long-time and new residents will have an attractive and affordable place to call home in the rapidly changing Petworth neighborhood."
Bowser Administration's Commitment to Affordable Housing
Since 2015, the Bowser Administration has delivered 7,200 affordable housing units using a variety of local and federal funding resources, including an unprecedented annual investment of $100 million into the HPTF. At the start of her second term, Mayor Bowser set a bold goal to deliver an additional 36,000 units of housing—including at least 12,000 units of affordable housing—by 2025. In addition, the Mayor has called on the entire region to work together to produce 240,000 additional housing units.
This announcement comes on the heels of the introduction of the Mayor's proposed Fiscal Year 2020 budget, which include a 30-percent increase in the HPTF investment, bringing her annual investment to $130 million; an increase in the Housing Preservation Fund from $10 million to $15 million, which will yield an additional $45 million in private investment; and a new $20 million Workforce Housing Fund that will leverage private sector investment by 9 to 1, bringing the fund up to $200 million.