Homebuying Events Hosted by National Association of Real Estate Brokers (NAREB) to Help Black Veterans Build Wealth
Washington, DC (November 21, 2017) – (RealEstateRama) — Approximately 20 million Black veterans are eligible to use their G.I. benefits to purchase homes, but may not be aware that homeownership remains the best avenue to begin building wealth. The National Association of Real Estate Brokers (NAREB), the country's oldest, minority real estate trade group is hosting, nationwide, Homeownership for Veterans events to encourage Black veterans to learn more about the homebuying process and how to take advantage of their G.I. benefits. Local events, hosted by NAREB chapters are scheduled for Saturday, November 4, 2017.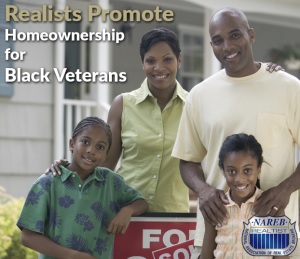 "NAREB's founders in 1947 saw the need to help Black veterans returning from WWII. G.I benefits were available, but Black veterans at the time did not have the choice of neighborhoods, homes or mortgage loans. Their desire to live the American Dream remains at the core of NAREB's mission and our efforts to ensure Democracy in Housing for our country's valiant military forces," said Jeffrey Hicks, NAREB's president. Documentation by Ira Katznelson in his 2006 book indicate that of the first 67,000 mortgages insured by the G.I. Bill, fewer than 100 were taken out by non-whites. "NAREB is returning to its roots and assisting Black veterans to use the benefits they have earned," Hicks added.
The focus on underserved Black veterans is part of NAREB's 2 Million New Black Homeowners program launched in 2016 to re-instill confidence in the homebuying marketplace among Black Americans. Today, Black homeownership has dwindled from a high of 49% in 2004 to just over 42%. In comparison, the current homeownership rate for non-Hispanic Whites is just about 72%.
Black veterans and other prospective homeowners attending the free local events will have the opportunity to talk with Black real estate professionals, mortgage lenders, home ownership counselors, appraisers, title experts, insurance specialists and representatives from government agencies to provide information about available homebuying assistance programs.
For more information about the cities where NAREB chapters are hosting Homeownership for Veterans events: CLICK HERE
visit www.nareb.com. Or, call NAREB headquarters at: 301-552-9340.
Contact: Joanne Williams ?
? 202.364.0024
# # # #