WASHINGTON, D.C. – (RealEstateRama) — NAIOP has released the latest Sentiment Index based on a survey of member developers, owners and investors on whether their 12-month outlook for commercial real estate development is positive, neutral or negative.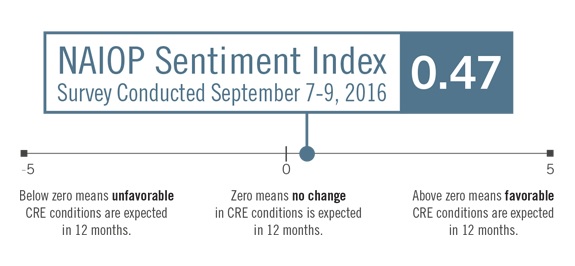 Download the Fall 2016 NAIOP Sentiment Index Report.  
The fall 2016 Index is 0.47. This means that respondents believe overall market conditions in 12 months (September 2017) will continue to be favorable for the commercial real estate industry, and that they will be slightly better than they are today.
The Sentiment Index includes industry leaders' outlooks on the following topics:
Employment.
Occupancy rates.
Face rents and effective rents.
Construction materials and labor costs.
Available debt and equity.
First year cap rates.
To share your feedback or inquire about participating in the next Sentiment Index survey (Spring 2017), contact ?subject=Sentiment%20Index%20Feedback">
.
# # #
About NAIOP: NAIOP, the Commercial Real Estate Development Association, is the leading organization for developers, owners and related professionals in office, industrial, retail and mixed-use real estate. NAIOP comprises 18,000 members in North America. NAIOP advances responsible commercial real estate development and advocates for effective public policy. For more information, visit www.naiop.org.