SAN RAMON, Calif. – SummerHill Housing Group, the umbrella organization for SummerHill Homes, an award-winning residential builder, and SummerHill Apartment Communities, an apartment, mixed-use infill rental housing developer, announced today its plans to develop 994 residential units in the 65+/-Lawrence Station Area Plan in Santa Clara, California. Located on nearly 27 acres bounded by Lawrence Expressway, Central Expressway and Kifer Road, SummerHill has named this exciting new development Nuevo.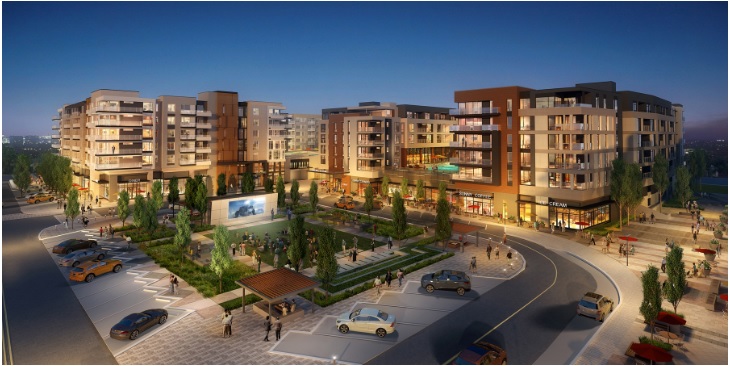 Nuevo will be Santa Clara's largest master-planned housing development since Rivermark. Nuevo will consist of 457 for-sale residential units including six for-sale live/work units, 537 apartments, and approximately 40,000 square feet of neighborhood retail and restaurants. The company has started the demolition of the aging light industrial facilities located on site and expects to commence grading for the apartments this summer.
"We are thrilled to be moving forward with this master-plan development," said Robert Freed, President and CEO, SummerHill Housing Group. "We have been working with the city of Santa Clara for over three years and have assembled land from seven different landowners."
"The City is excited to see SummerHill beginning construction in the Lawrence Station Area," said Santa Clara Mayor, Lisa M. Gillmor. "Their development is the first of many that will bring the vision for the area to life. With a mix of residential and commercial uses, parkland and pedestrian-friendly development, all within close proximity to the Lawrence Caltrain Station, SummerHill's groundbreaking will officially kick-off the transformation of this area into a vibrant and livable neighborhood."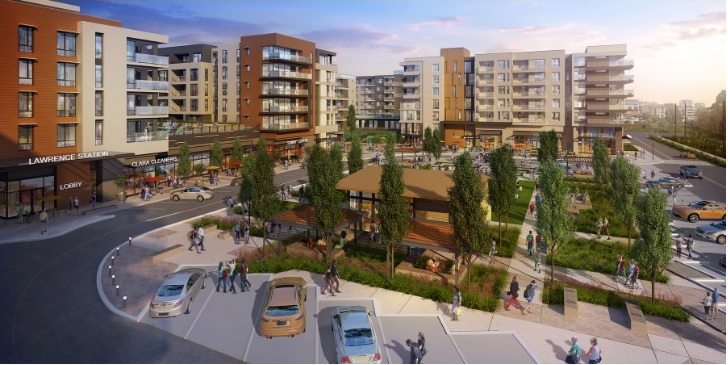 SummerHill will offer a wide spectrum of housing types, from condominiums and apartments to townhomes and detached homes. "Given the scale of this new master-plan community, with expansive parks, neighborhood-serving retail, and a short walk to Caltrain, we anticipate that we will see many young professionals, singles and couples that are looking for a home close to their jobs and close to transit that connects them to Santa Clara and beyond," said Freed. "With our single-level condominiums, we also expect to attract move-down buyers looking to downsize and remain in Santa Clara."
SummerHill's Nuevo community will include:  41 E-Homes, 176 TownFlats, 114 E-Towns, 120 condos, six live/work units, and 537 apartment homes of which 98 will be affordable apartment homes.
"We worked with an incredibly creative architect team to bring this exciting Nuevo community to life. Two of our most unique housing forms, the E-Homes and E-Towns, were created by Woodley Architectural Group," said Katia Kamangar, Executive Vice President / Managing Director for SummerHill Housing Group. "These plans were designed to deliver higher-density for-sale housing with outdoor living translated into luxurious rooftop decks, which is very desired by the market."
Future residents of Nuevo will enjoy over three acres of fully-improved public parks, a community garden, an approximately 4,000-square-foot community center, a dog park, bike share facilities and many other amenities such as:
Movies in the park
Tot lot with children's play equipment
Turf areas for yoga/soccer
Picnic tables
Basketball/sport court
Bike paths throughout community
Bike share pods
Outdoor reading rooms
Neighborhood-serving retail
EV charging capability
Amenities for residents of the apartment homes include:
Pools
Outdoor BBQ areas
Club rooms
Fitness centers
Business centers
Pet grooming facilities
Bike storage/repair facilities
Woodley Architectural Group of Santa Ana, California is the designer of the 155 E-Homes and E-Towns. KTGY Architecture + Planning of Oakland, California is the designer of the 537-unit apartment community, 120 condominium units, and the six live/work units. SDG Architects of Brentwood, California is the designer of the 176-TownFlat units. HMH Engineers of San Jose, California is the engineer for the project and the landscape architect is R3 Studios of Oakland, California.
Once the demolition and grading have been completed, SummerHill expects to start construction on the for-sale residential models and the apartment community in September 2017, and complete the apartments in late 2019, and the buildout of the for-sale community in 2022.
In addition to the 994-unit Nuevo development, SummerHill Homes is currently under construction on new residential communities in the San Francisco Bay Area in Moraga, Los Gatos, Mountain View, Saratoga, Fremont, Pleasanton, and Redwood City for a total portfolio of 6,170+ residential homes.
In addition, SummerHill Apartment Communities has seven new apartment communities in California in various stages of planning and construction: 268 new residential units featuring a mix of apartments and condominiums in Burlingame; 694 residential units and 36,000 square feet of retail space near Milpitas BART Station; a proposed 211-unit apartment community in Mountain View; a 105-unit apartment community in Pasadena; and a proposed 255-unit apartment community in Carlsbad for a total portfolio of 4,466 apartment units. Currently, SummerHill is leasing Mathilda105 –unit apartment in Sunnyvale, Villas on the Boulevard a 186-unit apartment in Santa Clara, and Origin, a 153-unit apartment community in Seattle, Washington.
About SummerHill Housing Group
SummerHill Housing Group combines the expertise and market strength of the highly respected development firms San Ramon, Calif.-based SummerHill Homes and SummerHill Apartment Communities. SummerHill Homes specializes in mid- to high-end homes, and is nationally recognized for customizing development plans to accommodate a site's special characteristics. SummerHill Apartment Communities has a long track record of developing award-winning apartment and mixed-use infill rental housing communities. Both firms specialize in the San Francisco Bay Area and Southern California. See www.shhousinggroup.com
#  #  #
Anne Monaghan
MONAGHAN COMMUNICATIONS, INC.


830.997.0963