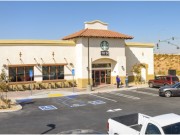 Hanley Investment Group Real Estate Advisors, a nationally-recognized real estate brokerage and advisory firm specializing in retail property sales, announced today that the firm has completed the sale of two brand-new construction single-tenant corporate Starbucks in separate transactions in Southern California.
Irvine, CA - July 18, 2014 - (RealEstateRama) -- Avison Young, the world's fastest-growing commercial real estate services firm, announced today that it has completed the $7.75-million sale of two, class A office buildings totaling 37,652 square feet (sf) in Murrieta, CA.
GLENDALE, CA - March 20, 2013 - (RealEstateRama) -- It's apparent that the majority of the Gen Y generation – those between 20 and 34 years old – have something in common: they don't demand a large living space in order to live comfortably. In ...
Thousand Oaks, CA - June 6, 2012 - (RealEstateRama) -- Colliers International, the third largest global real estate services organization, has completed the $1.95 million sale of an approximately 12,800 square foot office property located at 199 E. Tho...
PLAYA VISTA, CA - October 14, 2011 - (RealEstateRama) -- GoldMax USA, the largest chain of stores specializing in buying gold and precious metals from consumers in the U.S., announced today that it has surpassed the 20th store milestone in Southern California with the opening of two more Los Angeles County stores. GoldMax will celebrate the opening of its 21st store tomorrow, October 15, at 5908 Del Amo Blvd. in Lakewood, and its 22nd store on October 22 at 18425 Hawthorne Blvd. in Torrance. GoldMax also plans to open stores in Norwalk, Santa Ana, Oceanside, Vista and Apple Valley in the next 30 to 45 days.