Construction on Infrastructure at Alameda Point to Commence within 30 Days
MILL VALLEY, Calif. – (RealEstateRama) — Trammell Crow Residential (TCR), a division of Dallas-based Crow Holdings, announced that the first phase of the 68-acre Site A parcel at Alameda Point was transferred from the City of Alameda to Alameda Point Partners (APP), the City's private partner for the project. Alameda Point Partners is a joint venture between TCR, srmERNST Development Partners, Madison Marquette, Eden Housing, and financial partner Cypress Equity Investments. The transfer of the approximately 30 acres to APP paves the way for the mixed-use, transit-oriented waterfront development at the gateway to Alameda Point, called Site A.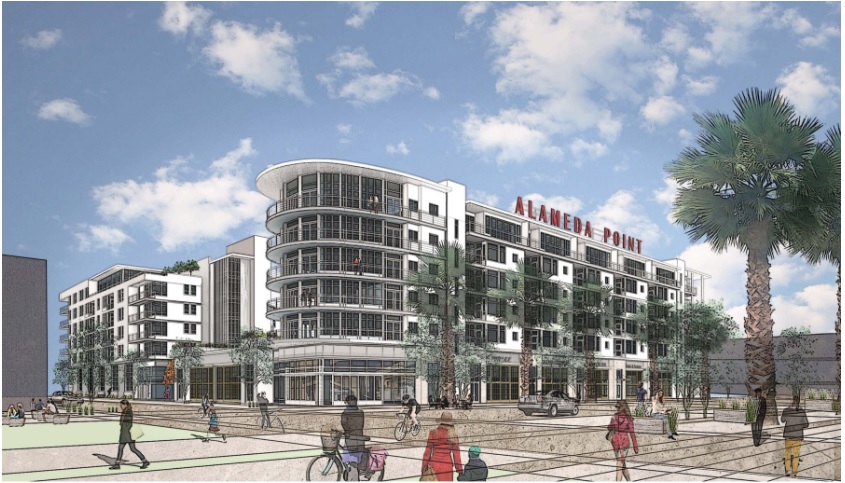 "Closing this deal and starting construction on Site A's phase one $500 million development is significant," said Bruce Dorfman, Senior Managing Director of TCR's Northern California division and a member of APP. Thompson Dorfman Partners was originally selected by the City to develop Site A (with its APP partners srmErnst and Madison Marquette) back in 2014, and merged with Trammell Crow Residential in 2015.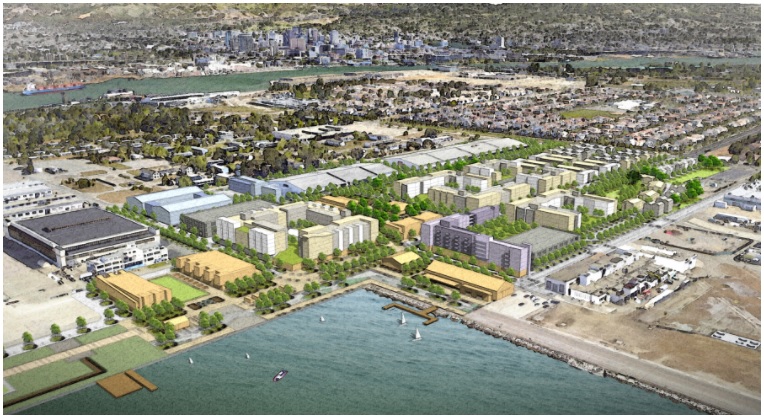 "The base closed over 20 years ago and several attempts to redevelop it failed. Due to extensive infrastructure requirements, this is a very complicated development. We are grateful to the City Council for selecting us in 2014 to enter into this public-private partnership and continuing to support our efforts. TCR looks forward to delivering an integrated master-planned community on the Bayfront which will not only be a model for other cities struggling with similar redevelopment sites, but also provides the new residents and the City of Alameda with significant public benefits, including a new commuter ferry service to Downtown San Francisco," Dorfman noted.
"Besides offering unparalleled views of the San Francisco skyline and the Bay, with the new ferry and other transit options, Alameda Point is incredibly conveniently located to many of the region's largest employment centers. Further, with the development of Site A, Alameda Point will become much more viable for companies that are seeking affordable expansion space with new quality housing for their employees. And Alameda is a walkable city with excellent shopping, schools, restaurants, beaches, and sense of community," added Dorfman.
Dorfman said that the first phase of the Site A project will consist of 673 housing units, including 130-units of affordable housing for low- and very-low income households, 310 units projected to be affordable to middle-income households, eight acres of parks and open space, funding for the Seaplane Lagoon Ferry Terminal, and 93,000 square feet of retail development. Remaining financing for the affordable housing units is likely in the coming months. Completion of the new infrastructure is expected over the next two to three years, with the first new residences projected to open in 2021.
Dorfman stated that APP negotiated the sale of several parcels to various builders and developers to coincide with the sale and transfer of the first 30 acres to APP. They are as follows:
– Bock 8 – 130 units of affordable housing to be developed by Eden Housing; Eden plans to develop a 70-unit family affordable community and a 60-unit senior affordable community;
– Block 6 – sold to Trumark Homes to develop 123 townhomes (Block 7 is currently optioned by Trumark Homes), which was marketed and brokered by Moran & Co.;
– Block 9 – sold to Cypress Equity Investments to develop a 200-unit apartment community with 10,000 square feet of retail/commercial space; and
– Block 11 – sold to Trammell Crow Residential/Cypress Equity Investments joint venture to develop a 220-unit apartment community and 15,000 square feet of retail/commercial space.
Upon buildout, the 68-acre master plan development will bring 800 residential units, including 200 affordable units, up to 600,000 square feet of commercial space, 15 acres of parks and public open space, major utility infrastructure benefiting the entire property, and new transportation services and facilities, including a new ferry terminal.
"The master plan that we created for Site A will be a wonderful addition to the area," said Dorfman. "Each of the buildings incorporates design elements that were inspired by the historical use of the base. A number of existing structures will be renovated and incorporated into the community. The development will feature new and old, and feel both authentic and original. It will be pure Alameda."
Construction of major infrastructure will commence later this month, including new water, sewer, electrical and gas lines, newly paved streets withbike and transit lanes, as well as eight acres of new parks. Also included in the Phase One transfer, $10 million for a new Seaplane Lagoon Ferry Terminal, $3 million in funds for affordable housing, and a $1 million payment for a planned Sports Complex were provided to the City and its affordable housing partner, Eden Housing.
"Construction of Site A will be a catalyst for the redevelopment of the entire base. There are many tech firms and 'maker' businesses that are already established at Alameda Point that need the new infrastructure that we are completing in order to expand. The creation of new housing, especially the large percentage of workforce housing, will further benefit existing and new businesses that want an attractive area to grow," said Dorfman.
"The 25 percent inclusionary (affordable housing) requirement at Alameda Point is higher than most cities around the Bay Area and will be a tremendous asset for creating the affordable housing Alameda so desperately needs," noted Dorfman. "Working with our partner, Eden Housing, Site A will include 200 affordable units, including housing for very-low, low and moderate-income households.
"TCR, along with Education Housing Partners (EHP), is exploring the possibility of building a teacher and faculty housing community similar to apartments EHP developed for the Santa Clara Unified School District and San Mateo Community College District."
Transit is another key issue that Site A will address. "The new ferry service is a game changer – it is at our front door and provides direct service to downtown San Francisco in 20 minutes. This is a great amenity for our residents and for the businesses that are here," Dorfman said.
Site A makes an unprecedented investment in transit infrastructure with a package of multi-modal strategies that complement and build off each other, including the new ferry terminal, bus rapid transit, 'last mile' connection to BART (with shuttle service every 15-minutes in peak periods), bike and car sharing.
"TCR's focus has been to develop in transit-oriented communities – this is the first time we are going to create one," Dorfman stated.
"The goal at Site A is to reduce dependency on the automobile and improve alternative modes of transportation by encouraging people to shift a greater share of their trips to public transit, biking, and walking," Dorfman said. "Our investment today is a long-range strategy to alleviate traffic and allow future generations of residents to travel more easily on and off the island."
All buildings will be constructed with a LEED™ Gold Certified rating by the U.S. Green Building Council or equivalent. These standards ensure a reduction of GHGs from heating, cooling and operations of the buildings. All Site A structures will be "solar ready" and meet the latest California Building Standards Codes for Solar Photovoltaic (PV). All parking facilities at Site A will include electric vehicle charging stations.
The Site A project represents the first major public/private development at Alameda Point since Naval Air Station Alameda closed and lost 18,000 jobs in 1997. The project will create approximately 1,500 on-site permanent jobs and 2,500 direct construction jobs over the life of the project and serve as the catalyst for thousands of future jobs.
About Trammell Crow Residential (TCR)
Trammell Crow Residential (TCR) is a national multi-family real estate developer with over 40 years' experience and a local presence in 12 key U.S. markets. Since 2012, TCR has developed, financed and asset managed more than $5 billion of multi-family communities totaling over 20,000 units, delivering amenity-rich communities in economically thriving locations nationwide.  TCR and Crow Holdings Industrial (CHI) are the development divisions of Crow Holdings, a real estate investor, developer and owner with a global multi-asset investment platform and longstanding industry relationships built on trust, integrity and partnership. For more information, please visit www.TCR.com.
# # #
Anne Monaghan
MONAGHAN COMMUNICATIONS, INC.


830.997.0963