Drinking Water System Not Affected
Laurel – February 13, 2017 – (RealEstateRama) — Working around the clock last night following the rupture of a pressurized sewer main yesterday afternoon, WSSC crews have contained the wastewater overflow at the Piscataway Wastewater Treatment Plant on Farmington Road in Accokeek.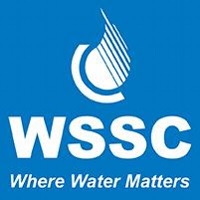 The main broke about 1:40 p.m. on Thursday. WSSC immediately mobilized to set up temporary pipes and pumps (see pictures to the right) to move the wastewater into retention basins on the plant grounds. The pumps were operational about 11:20 p.m. on Thursday.
It is estimated that 3.3 million gallons of untreated wastewater overflowed prior to the start of the temporary pumping operation, affecting the Piscataway Creek.
After the broken sewer main is repaired, WSSC will pump the wastewater out of the retention basins for treatment. At that point, an estimated total volume of the overflow will be calculated.
It is important to note that WSSC's water and wastewater systems are separate. This overflow is NOT affecting WSSC's drinking water.
The Piscataway Plant treats about 24 million gallons of wastewater per day. Approximately half of that is being treated as normal. The other half is moving through the temporary pipes into the on-site retention basins.
WSSC contractors are currently at the plant, excavating the broken sewer main. Once the pipe is exposed, crews can determine the type of repair work that is needed. This will be a multi-day repair effort.
Notifications have been made to the Maryland Department of the Environment, Prince George's County Health Department and local municipalities.
Twenty-seven signs have been posted in the area of the overflow, along the Piscataway Creek and WSSC will take all appropriate measures to clean up the affected area.
WSSC is committed to protecting the health of the public and the environment. With more than 5,500 miles of sewer mains throughout its service area, WSSC appreciates notification from citizens if a sewer back up or water main break is suspected. Please call our 24-hour Emergency Call Center at 301-206-4002 to report water or sewer emergencies in Montgomery or Prince George's counties. Customers can also report emergencies via email at
and those customers who have smart phones can report emergencies using the WSSC Mobile App.
Established in 1918, today WSSC is among the largest water and wastewater utilities in the nation. We proudly serve the 1.8 million residents of Prince George's and Montgomery counties, providing life's most precious resource. WSSC drinking water has always met or exceeded federal standards.
Contact
Lyn Riggins


301.206.4002