Washington, DC  – (RealEstateRama) — A revolution in efficiency, convenience, and transparency for Airbnb hosts, AirGMS has developed a vital tool for thousands nationwide – from individual hosts to enterprises with over 300 listings. A fan-favorite alternative to the difficult interface of the Airbnb app, AirGMS is now available on both the Apple App Store and the Google Play Market, making it accessible to Airbnb managers on the go, no matter where their busy schedules take them. AirGMS aims to make managing every aspect of an Airbnb property or properties as streamlined and appealing as Airbnb itself. A platform that's simple, straightforward and accessible to renters shouldn't be an ongoing headache for hosts and Airbnb management companies on the "other side" – unfortunately, that's exactly the experience many report from the native Airbnb app.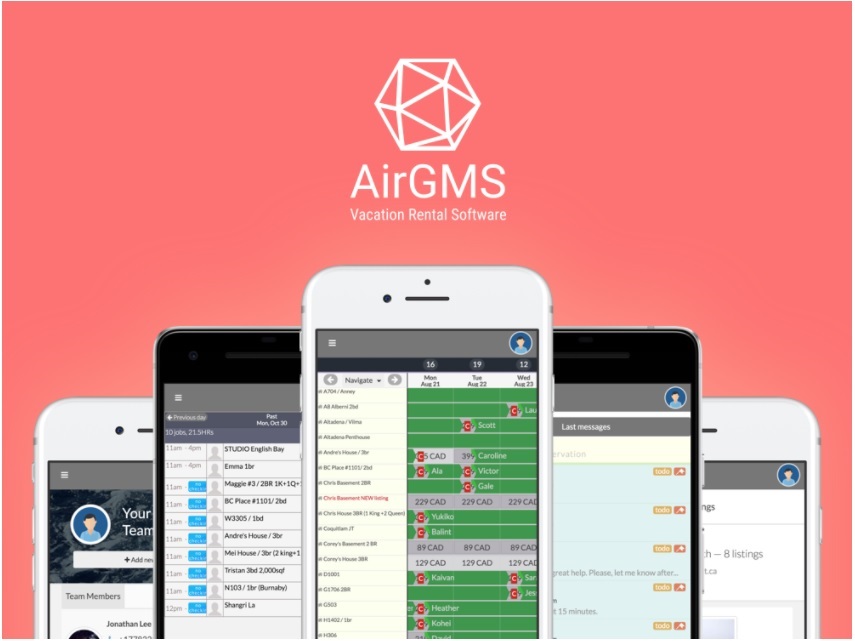 With a touch of smart technology and founders' hosting experience, AirGMS has created a powerful mobile app with a sleek interface, offering full property information accessibility and putting the power back in hosts' hands – or rather, their mobile devices.
AirGMS reports that 67% of their clients use their mobile devices for work, making mobile applications crucial to success. The AirGMS tool takes this need a step further, expanding the power and functionality of a web version tool to their namesake – an unprecedented dual-platform approach made to meet the modern demands of management companies.
Full Freedom
Making income from an Airbnb property is a goal for many because of the flexibility it offers – at least on the surface. If all that free time is spent hunched over a computer, clicking at various tabs and calendars and inboxes – how much free time and profit is a host truly making? With three tiers of option levels – Free, Pro, and Business – AirGMS is scalable to suit any host, from the casual vacation home owner to the entrepreneur looking to build a rental empire through a network of properties. This kind of flexibility ensures that the app will stay relevant no matter how much your Airbnb business grows: versatility that's rare, even nonexistent, in the on-demand rental industry.
Full Control
AirGMS was built with a wide view in mind, giving hosts the ability to see their entire rental portfolio across weeks and months in just a few taps. There's even a note-taking feature that allows hosts to attach special needs or requests as reminders to specific properties. They get the prestige of being an incredible host without the hassle of keeping everything in mind at all times – it's a win-win for both host and guest, and it's the kind of simplicity Airbnb works best with. Airbnb managers won't have to worry about guest messages and bookings while they are out of the office, either: push notifications ensure that every alert is visible at all times.
Managing Multiple Accounts
With the ability to merge multiple Airbnb accounts into a single inbox, set up various external calendars like Booking, VRBO, and Tripadvisor through iCal, and even manage a team, AirGMS makes it easy to run an Airbnb business on the go. Stay in touch with your support staff – cleaning, repair, and more – and coordinate appointments during downtime to keep your property ready to rent at all times.
Easy Messaging
One of the most time-consuming aspects of being an Airbnb host is finding time to respond to all of your messages through the app. With native 2-way Airbnb communication built right into AirGMS app, you can stay in touch via triggered autoresponders and message templates. That means that potential renters never feel ignored, but hosts can also go about their day instead of constantly composing lengthy explanation texts. In average Airbnb manager sends 2500 messagers per month; AirGMS automates an incredible 70% of them. That means users save around 60 hours of work normally tied up in answering messages related to check-in/check-out, property instructions, follow ups, review requests and more.
Efficient Cleaning Service Organization
While renting Airbnb properties does come with some innate challenges, efficient cleaning service tracking shouldn't feel like a mad dash between bookings. Consider the time that could be saved if Airbnb management companies directed their cleaning services to install AirGMS. With the app, a cleaning crew would be immediately notified after a guest drops off their keys, allowing them to schedule services more efficiently. They would also be instantly notified of new work orders, notes, and queries. Once cleaning services are performed, cleaning crew can then send an automated note through the app, alerting management that the property is ready for use. With clear, easy automation built right in, there's little to no room for human error, and everyone stays on the same page.
If you're tired of clicking back and forth through your Airbnb accounts, drafting endless messages, or trying to coordinate with your team, you will definitely benefit from the functionality of AirGMS. It will make your host experience a pleasure that also brings profit. Available in three tiers of service, AirGMS is compatible with your mobile phone, tablet, or other mobile device, offers a free service level for a single listing, and costs as little as $20 a month / listing for large business-level rental networks.
If you are a vacation rental manager, download the vacation rental app on the Apple App Store or the Google Play Market.
More information about the AirGMS system and services, including customizable quotes, can be found at https://www.airgms.com/property-management-software/.