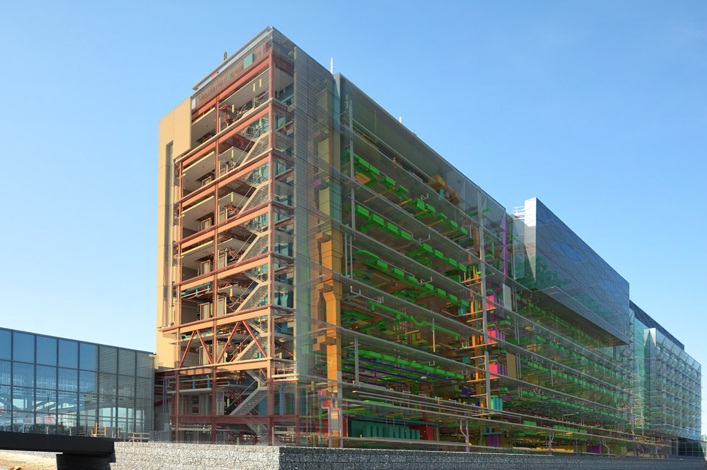 Turner Construction Company is a pioneer when it comes to using BIM in the construction industry
New York, NY – March 16, 2015 – (RealEstateRama) — Since 2002, Turner has handled a total of 741 projects, with a value of some 48 billion U.S. dollars, using BIM. At the moment, this digital collaborative problem-solving tool is actively being used on 373 Turner projects. In the early years of Turner's adoption, there was minimal demand for BIM from clients. Instead it was their employee's spirit of experimentation and desire for improvement that led to results that convinced Turner that utilization of BIM made them a better builder. In time, as they repeatedly proved the value of BIM, their clients increasingly came to demand the use of BIM by not just Turner and its trade contractors, but also by architects and engineers.
In some cases, government clients such as the City of New York Department of Design and Construction and the Army Corps of Engineers, have published detailed BIM guidelines and specifications, which define project requirements as well as the various roles, responsibilities and project results. In the private sector, clients have also developed BIM requirements that look beyond design and construction to the eventual use of BIM for facility management.
However, as Jim Barrett, Chief Innovation Officer at Turner points out, after many years and many projects, they have come to understand that maximization of the true value creation capability of BIM is best combined with innovate Lean practices: "We apply Lean process improvement methods to establish the most efficient and effective work-flows and then build those as a BIM platform for better results."
Barrett's Integrated Building Solutions team supports a network of regional BIM Managers as well as over 250 local branch and project level BIM managers, engineers, and coordinators through knowledge sharing tools like the Turner Learning Tree as well as training programs. "In addition to supporting local BIM training, since 2010, we have been conducting what we call the 'BIM University' program," says BIM Manager Jennifer Downey.
BIM University began as an eight-week, intensive training course for professional staff hired out of university. During this period, they were thoroughly familiarized with a wide variety of BIM software tools and their proper uses: "Our philosophy is that our staff should use whatever tool is best suited to successfully accomplish the particular task at hand," said Jim Barrett. After training, the participants were sent out to work at local units in order to drive the adoption of BIM throughout Turner. The program has continued to evolve to incorporate training of senior non-BIM specialized staff, such as cost estimators and construction superintendents, in the use of BIM and Lean.
Turner frequently leverages BIM tools as an element in an overall Lean framework, the principles of which are best described in their recently established company-wide Lean vision statement: "Lean is a transformational business strategy focused on maximizing customer value while eliminating waste through continuous improvement and respect for people." BIM is just one piece within a larger picture of the future.