NEWPORT BEACH, CA — (RealEstateRama) — CBRE announced the sale of two multifamily properties in Orange County, CA on behalf of a private 1031-exchange buyer from Newport Beach for a total of $14 million.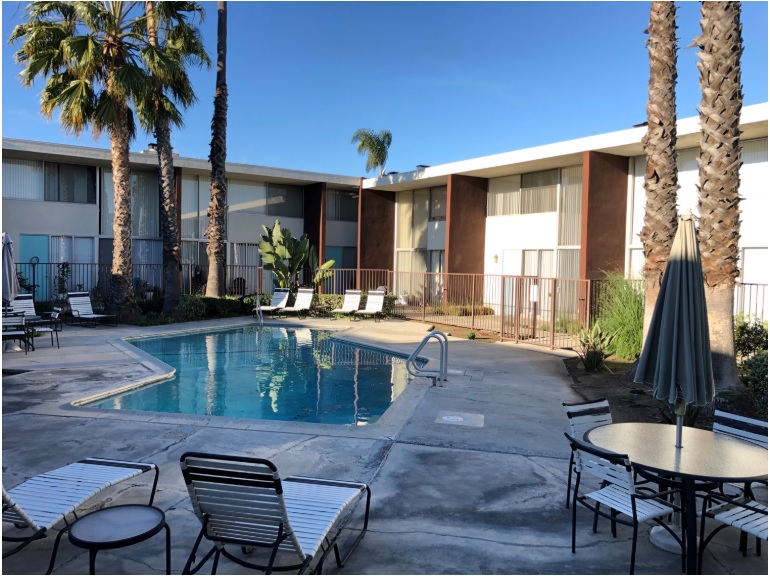 The buyer, represented by CBRE's Dan Blackwell, purchased Broadway Luxury Apartment Homes, a 25-unit, three-story apartment community at 9922 West Broadway in Anaheim. The property, which was built in 1989 on .50 acres, sold for $6.8 million. Blackwell also represented the seller, 41st Street Broadway Investments of Newport Beach.
Broadway Luxury Apartment Homes is located in a residential area near the intersection of Lincoln Avenue and Brookhurst Street, three miles from Disneyland and Knott's Berry Farm, and is in proximity to the 5 and 91 freeways and within walking distance to schools.
"The seller had only owned the property for a year and had rehabbed approximately half the units, which provided a desirable upside opportunity to the buyer," said Blackwell.
In Costa Mesa, Blackwell represented the buyer in the purchase of a 19-unit, two-story apartment community at 145 East 18th Street. The property, which was built in 1959 on .66 acres, sold for $7.2 million. The seller, 18th Street Partners of Laguna Hills, CA, was represented by Steven Brombal of Kidder Mathews in Irvine.
This property is located close to The Triangle (formerly known as Triangle Square), a 191,000-square-foot outdoor entertainment and retail center, and also easily accessible to the 17th Street retail corridor.
"Since the buyer had previously sold 52 units in Santa Ana for $12.3 million, the challenge was to find him a suitable property to trade into," said Blackwell. "As there was not a lot of inventory in the $10 million to $20 million range, the strategy was to source better-located properties in the $6 million to $8 million range. Furthermore, the selected sites in Anaheim and Costa Mesa represented value-add opportunities, which was attractive to the buyer."
He added, "Over the past three years in Orange County, we have experienced twice the deal volume in the $5 million to $10 million range compared with only 10 to 12 transactions per year in the $10 million to $20 million price range. Given this reality, it's common for a buyer to consider splitting an exchange into a few smaller properties in the Orange County market. Not only is there a higher probability to find a suitable upleg(s), investors have also found there are attractive value-add opportunities in the $5 million to $10 million range."
To date, Blackwell has successfully closed $700 million in multifamily investment sale transactions in Southern California. Southern California listings include: 321-333 3rd Street Mixed-Use in Laguna Beach (19 units) listed for sale at $9.88 million; 1701 West Balboa Boulevard in Newport Beach (10 units) listed at $5.49 million; Friendly Hills Apartment Homes in incorporated Whittier (21 units) listed for sale at $5.35 million and 460 Cypress Drive Apartments in Laguna Beach (9 units) listed for sale at $4.95 million.
About CBRE Group, Inc.
CBRE Group, Inc. (NYSE:CBRE), a Fortune 500 and S&P 500 company headquartered in Los Angeles, is the world's largest commercial real estate services and investment firm (based on 2018 revenue). The company has more than 90,000 employees (excluding affiliates) and serves real estate investors and occupiers through more than 480 offices (excluding affiliates) worldwide. CBRE offers a broad range of integrated services, including facilities, transaction and project management; property management; investment management; appraisal and valuation; property leasing; strategic consulting; property sales; mortgage services and development services. Please visit our website at www.cbre.com.
# # #
Contact:
Nadja Brandt
+1 213 613 3627