COSTA MESA, Calif. – (RealEstateRama) — CBRE Executive Vice President Philip D. Voorhees announced today that he and the National Retail Partners – West (NRP-West) team completed the sale of The Triangle, a 204,523-square-foot coastal dining and entertainment lifestyle center in the city of Costa Mesa, Calif., anchored by an impressive collection of restaurants led by Yard House, TIME, Orange County's premier nightclub, a flagship 24 Hour Fitness location, Tavern & Bowl, and the nine-screen Triangle Cinemas. The sale price was $55.7 million, representing a high 6% cap rate. The property was approximately 94% occupied at the time of sale.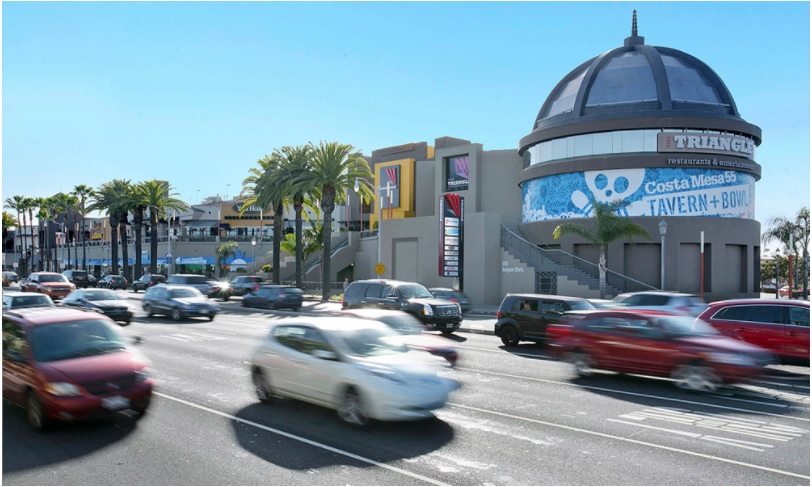 CBRE's retail investment experts Voorhees, Jimmy Slusher, Kirk Brummer, Megan Wood, Preston Fetrow, Matt Burson and John Read, represented the seller, a partnership led by Greenlaw Partners, an Orange County-based real estate development and investment company. The buyer, a Los Angeles-based family office syndicate, completed this acquisition as an addition to its real estate portfolio holdings.
"I've been a customer of The Triangle since I arrived in Orange County nearly 20 years ago," said Voorhees. "In fact, I studied for my real estate broker's license at a coffee house that once occupied the project. In terms of location, visibility and traffic counts, The Triangle is unrivaled in Orange County. We expect the new ownership will continue curating The Triangle's tenant mix to include more internet-resistant dining and entertainment uses that thrive in this vibrant coastal location."
"The sale represented a great execution for the seller partnership, reviving an iconic coastal Orange County property," said Slusher. "The new ownership has an excellent opportunity to capitalize on existing momentum with the lease up of the few remaining suites, complementing The Triangle's already successful tenant lineup."
Built in 1992-1993, with an extensive remodel completed in 2012-2013, The Triangle is a wholly-owned, 4.68-acre site situated at the base of the 55 freeway (128,555 cars per day), the gateway to Orange County's beach cities, benefitting from an unprecedented 360-degree visibility, exposure and access and providing proximity to both demographic density and affluence.
According to Voorhees, the CBRE team's marketing system distributed more than 619 offering memoranda to investors and brokers, and through the team's "managed bid" offer process, generated 11 offers to purchase the property.
With this closing, CBRE's NRP-West team topped $10 billion in successfully closed transactions. Select NRIG-West Team California listings include Anaheim GardenWalk in Anaheim, Calif.; Mission Oaks Plaza in Camarillo, Calif., listed for sale for $13,500,000; and The Dunes in Marina (Monterey), Calif., offered for sale for $45,466,000, and Santa Fe Trail Plaza in El Monte, Calif., with bids requested by Thursday, November 17. More information available at www.cbre.com/nrpwest.
The NRP-West team focuses exclusively on retail investment properties in the western states, including CA, OR, WA, NV, AZ, NM and HI, representing the most accomplished retail investors in the US. The team's ability to collaborate across CBRE's multi-discipline platform enhances its role as strategic advisors to western U.S. clients in the disposition and acquisition of retail properties, and ensures the delivery of superior results in today's investment market. Long recognized as industry-leading investment experts, the NRP-West team continues to specialize in portfolio sales, anchored centers, strip centers, single-tenant assets, specialty retail projects, REO and Receivership assets and parcelized disposition strategy opportunities. Based in Orange County, Calif., the team consists of specialists with institutional and private client relationships, and leverages institutional quality knowledge and service across unparalleled access to private capital investors and the brokers who represent them, domestically and around the world. View listings: listings.nrpwest.com
About CBRE Group, Inc.
CBRE Group, Inc. (NYSE:CBG), a Fortune 500 and S&P 500 company headquartered in Los Angeles, is the world's largest commercial real estate services and investment firm (based on 2015 revenue). The Company has more than 70,000 employees (excluding affiliates), and serves real estate investors and occupiers through more than 400 offices (excluding affiliates) worldwide. CBRE offers a broad range of integrated services, including facilities, transaction and project management; property management; investment management; appraisal and valuation; property leasing; strategic consulting; property sales; mortgage services and development services. Please visit our website at www.cbre.com.
# # #
Anne Monaghan
MONAGHAN COMMUNICATIONS, INC.


830.997.0963