SANTA MARIA, Calif. – (RealEstateRama) — CBRE Executive Vice President Philip D. Voorhees and Vice President Jimmy Slusher announced today that the National Retail Partners-West (NRP-West) completed the sale of Santa Maria Town Center in Santa Maria, California, a regional mall anchored by Sears and Macy's (both not a part of the sale) and a high performing Edwards Theatres RPX Digital Cinema among an assortment of regional and national tenants.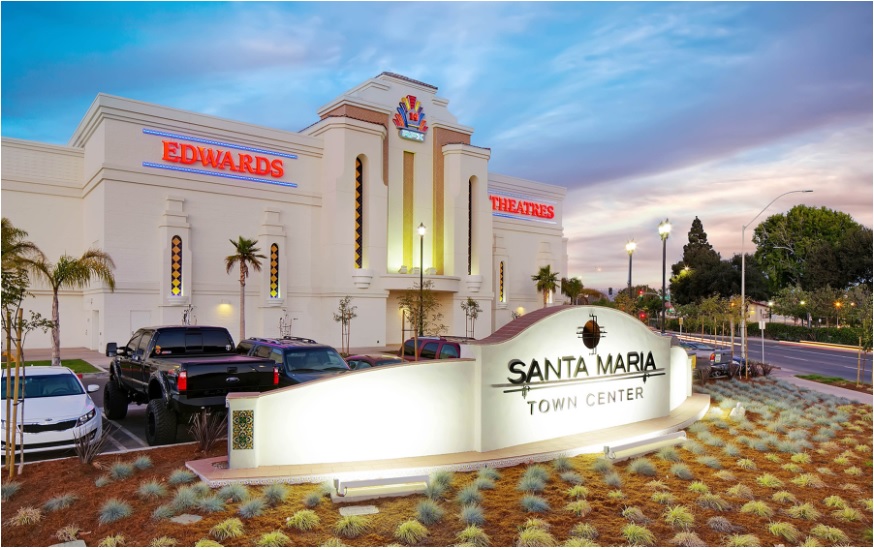 CBRE retail experts George Good, James Tyrrell, Slusher and Voorhees represented the seller, Goldman Sachs, a New York-based leading global investment banking, securities and investment management firm. The buyer, a global insurance company, purchased the property.
Built in 1976, Santa Maria Town Center (SMTC) is a 331,804-square-foot regional mall, situated on 6.11 acres of land at 100 Town Center East in Santa Maria, adjacent to the Santa Maria City Hall, Civic Center, Santa Barbara Superior Court, and the city transit center.
"SMTC represents the only enclosed shopping experience or department store option within a 60-mile radius," said Slusher. "Santa Maria Town Center's continued performance with year-over-year NOI growth, increasing tenant sales and new tenant leasing interest has bucked today's mall trends, representative of its downtown location and connection to the residents of the expanded Santa Maria trade area."
Voorhees said, "Opportunities to purchase performing properties for perhaps 20 percent of land-inclusive replacement cost at double-digit cap rates are very compelling. As more 'box' anchor spaces are acquired from failing tenants, we expect the mall narrative to become very positive. Malls were built in the 'center of the trade area' locations and Santa Maria Town Center is great real estate. We look forward to following the property's progress in the years to come."
CBRE's marketing efforts produced more than 283 confidentiality agreement/offering memoranda distributed and through the team's "managed bid" offer process, generated 19 offers to purchase the property, according to Voorhees.
With this closing, CBRE's NRP-West team topped $10.8 billion in successfully closed retail investment sale transactions. Select NRP-West team California listings include: The Outlets at the Border in San Ysidro, listed for $60,000,000; Market Place at Oxnard in Oxnard, listed for $42,500,000; and Albertsons in downtown San Diego, listed for $23,000,000. More information is available at www.nrpwestlistings.com.
The NRP-West team focuses exclusively on retail investment properties in the western states, including CA, OR, WA, NV, AZand HI, representing the most accomplished retail investors in the US. The team's ability to collaborate across CBRE's multi-discipline platform enhances its role as strategic advisors to western U.S. clients in the disposition and acquisition of retail properties, and ensures the delivery of superior results in today's investment market. Long recognized as industry-leading investment experts, the NRP-West team continues to specialize in portfolio sales, anchored centers, strip centers, single-tenant assets, specialty retail projects, REO and Receivership assets and parcelized disposition strategy opportunities. Based in Orange County, California, the team consists of specialists with institutional and private client relationships, and leverages institutional quality knowledge and service across unparalleled access to private capital investors and the brokers who represent them, domestically and around the world. View listings: www.nrpwestlistings.com
About Goldman Sachs Group, Inc.
The Goldman Sachs Group, Inc. is a leading global investment banking, securities and investment management firm that provides a wide range of financial services to a substantial and diversified client base that includes corporations, financial institutions, governments and individuals. Founded in 1869, the firm is headquartered in New York and maintains offices in all major financial centers around the world. To learn more, visit goldmansachs.com.
About CBRE Group, Inc.
CBRE Group, Inc. (NYSE:CBG), a Fortune 500 and S&P 500 company headquartered in Los Angeles, is the world's largest commercial real estate services and investment firm (based on 2017 revenue). The company has more than 80,000 employees (excluding affiliates), and serves real estate investors and occupiers through approximately 450 offices (excluding affiliates) worldwide. CBRE offers a broad range of integrated services, including facilities, transaction and project management; property management; investment management; appraisal and valuation; property leasing; strategic consulting; property sales; mortgage services and development services. Please visit our website at www.cbre.com.
United States Commercial Real Estate Services | CBRE
www.cbre.com
Our website uses cookies and other technologies so that we can remember you and understand how you and other visitors use our website. By continuing to browse this Site, you are agreeing to our use of cookies.
# # #