Help Inspire the Next Generation of Building Professionals
Washington, D.C. – (RealEstateRama) — Take part in a special session to help build the future workforce during Building Innovation 2017—the National Institute of Building Sciences Fifth Annual Conference & Expo. On Day 1 of the Conference, Monday, January 9, 2017, at 3:30 pm, attendees can participate in a presentation of the Institute's Science, Technology, Engineering and Mathematics (STEM) Education Program and the Future Workforce Program to discover ways to inspire, engage, educate and employ the next generation of building industry professionals.

Across many sectors of the building industry, there is a rising concern over the decreasing availability of a skilled workforce. Addressing this concern will take an industry-wide approach. Many organizations, including the Institute, are undertaking efforts to introduce the next generation of workers to various building professions. Join members of the Institute Board of Directors, representatives of the Consultative Council and other industry leaders as we explore a unique path forward to developing the future generation.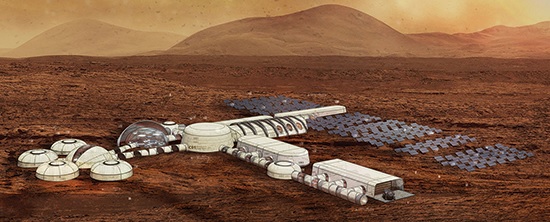 The session will feature a demonstration of the MARS CITY Facility Operations (Ops) Challenge created by the Institute, Total Learning Research Institute (TLRI) and the National Aeronautics and Space Administration (NASA). The Facility Ops Challenge was designed to introduce high school students to facility management by teaching them to operate a virtual base on the planet Mars and to inspire them to consider one of the many careers in the building sciences.
On Day 2, Tuesday, January 10, during the exhibition hours from 10:00 am until 6:30 pm, Conference participants can take a virtual tour of the MARS CITY Facility Ops Challenge. Come have an out-of-this-world experience—navigate the building information model (BIM) of the futuristic MARS CITY base developed by KieranTimberlake, Gilbane Building Company and Alderson Engineering. Since the base was first revealed at the USA Science and Engineering Festival in April 2016, KieranTimberlake has enhanced both the curriculum and the BIM, using an immersive environment to engage students with hands-on learning opportunities to give them the ability to play out scenarios in virtual reality.
Don't miss your chance to experience the MARS CITY Facility and find out how you can inspire the next generation to work in the building sciences. Register to attend the Conference today!