Sale to Southern California Buyer Achieved a Record-Low Cap Rate Nationwide
GLENDALE, Ariz. – RealEstateRama – Hanley Investment Real Estate Advisors, a nationally recognized real estate brokerage and advisory firm specializing in retail property sales, announced today that the firm has completed the sale of a new construction, single-tenant net-leased retail property occupied by a Portillo's drive-thru restaurant located in the Phoenix, Arizona metro. The sale price was $7.1 million for the long-term, triple-net ground lease. The sale achieved a cap rate of 4.55%, a record-low cap rate for a Portillo's in the U.S.
Hanley's Executive Vice Presidents Bill Asher and Jeff Lefko, along with President Ed Hanley, in association with Lee Csenar of Hanley Investment Real Estate Advisors, Inc., represented the seller, a private investor based in Orange County, California. The buyer, a private investor based in Los Angeles County, was represented by Chuck Wilson and Kenny Patricia of Colliers International in Irvine, California.
Hanley identified an all-cash buyer based in Southern California seeking a single-tenant passive investment to fulfill a 1031 exchange requirement and sourced an off-market opportunity by leveraging an existing relationship with a Southern California-based developer.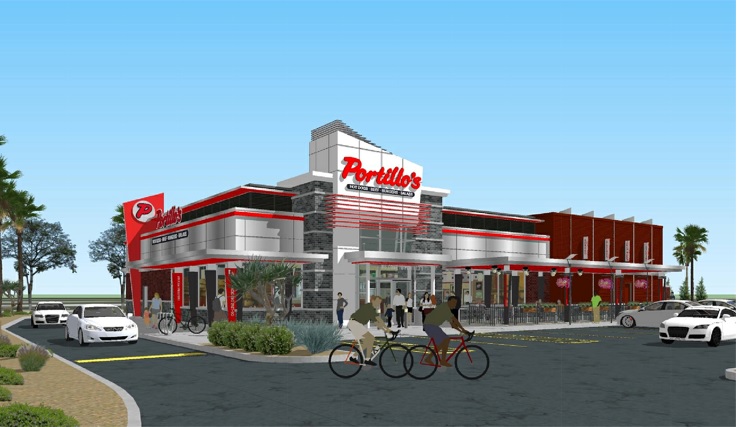 "Single-tenant NNN retail investment supply was extremely tight in the last six months of 2021," said Asher. "Market conditions promoted more incremental off-market transactions, matching up motivated buyers with properties not formally on the market, putting owners in a unique position capitalize on entertaining unsolicited offers at historic record-breaking prices."
Portillo's is located at 17125 N. 79th Avenue in Glendale, Arizona in the Arrowhead Towne Center. The 7,800-square-foot restaurant building, situated on 1.92 acres, has an outdoor patio and a double-lane drive-thru. It is Arizona's fourth Portillo's and the Chicago-based chain's 67th location overall across nine states. The diner-themed restaurant, which opened on April 27, 2021, serves Chicago-style hot dogs, Italian beef sandwiches, char-grilled burgers, fresh salads and famous chocolate cake. Portillo's Home Kitchen is the company's fast-growing catering business. Portillo's also ships food to all 50 states via its website.
Portillo's Inc.'s (NASDAQ: PTLO) third-quarter total revenue increased 15.3% to $138.0 million compared to the prior year period; same-restaurant sales increased 6.8%. On October 25, 2021, the company successfully completed its initial public offering of Class A common stock at $20.00 per share, which has increased over 85% since.
Per QSR magazine's September 2021 issue, Portillo's earns the most per fast-food chain restaurants nationwide. The average sales per unit is more than $6.9 million per year, approximately 40%+ higher than its next closest, more well-known competitors – Chick-fil-A, Raising Cane's, Whataburger and In-N-Out.
Asher notes, "Demand for single-tenant triple-net retail investments was at an all-time high in 2021. Average sales cap rates compressed 25 to 50 basis points in the last six months. We anticipate demand and average sale cap rates to remain steady in 2022."
About Hanley Investment
Hanley Investment Real Estate Advisors is a real estate brokerage and advisory services company with an $8.9 billion transaction track record that specializes in the sale of retail properties nationwide. Our expertise, proven track record, and unwavering dedication to putting clients' needs first set us apart in the industry. Hanley Investment creates value by delivering exceptional results through the use of property-specific marketing strategies, cutting-edge technology, and local market knowledge. Our nationwide relationships with investors, developers, institutions, franchisees, brokers, and 1031 exchange buyers are unparalleled in the industry, translating into maximum exposure and pricing for each property. With unmatched service, Hanley Investment has redefined the experience of selling retail investment properties. For more information, visit www.hanleyinvestment.com.
#  #  #
Anne Monaghan
MONAGHAN COMMUNICATIONS, INC.
830.997.0963 | 949.677.2933 cell