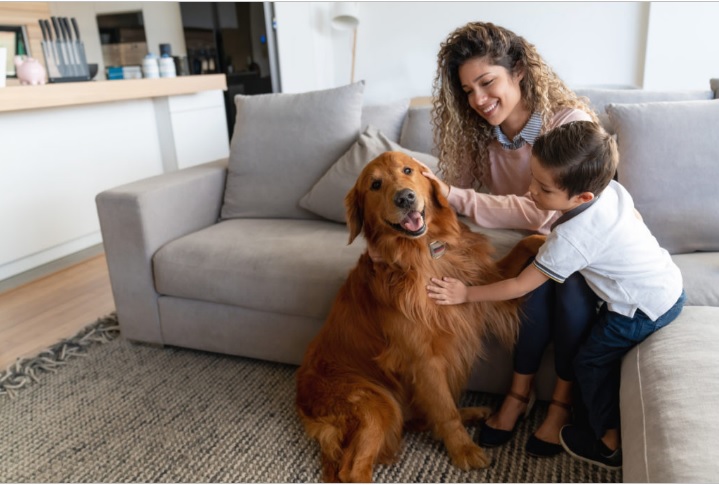 A pet can be a treasured member of the family – but not all landlords are inclined to let pet owners take on a tenancy.
According to the Pet Food Manufacturers' Association, an estimated forty per cent of UK households had a pet in 2019, from cats and puppies to ferrets and toads. And yet, according to the Government, only around seven per cent of landlords promote accommodation as pet-friendly.
"For most tenants, a pet is part of the family," says James Ramsdale owner of Century 21 Brighton & Hove Estate Agents. "Therefore, you would assume a landlord permits this as part of the tenancy. However, every so often, landlords do say no, which could either be a straightforward no, or it might be due to their past experiences."
While some landlords are concerned that having pets can cause damage to their property, many in the industry argue that it can make their property more ideal for pet owners and serve as motivation for tenants to lease for longer.
So, what are the rules, and what can you do to get that home with creature comforts?
What you need to understand about renting with pets The Government recently announced that it's making an attempt to motivate "more landlords to think about opening their properties to responsible pet owners" via its model tenancy agreement.
This is a contract that landlords can use when taking on new tenants in England. But the Residential Landlords Association has pointed out that this action does not make it a legally binding requirement for landlords to accept pets, and that landlords nonetheless still have the right to refuse tenants with pets.
According to Landlord Law Services, referring to the Equality Act 2010, assistance dogs, such as guide dogs for the blind, listening dogs for deaf people, and dogs for disabled people ought to be accepted by means of regulation in a property.
Landlords are no longer allowed to charge more for deposits if a tenant has a pet. Up to six weeks lease (depending on the complete annual rent) is the maximum deposit they can take.
That said, some landlords are charging higher rent for pet owners, according to ARLA (Association of Residential Letting Agents).
Top recommendations for renting with pets
Find houses and residences with pets allowed
Before you start with a tenancy, you'll want to find a landlord who permits the kind of pet you have. Ask your letting agent about your pet, or pets, and they can help you find what you're looking for.
You also need to find a place that it suitable for your pet – for example, someplace with enough space for a dog (ideally such as a garden) or with cat flaps for a cat.
A letting agent can help make arrangements for your pet
While pets such as fish, rabbits and hamsters are generally fine with landlords, cats and dogs may need more negotiation. An agent, can be a key middleman between potential tenant and landlord as they can represent both sides.
A landlord may have previously had a bad experience and naturally be hesitant, on the other hand a tenant can also see their pet as their priority.
Get a reference for your pet
The experience from a previous landlord can assist a tenant's application. Sometimes a good recommendation from a previous landlord about the pet can be a game changer.
Rehoming and rescue charity Dogs Trust agrees, saying: "By providing a reference from your previous landlord, you can show that your pet is well behaved and has caused no problems at your previous property. This will show that you're a responsible pet owner."
Meet the landlord in person
If things progress well then it's worth arranging for you and your pet to meet the landlord. That way, any issues they have can be laid to rest.
Dogs Trust advice includes inviting the landlord to your current home so they can witness first-hand how you and your pet live. The charity adds: "This is particularly vital for dogs as it shows your dog is well behaved."
Write a pet CV
Century 21 in Hove suggests giving a landlord the lowdown on your pooch or cat.
It says: "Include the contact and details from your vet and anyone who can care for your pet in an emergency. You ought to also include important points of your pet's remaining vaccinations and any flea and worming treatments they have had."
Don't hide your pet from your landlord
Before you try and pull the wool over a landlord's eyes and smuggle in your cherished pet, pause for thought.
You should always get consent if you plan to have a pet at your rented property,
If you have an unauthorised pet this would technically put you at risk of eviction. Plus, your landlord is not going to give a good reference, which may cause issues when looking for a place in future.
Get the authorisation to have a pet in writing
If a landlord agrees to lease to you, make your agreement official. Also ask for your tenancy agreement to be modified to include your pet. A landlord can charge a fee for this.
According to authoritative, this should not be more than ?50. If a landlord asks for more, they need to supply written proof in the form of receipts or invoices to prove the extra charge.