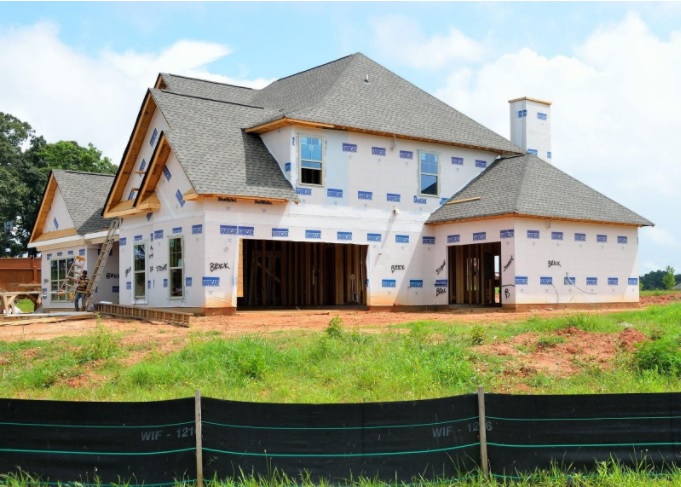 The home-building business is booming, and it's not just because of home renovation projects during the pandemic.
Wannabe homeowners are turning more and more to new-build homes.
Look at why new-build homes are so popular, why one might be right for you, and what to consider — from the right players in the process to the best new-build home insurance.
Why New Builds Are Booming
In 2020's final quarter, 41% of prospective home buyers were seeking a newly built home, more than twice the 19% share a year earlier, notes a Housing Trends Report from the National Association of Home Builders (NAHB).
The generation that expressed the most interest were millennials (50%). And more than a third of prospective buyers expect that finding the right home will get easier in the months ahead, compared to less than a quarter a year ago.
Here are the reasons for the popularity and the optimism.
Tight Housing Market
The housing market continues to be a sellers' market, with fierce competition. Low inventory has many prospective buyers finding themselves unable to secure an existing home because  they're outbid by other offers — many times mere hours after a house goes on market.
Technology and urban flight are making home buying even harder. You can be armed with an excellent real estate agent and a mortgage pre-approval letter, only to have a big-city out-of-towner take a virtual tour then swoop in and offer the full asking price in cash.
The home-buying process is stressful enough. When a home you want is swiped right out from under you a few times, you may not be willing to continue riding that emotional rollercoaster. 
New-Build Growth
A new supply of housing is helping with the perception that finding the right home will be easier. Sales are up: The NAHB notes that more new homes were sold in 2020 than any year since 2006.
And the government recognized the importance of new housing even as the pandemic was hitting the United States. Last March, the Department of Homeland Security designated construction of single-family and multi-family housing as "essential infrastructure business." This meant that construction could continue in places under stay-at-home orders.
New builds aren't only expanding the number of houses, but the sizes of houses as well. The median size of an existing American single-family home is about 1,600 square feet. Millennials have less than 2,000 square feet in their current residences and want more. The median size of a new single-family home sold in 2019: 2,322 square feet.
Low Interest Rates
The NAHB reasons that historically low interest rates continue to have a stronger impact on buyers' perceptions of affordability than rising home prices.
The Federal Reserve recently signaled they expect no interest rate hikes in the next two years.
Home Customization
Millennial buyers have a lot of preferences.
A walk-in pantry, exterior lighting, a front porch, and table space for eating tops their list. Since this generation is very environmentally conscious, they also want an environmentally friendly home.
They also have high expectations. When my niece, who owns a real estate company, showed my first-time-buying husband and me a series of homes, she admitted her relief at how accommodating we were.
She remarked that younger generations want perfect, problem-free homes, even down to specific paint colors in specific rooms. They want what they want from the get-go; they don't want to have to deal with making any changes. She added this was a very common observation of real estate agents.
A great way these young home buyers can ensure they get exactly what they want is through a newly built home. They can work with builders to create a house that looks exactly as they want it inside and out, adding extra features and customizing the colors.
Money Savings on Repairs and Insurance
While there's no 100% guarantee that everything will turn out perfectly, a new-build home dramatically decreases your chances of buyer's remorse — those horror stories you've certainly heard about having to fix a leaky roof or a broken pipe during the first year of home ownership.
If there is a problem, most builders include a range of warranties with their homes, which may include a short-term full structure warranty and a longer-term exterior warranty.
Any green practices either inherent in your new-build home or that you ask for will also improve energy and water efficiencies, which means lower utility bills.
Plus, the newer the home, the less expensive the homeowners' insurance premium. When a claim for damage is filed for an historic or older home, the reconstruction cost to restore it is pricier. Insurance companies reward not only the lower cost of repairs, but the lower risk of repairs being needed.
Customizations that involve going green and enhancing security will also save money on your homeowners insurance, thanks to discounts.
How to Pursue a New-Build Home
So if you want to avoid the sellers' market competition and be the first one to live in a larger-than-average home, complete with the latest in technology and environmental efficiency, it looks like a new build is the perfect solution for you.
After you figure out your finances, what you want for your home, and where you want it, here's how to start on the right path toward making that dream come true.
Get the Right People
Your agent: Find a buyer's agent for new construction. They can guide you toward locations and builders that suit your needs and advocate for your interests throughout the purchasing stage. Yes, new construction sites have on-site agents working in a model home, but they don't represent the buyer. They represent the builder.
Your lender: Work with a lender familiar with new home construction. You first need a new construction loan, which you can refinance into a permanent mortgage once the home is built. Research for lenders with a good reputation, decent rates, and excellent customer service.
Your builder: Look beyond the pictures on a builder's website. Check out homes they've completed, talk to homebuyers who've previously built with them, and make sure there are no major complaints filed against them.
Best Bets for New-Build Insurance
New-build home insurance is needed during construction and after move-in, and there are many factors affecting your rate for that type of home insurance as well.
During construction, the construction company has their own policy covering building materials and liability. But that protects their company; it doesn't cover the buyer. You need to find a company that sells home insurance covering the construction period and then converts it into traditional homeowners insurance once you move in.
Contact insurance agents before signing any contracts and find out if the land you want to build on is insurable, what the base quote is for the type of coverage you need, and whether any location-based factors will impact your policy.
If you have a home while you're doing a new build, contact your current homeowners insurance agent about extending the liability coverage to the new home while it's under construction.
You especially need liability coverage when building if you own the land in case of an accident causing injury during construction. Sometimes contractors own the land when they are hired to build a new house, so you won't own the land until post-build. If you don't own the land, liability falls on the contractor.
Some of the best home insurance for new builds comes from the big names in the insurance game:
Liberty Mutual: One of the top insurance companies is also one of the largest and has  nationwide coverage, including auto insurance so you can bundle policies to save money.
Its size extends to the amount of partnerships: over 14,000, with employers as well as alumni and professional associations, which means you can get a discount if you're a member of any of them. 
Liberty Mutual is also great for techies. In addition to its mobile app, it offers a variety of useful digital resources. The Home Gallery App helps you quickly take care of that onerous but important task of creating a home inventory. Alexa Skill for Liberty Mutual lets Amazon Echo owners receive advice on common home topics.
State Farm: Also nationwide and a possibility for bundled policies, the National Association of Insurance Commissioners has rated it a top property insurance company. It's best for local agent support with an extensive network of agents. It also has high customer satisfaction ratings and a robust mobile app.
Additions to standard policies include a roofing discount, inflation protection, and identity theft.
Allstate: The Better Business Bureau gives this company an A plus, and it's highly recommended for its customer satisfaction. You can bundle policies with Allstate as well. The company is best for discounts, as it has an above-average number of them.
Additions to standard policies include a homebuyer discount for a newly constructed home, as well as discounts for smoke-free homes, homes with storm shutters, and homes with hail-resistant roofs.

Karen Condor is a home insurance expert who writes and researches for the insurance comparison site, ExpertInsuranceReviews.com.