Legislation to improve veterans' access to health care, benefits now heads to president's desk
WASHINGTON – (RealEstateRama) — U.S. Senators Johnny Isakson, R-Ga., and Richard Blumenthal, D-Conn., chairman and ranking member of the Senate Committee on Veterans' Affairs, today applauded unanimous Senate passage of legislation to improve veterans' access to health care, disability benefits, education and homelessness assistance, among other important benefits for our nation's veterans.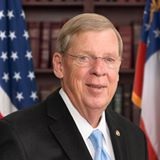 "I am proud that the Senate has acted on this legislation to help our veterans," said Isakson. "Regardless of political party, we are showing our veterans that we are on the same team when it comes to getting things right for them. With today's vote, we are demonstrating our commitment to ensuring that our veterans receive what was promised to them and their families. This legislation will improve veterans' access to health care and benefits and is an important down payment on the debt that we owe to the veterans of the United States of America."
"This bipartisan, comprehensive legislation continues our progress toward leaving no veteran behind," Blumenthal said. "With 76 separate provisions, it is broad in scope and scale. Hiring more mental health counselors and emergency room doctors will mean more veterans receive quality healthcare. Expanding eligibility for homelessness prevention programs will provide critical support to veterans at risk of homelessness. Extending critical education benefits to surviving family members will further our promise of education. Beginning work to help descendants of veterans exposed to toxic substances will help heal the residual wounds of war. But on these issues and so many more, we are only taking another step in what must be a journey toward ensuring our veterans receive the benefits they need and deserve."
The Jeff Miller and Richard Blumenthal Veterans Health Care and Benefits Improvement Act of 2016 (H.R.6416) includes 76 bipartisan provisions that address a variety of areas in veterans' services that are in need of reforms or improvements. It incorporates language from a number of previously introduced House and Senate bills, including several provisions from the Veterans First Act, which unanimously passed the Senate Committee on Veterans' Affairs in May 2016.
The measure is named after retiring chairman of the House Veterans' Affairs Committee, Rep. Jeff Miller, R-Fla., as well as outgoing Senate VA committee ranking member Richard Blumenthal, D-Conn., in tribute to their years-long commitment to serving veterans in Congress.
Earlier this week, Isakson delivered remarks on the Senate floor imploring "members of the United States Senate to help us pass this down payment on the promise and the debt that we owe to the veterans of the United States of America."
Following today's early morning Senate vote and a strong vote of 419-0 by the U.S. House on Tuesday, Dec. 6, 2016, the Jeff Miller and Richard Blumenthal Veterans Health Care and Benefits Improvement Act of 2016 now heads to the president's desk for his signature.
Specifically, H.R.6416 will:
Streamline portions of the process for veterans, their families and their survivors to obtain disability compensation and benefits through the U.S. Department of Veterans Affairs (VA);
Expand the U.S. Court of Appeals for Veterans Claims from seven to nine judges to help address the large backlog of veterans' appeals that may soon arrive at the court;
Make changes to the VA's burial benefits and interment policies, including expanding eligibility for presidential memorial certificates to certain individuals who served in reserve units of the Armed Forces, among others;
Provide a much-needed extension of education benefits for surviving spouses who lost a loved one on September 11, 2001, or during the early years of the wars in Afghanistan and Iraq;
Improve how the VA administers and approves education benefits for veterans and allow mobilized reservists to keep their GI Bill eligibility when a deployment interrupts their schooling;
Modify ownership requirements for small businesses participating in the VA contract assistance programs and require the Department of Labor to conduct a five-year study of job counseling, training, and placement service for veterans;
Make improvements to the VA's health care services and benefits to include:

Ensuring preventative health services for veterans include access to adult immunizations for veterans who wish to receive them;
Prioritizing access to care for medal of honor recipients;
Ensuring veterans who served in classified missions can access mental health care without disclosing classified information;
Requiring the VA to submit an annual report to Congress regarding the provision of hospital care, medical services and nursing home care by the Veterans Health Administration;
Expanding the qualification criteria to make it easier to hire qualified mental health care professionals;
Enhancing research on the potential health effects from toxic exposures to veterans and their descendants.

Increase access to benefits for homeless veterans.
A section-by-section summary of the H.R.6416 is available here.
###
The Senate Committee on Veterans' Affairs is chaired by U.S. Senator Johnny Isakson, R-Ga., in the 114th Congress.
Isakson is a veteran himself – having served in the Georgia Air National Guard from 1966-1972 – and has been a member of the Senate VA Committee since he joined the Senate in 2005. Isakson's home state of Georgia is home to more than a dozen military installations representing each branch of the military as well as more than 750,000 veterans.