NEWPORT BEACH, Calif. – February 19, 2016 – (RealEstateRama) — Planet Home Living's community in Eagle Rock, PRISM, has only been open four days now and over half the homes have already been sold.  "We wanted to build something truly unique and are happy with how well the community has been accepted and how extremely popular it has become," said Planet Home Living CEO Michael Marini.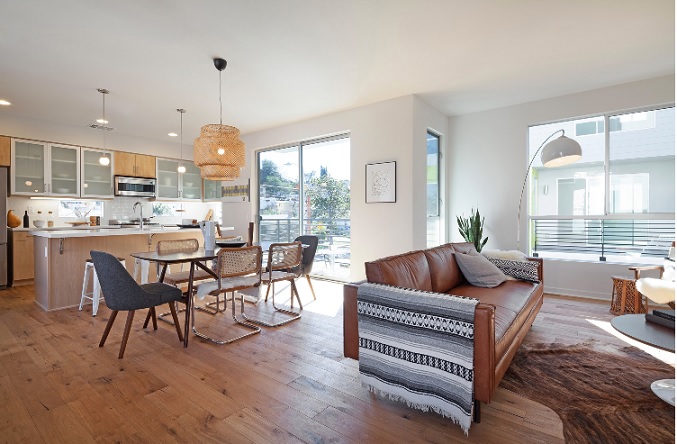 New homes offer a fresh, hip vibe in one of Los Angeles' most popular neighborhoods.
There is a lot of buzz surrounding PRISM's fresh, new way of living. Savvy home features integrate with your smartphone including a Ring Video Doorbell, Nest thermostat, and Kevo keyless entry. Step outside these new homes in Los Angeles and enjoy a short walk to coffee shops, restaurants, grocery stores and more. PRISM is a collection of 15 new homes with the right vibe that savvy shoppers expect.
Designed by national award-winning firm KTGY Architecture + Planning, PRISM offers 15 single-family detached, new homes in Eagle Rock, just north of downtown Los Angeles in the extremely popular location of Eagle Rock, named one of the most sought-after neighborhoods in the nation by Redfin. PRISM brings hip, urban living to an already developed, amenity-rich residential location.
Current pricing ranges from $648,000 up to $700,000. Three bedrooms are offered in two different floor plan layouts. Homes are approximately 1,540 to 1,704 square feet and take advantage of spacious great rooms. Sought-after downstairs bedrooms/bathrooms are included with every home and most homes also feature a small yard. Parking is easy with attached, private two-car garages.
"Couples and families who were able to visit this past weekend and tour the model home are thrilled with the features of the home that integrate with their smartphones," said Planet Home Living COO David French.
"Internal 'living' streets create walkable plazas that circulate both pedestrians and the automobile. The efficient, front-loaded nature of this design allows for the creation of a small private rear yard that extends the living space on the ground floor and creates a place for a small family pet or home garden," said KTGY Principal Alan Scales, AIA. "An expansive private deck expands the living and entertaining space on the second floor and floods the interior with natural light. The owner's suite and junior suite are reserved for the top floor."
Homes are selling fast with over half the community already spoken for. Join the PRISM Interest List to stay informed. PRISM is located at 4359 Toland Way, Los Angeles, California in Eagle Rock. For more information about the new homes in Eagle Rock at PRISM, please call Bobbie Seegers at 323.386.4620 or visit http://www.planethomeliving.com/communities/pr15m
About Planet Home Living
Founded in 2007, Planet Home Living is a full-service real estate building and development company that is dedicated to the creation of unparalleled living environments. From conception to exit, Planet Home Living remains focused on the complete development of a project, which includes strategic acquisition, distressed workouts, land entitlement, design, bidding, construction and sales. Planet Home Living's passion is for environmental architecture that will stand the test of time. www.planethomeliving.com
About KTGY
Celebrating 25 years in 2016, KTGY Architecture + Planning is an international full-service architecture and planning firm delivering innovation, artistry and attention to detail across multiple offices and studios, ensuring that clients and communities get the best the firm has to offer no matter the building type or location. KTGY's architects and planners combine big picture opportunities, leading-edge sustainable practices and impeccable design standards to help create developments of enduring value. KTGY serves clients worldwide from offices located in Chicago, Denver, Irvine, Los Angeles, Oakland, Pune and Tysons. Call 888.456.KTGY or visit www.ktgy.com.